JoomConnect Blog
JoomConnect is the Marketing Agency for MSPs. We strive to help IT companies get more leads and grow. We rock at web design, content marketing, campaigns, SEO, marketing automation, and full marketing fulfillment.
The State of SEO for MSPs in Late 2023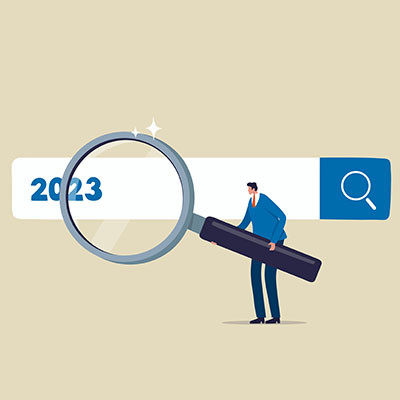 It's getting darker earlier, the weather is cooling down, and we're all getting an influx of emails about IT Nation, so you know what that means. Yes, we're entering the fourth quarter of the year, and soon it will be 2024.
2023 has been a year of refinement for a lot of us, from sort of figuring out what this new normal is to adapting to new technologies that are suddenly household buzzwords. SEO has been no different, and we wanted to take some time to recap on the changes to SEO for MSPs, changes we've been making internally, and some overall recommendations to help you make informed decisions on your marketing strategies for 2024.
Google Analytics is Dead. Long Live Google Analytics!
Among the most jostling shake-ups this year is definitely Google Analytics' move to GA4.
Ask anyone who has been using GA4 throughout most the year what it is, and they will likely roll their eyes at you or politely ask you to focus on your own responsibilities.
Essentially, Google decided to sunset Google Analytics and replace it with Google Analytics 4. They did so as noisily and disruptively as they could have, causing confusion for a lot of people. If we're actively handling your SEO (meaning, you have an SEO agreement with us), you are golden. As a courtesy, we also migrated all of our clients who gave us administrative access to their Google Analytics.
Google Analytics 4's big difference is that it doesn't simply report the data to you, but instead has you generate specific reports based on the data collected. It's a little convoluted, and we plan on offering some training and materials for our clients to help decipher it. It's also possible that Google will simply keep adding stuff over to GA4 to cater to those who are upset about the death of GA, making the new platform more comfortable for everybody.
A Major Gray Hat Strategy from the Past is Now White Hat… And It Works!
For the longest time, we've always told clients to avoid making simple location pages. In our experience, they were always more likely to hurt your ranking. Let me explain what I mean by this:
Let's say you offer IT services in two or three different, distinct locations within your state. The old-school gray hat strategy for this was to make a few pages with similar copy, and just change out the location on each page. When Google started to crack down on duplicate content, this is one of the things they got caught up on. Like a lot of gray hat strategies on Google, it would sometimes work for some people, and others, it would totally blow up in their faces.
The key here is to not be lazy with your location pages. Over the last 18 months, we've been helping some clients who want to strategically rank in multiple locations, and location pages have been a part of these strategies.
The secret weapon to make them work? Custom content.
Okay, so that's not particularly surprising, right? After all, Google wants you to create value. But we've always also been able to prove that syndicated content can index and rank well… so what's the distinction?
There's always been major confusion over syndicated content versus custom content and how Google ranks it. It's almost all wrong, or at the very least, misleading. Syndicated content can rank for your website if it's valuable, implemented properly, and not there to cheat the system. Having two pieces of the same content on your website to attempt to rank for separate types of searches, however, that's a whole different story. That's literally the whole origin story for duplicate content when it comes to Google. It was never about syndicated content in the first place, it was about poorly (or lazily)-made websites that assigned multiple URLs to more or less the same content. It was more of a technical issue with fledgling CMSes back in the day that didn't always have a standard solution for canonicalizing URLs.
Back on track, so how do you rank for multiple areas as an MSP?
The key is to make a homepage-like experience for each location, with unique content. This takes time and effort, it usually takes more effort than a typical service page or blog post, but it's worth it in the end. Your location page should clearly lay out the targeted area you are serving, the types of industries you focus on, and your core services, just like a normal homepage should. You should also link to some recent blog posts that are targeted to that location (which means you need some targeted blog posts too). Adding case studies and testimonials from that geographic area top it off and round out a pretty effective location page.
You wouldn't stop there though. Next is to run a small campaign for this area. The strategy for this will change depending on a few factors, like whether you have a physical address in that area or not, and whether you already have some business there, etc. Publishing and promoting a press release to announce the fact that your services will open up to the area, and distributing case studies and other material would be a part of this campaign. If you have a physical location we would recommend setting up business profiles or using Yext Powerlistings to create a separate set of listings for the new address.
Every situation is going to be a little different, but we've had a lot of success for our clients with this type of strategy, so if you are branching out or just want to show up for nearby cities, let's talk about putting this plan into action.
Whatever Happened to Video Content and SEO?
You don't hear about video as often as you used to. For a few years, video content was the wave of the future when it came to marketing, journalism, and social media. Then, entire industries crumbled because Facebook and some other platforms predicted some overinflated numbers.
Video isn't an automatic win, but if you are willing to put in the effort, it is still a powerful tool to aid your marketing. Six or seven years ago, video was deemed this miracle in SEO and marketing engagement, and a lot of businesses went very low effort on video, all while watching YouTube influencers collect millions of dollars.
No, video isn't inherently going to be a game changer for your MSP, but using video can still do a whole lot to increase your conversion rates, add personality to your business, and help explain complex ideas better than text can. Talking head videos will still give your website a personal touch, and while you probably won't get Linus Tech Tips numbers, if a decent video makes one or two prospects feel comfortable enough to give you a call, it's likely to pay for itself.
The Big Robotic Elephant in the Room—What About Artificial Intelligence?
Hoo boy, where to begin. AI is pretty neat. It was pretty neat back in the year 2000 when SmarterChild was released on AOL Instant Messenger, and it was pretty neat when Apple launched Siri in 2011. Now it's neat that ChatGPT is helping our techs adjust the tone on some of their email correspondence.
There are a few schools of thought with modern AI, and it's a little early to completely guarantee anything long-term about the technology, other than it's probably going to keep evolving as time goes on.
Let's just briefly look at it from an SEO standpoint. How can AI assist with SEO?
The first, most obvious answer is probably content. AI can analyze large amounts of content and make suggestions, generate topics, and even more or less write the web content for you. Does this mean we're in a new age of SEO, where we can have AI do all the expensive creative work for us, and just fill out our websites with tons of valuable content that Google and our audience will mutually love to consume?
Probably not.
It will certainly look like it's doing that job, but I'll tell you why it's a long way before you can stop paying for content.If you can use AI to cheaply and easily build content, so can't your competitors.
If you can use AI to cheaply and easily build content, so can't your competitors.


a. Ergo, if you do it, and they do it, and everyone does it, Google needs to respond and further adjust the algorithm and adjust how it ranks sites to determine who is actually deserving of the higher ranks. This could mean down the road, AI content will be detected and not be worth as much.

b. This would essentially lead to the "Online Recipe Problem." Don't know what I mean? Most of the time when you look for recipes online, most of the content on the page isn't the actual recipe, it's a long, drawn out story and unimportant information that makes it hard for you to find the information you are looking for. This is because recipe sites started to comply with the search engines to produce a lot more content to encourage users to stay on page longer and scroll around more, which to Google is a win, which has overall led to fewer people relying on Google to find recipes and instead use an app or cookbooks or other resources. If the general public stops searching for content related to your services due to this phenomenon, it will make it a lot harder to get traffic.

AI content is good, but it can't draw the same insights that you can.


a. AI is just pulling from content that already exists. It's extremely clever and very good at what it does, but it lacks the same care and compassion that a human might put into their writing (if they are good at writing in the first place).
b. AI isn't going to write about something new. It's going to ultimately make the same point that exists somewhere else, every single time.
This last one is pretty BIG, because in our case, the content that almost always gets the most attention in the long run is the stuff that is emotionally charged or absolutely one-of-a-kind and specific.
We aren't discounting AI. It's amazing, but its job isn't to do all of the creative thinking—you'll still need someone for that. If you do use AI for content on your website, make sure you are being very diligent about what it says, and try to give the piece a little bit of your own feelings to make it sound… well… human.
As AI content becomes more mainstream, the world will likely see a trend where less formal, more emotionally driven content is the standard.
Just for fun, I asked an AI to write this blog.
It spit out a whole two paragraphs about the importance of blog tags and what they are, and how they can organize your blog content. Fun fact; blog tags don't help with SEO whatsoever and any web designer worth their salt sets them up to not get indexed.
SEO in 2024 and Beyond
We have some exciting announcements coming up with our SEO services, including all new reporting tools, a reporting portal, additional new strategies, and more. Definitely stay tuned for that.
As far as your own MSP Website, the most important thing to think about over the next few months is how your MSP stands out. Not how your website stands out, but how your services stand out from your competition. What do you and your team do differently every day that your competition just can't handle? That's going to be the key to your SEO success in 2024. Building content off of that, collecting the testimonials and reviews of happy clients, and getting out there and educating your local community is a huge staple of marketing in general, and with that, rankings will come.
Stay tuned to this blog for more as we wrap up the year and get ready for 2024. If you want to get ahead and start talking to our team about your 2024 marketing strategy, give us a call at 888-546-4384 to set up a meeting.