JoomConnect Blog
JoomConnect is the Marketing Agency for MSPs. We strive to help IT companies get more leads and grow. We rock at web design, content marketing, campaigns, SEO, marketing automation, and full marketing fulfillment.
How Your MSP Should Be Using LinkedIn to Its Fullest Potential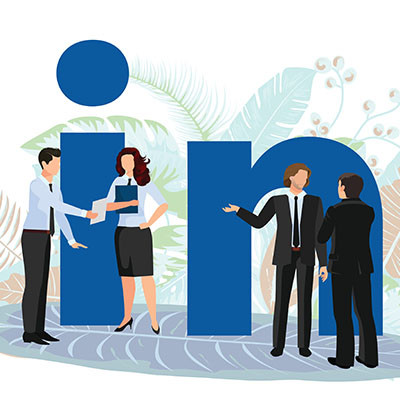 Since it was first introduced in 2003, LinkedIn has shown its value as not only a great tool for job seekers, but also as a resource for businesses that serve other businesses to market their services and specialties. However, there are a lot of ways that you might not be getting as much out of your use of the platform—and that's why we wanted to share a few best practices to help fix that.
Give Your Company Profile the Content Your Audience is Looking For
LinkedIn—just like the other social media platforms your business should utilize—helps your marketing by giving you another means of sharing information with your audience, all the while leading them back to your website for more in-depth information. That will require, however, that your audience is paying attention and seeing what you share, which means that you need to fill your company profile with the information and keywords that your audience will be gravitating towards to help draw them to your business profile and from there, your website.
Consider the LinkedIn page we maintain for the MSP side of our business, for instance. Our company profile reads as follows:
"Directive is a Managed Services Provider based in Oneonta, NY. Services include Proactively Managed IT Support, Cloud Computing, Telephony, Hosting, Programming, Web Design and Web Marketing Integration.
Our world-class customer service and unique partnership approach are a step above the rest, with proactive, personalized computer & network solutions that minimize downtime and maximize productivity. Directive is ready with the support and expertise to keep you focused on running your business."
By doing so, we make it clear what it is exactly that we offer, specifying a few of our services and dropping in a few keywords that may just happen to pull the attention of our target audience to our profile. From there, we can engage with them and direct them to our website, where we're (even) better equipped to educate them and convert them into a client.
Incorporate Visuals into Your Posts to Draw Attention to Them
LinkedIn isn't like a blog or other content on your website (although it never hurts to use visuals there, either). One of the biggest differences is simply in that you don't have any competition on your own platform to contend with—there isn't anyone else posting to your website to draw attention away from what you have to offer.
As a result, adding visual elements like images and videos to your LinkedIn posts is a wise tactic to incorporate into your social media strategy. Not only does it help draw attention to your posts, it gives you the opportunity to present messages in a more impactful way. Use photos and videos to showcase your products, explain your services, share behind-the-scenes insights and tips, and otherwise demonstrate your value to your followers. As you do so, try to use as much of your own produced media content as possible, as it will help personalize your company more than an unbroken wall of stock media will.
Put Your Team Members to Work as Representatives of Your Business
Of course, you aren't the only one who can participate in advocating for and advertising your business. Your team members can also lend a hand by sharing the content that you've posted to your business' profile, expanding your reach (and the likelihood that your content will be seen) that much more. The more reach you can get with your message, the better, so take advantage of your employees' social circles to expand it a bit.
Be Strategic as You Use the Platform
Speaking of expanding your reach, LinkedIn offers a few helpful features that can very easily allow you to get your message in front of the people you want to see it. First of all, if you happen to be connected with people and businesses that you really want to see a particular post, you have the option to tag them directly, making it much more likely that they see the content you wanted to share. Just be careful as you do so, so you don't reveal too much about the person or organization that you're tagging.
Less directly, hashtags are another way to spread your reach. Using carefully considered and curated hashtags to target the businesses and business leaders you want to communicate with can help you catch their attention, coaxing them to investigate your services in greater depth.
Stream Video Via LinkedIn Live
LinkedIn also offers a live streaming feature, allowing you to quickly and easily put on quick presentations to communicate with your audience directly. Any viewers in attendance can ask you questions about your business or the topic at hand, giving you the chance to share best practices and reinforce your reputation as a source of information and guidance for businesses seeking help with their technology.
Put LinkedIn Ads to Use
Like other social media platforms, LinkedIn allows you to post advertisements for your services… and considering that it is meant as a business-centric platform, it only seems natural for a business that serves other businesses to use it. Just don't forget to use the platform's capabilities to target your ideal customers with content that specifically addresses the needs they've demonstrated—or outright claimed—to have.
Be Consistent with Your Use of the Platform, and Your Engagement with Your Followers
Finally, like any other marketing strategy, you need to commit to using LinkedIn consistently. You should work to establish a schedule that you post around so that your followers will generally have some idea of when they can expect to see something new from you.
Speaking of your followers and prospects, you need to ensure that you're also communicating with them directly, even when you aren't posting something new. If someone leaves a comment, take the time to respond to them, as this helps personalize you and your business that much more. Plus, it really says a lot about your business if you're willing to engage with someone who just leaves a comment on a LinkedIn post, even if they aren't a paying client… it may even say enough to make them consider becoming one.
We're Here to Help You Manage All Your MSP Marketing Needs, Including LinkedIn
In fact, LinkedIn is one of the platforms we help you populate with our Social Media as a Service offering. We'll ensure you have content to share, cultivating an impression of consistency amongst your followers and helping cement your reputation as a helpful provider and resource. Reach out to us at 888-546-4384 to learn more.