JoomConnect Blog
JoomConnect is the Marketing Agency for MSPs. We strive to help IT companies get more leads and grow. We rock at web design, content marketing, campaigns, SEO, marketing automation, and full marketing fulfillment.
Internal Links are Essential for MSP Website Success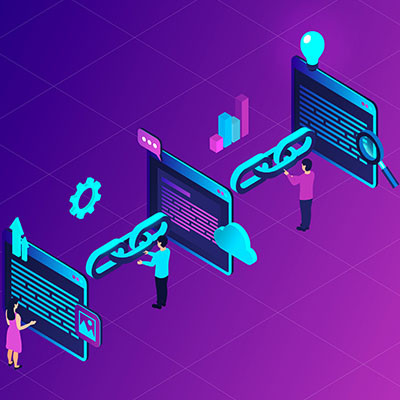 The purpose of your website is to promote your managed IT services. However, you can't promote your MSP if you can't keep visitors on your site. Internal links allow visitors to learn more about your services by visiting other pages you direct them towards. The longer a visitor stays on your website, the greater your chance to turn them into customers.
What are Internal Links?
Internal links are links on pages of your website which link to other pages within your website. While technically your menu consists of internal links, we're talking about contextual links within your content that can drive a user around your site as they read.
Internal links guide visitors to the content you believe is essential to the narrative you're trying to develop. It can be beneficial to direct visitors to important information instead of counting on them stumbling upon it. Internal links complement content by helping readers better understand the connection between the services you provide and the information you put out on your site and in your blog.
Why Does an MSP Website Need Internal Links?
As we noted earlier, the longer a visitor stays on your website, the greater your chance to turn them (or convert them) into a qualified lead. By offering to give visitors more information, internal links are an effective way to keep visitors engaged, which pushes them deeper into the website. The result is they stay longer and reduce your website's overall bounce rate.
See what we did there? We linked the qualified lead to another blog post that we think would be useful. If you are reading this far, you might not have gone down that rabbit hole, but some readers may have.
Another benefit of implementing internal links on your site is that search engines like Google follow the links to the corresponding linked pages. This allows search engines to understand better the relationship between your content and related services. These insights will enable the search engines to understand your content's context better, making it easier to offer your website to searchers as the answer to their query.
How Do Internal Links Benefit a Website?
One common observation MSPs have regarding lead generation is that businesses often don't know what managed IT is and how it can benefit their business. When a company performs a search, they are looking for a solution to their problem, not necessarily a service to solve it. While searching for answers, a business has its first introduction to managed IT. Keep in mind that this could be your only opportunity to convince them that not only can you solve their problem, but your services can benefit their business going forward. The best way to achieve this is by providing them with a solution to their problem.
Your MSP website should aim to inform visitors who are unfamiliar with the services you offer and show them how these services can benefit their entire business. This is where your internal links come in handy, allowing you to provide additional and relevant information within the content they are reading. This allows potential leads to understand how their technology problem can have multiple causes, affect various business areas, or require multiple approaches to resolve them.
For example, if a searcher has a problem with spam and finds a blog about spam filtering, it would be beneficial to have internal links sending them to other blogs (or service pages) on your website directly related to spam filtering. These internal links can provide information about preventing a ransomware attack, phishing, access control, and training their employees. Internal links can help potential customers see how these other services can make your spam prevention more effective.
Finally, marketing your services as an MSP relies on repetition. Potential leads need to interact with your organization multiple times before they will make a decision. This concept, known as the "Rule of Seven," acknowledges that it takes multiple touches before your marketing gains the attention of a potential lead. Internal links allow you to "touch" readers of your content multiple times, as they follow link to link in search of more information.
Internal Links are Essential to Your Website's Health
Internal links can provide a wide range of benefits ranging from reducing your bounce rate to increasing your conversion percentage. However, you need to have the content to link to because you won't be able to take advantage of internal links without content. Moreover, your MSP content needs to be relevant and optimized to provide your readers with solutions to their technology problems.
The reality is that most websites are at the same level regarding design. You may find the occasional website that hasn't changed in a decade, but most of your competitors won't fall into that category. The only real differentiator between you and your competitors will be your content. Your content is the engine that drives your website's success; without good content, you won't be able to compete.
If your website isn't performing as you would like, it's time to look at the quality of your content. If you're not comfortable writing content, resources are available to help you. For example, syndicated content can provide your website with a steady influx of high-quality content curated specifically for MSPs instead of providing you with generic "technology" content. You need content designed to promote the type of services most likely required by businesses and provided by Managed IT providers.
If you're ready to explore your options for adding content to your website, give JoomConnect a call at 888-546-4384 to schedule an appointment today.