JoomConnect Blog
JoomConnect is the Marketing Agency for MSPs. We strive to help IT companies get more leads and grow. We rock at web design, content marketing, campaigns, SEO, marketing automation, and full marketing fulfillment.
Don't Panic If You Receive a Coverage Issue Email From Google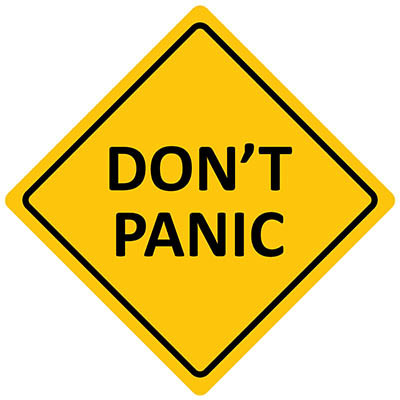 As an SEO tool, Google's Search Console provides a variety of services designed to tell you how searchers interact with your website. The Search Console also gives you some insight on how the Google search engine sees your website. Sometimes, Google Search Console will email you and let you know if something is amiss.
What is the Google Search Console?
Formally known as Webmaster Tools, the Google Search Console (GSC) is Google's in-house SEO tool, which provides information about how your website is performing. The GSC differs from Google Analytics (GA) in that GSC solely focuses on traffic that comes from web search, while Analytics collects information from a wide range of sources: direct traffic, traffic from ads, traffic from site referrals, amongst others.
GSC is an essential SEO as it provides insights into how your website is performing organically and how visitors navigate through it. By understanding which keywords are being searched for, which pages are being clicked on, numbers of impressions, and more. you are able to develop a marketing strategy tailored to your business.
With the information you learn from GSC, including the services potential leads are searching for, you're better able to create the type of content that converts because you're responding to a specific need.
From within GSC, you can see keyword performance, which pages are the most popular, examine issues, and receive messages from Google about the quality of your website. Google will send periodic emails out when it notices things in GSC, and these emails don't really do much to help explain the scope or breadth of what Google sees.
In fact, many of these emails look like there are huge problems that are hurting your search rankings that need to get fixed right away. While yes, that can sometimes be the case, often Google is just making you aware of what it sees.
Receiving The "Issues" Email From Google
For many businesses, the first they learn of the Google Search Console's existence is when they receive a scary email from Google. It is not surprising that receiving an email from Google with the title: "New Coverage issue detected for site" causes a business owner to panic out of fear that their website is broken and their SEO is going to suffer, so you can imagine what happens when they open the email and see a message like this:
Why You Shouldn't Panic About The Email
While the notifications from Google Search Console shouldn't be ignored, they are often nothing to be to concerned about. They are, as Google themselves notes, suggestions. As such, you should examine what the error is in order to determine whether or not it is an issue for concern. GSC reports on a wide range of issues ranging from indexing and 404s, to structured data, redirect errors, and more. However, in our experience, the most common emails we have seen are regarding robots.txt, such as URLs being blocked by robots.
One thing to understand is that Google (and other search engines) are designed to crawl the entirety of your website. Whenever they are unable to, they generate an email which is basically asking if you meant to do so.
There is essentially a small line of code for any page indicating if a search engine should index a page. You don't need to allow Google to crawl and index a page, but you can suggest that Google doesn't. By using the "noindex" command, you tell Google and other search engines not to show the page as the response to a search query.
When to use No Index:

You don't need to have your Terms of Service page indexed by the search engines, as the content on it doesn't really have anything to do with your business' operations. The same typically goes for login pages, or pagination/archive pages. You don't need Google indexing page 47 of your blog archive, especially if your blog posts are already individually indexed. These superfluous pages just get in the way of what you really want to be indexed. Therefore, having them set to not get indexed is the best practice.
In these cases, noindex, nofollow commands are by design, as there are specific URLs that you don't want to be shown as a search result. The best way to prevent this is by setting them to noindex or blocking them via robots.txt.
Another example of this could be a landing page for a specific marketing campaign. If you allow the landing page to be indexed, it could be shown as a search result and people could click on it. If this happens, you are unable to accurately track whether or not your marketing was effective, as you won't know how visitors found the page—that is, whether they found the landing page via a Google ad campaign or if they just stumbled upon it.
When You Should Worry
As noted, when Google sends you the notification email, its purpose is to ask you if you meant to set the listed URLs to no-index. The time to worry is when you haven't. It does happen… for example, if your website was configured improperly, new pages might automatically inherit the noindex instruction. We've seen this a few times in the past, although it's pretty rare.
A worst-case scenario is when you launch a new website or revamp your existing website and during the transition between testing and launch, you forget to index the site and leave it set to noindex. The result of this is that Google is unable to "see" the site, and is thereby unable to show your entire site as a search result. In such cases, Google's warning would certainly be welcomed, which is why you should always take a moment to investigate the warning.
SEO Is as Much an Art as It Is a Science
This is why it is important that you examine the errors the GSC is highlighting and decide whether or not they are really applicable to your website and your SEO plan. Better yet, invest the time to have a proper SEO evaluation performed on your website. Also, speak with your web developer to gain a better understanding of how your website was created. As we noted, there may be a reason why some pages are set to noindex, but you won't know unless you ask.
We always encourage our clients to forward those emails to us so we can investigate them, but most of the time, we simply come back and say this particular notification isn't a big deal, and no action needs to be taken.
The reason why we often say that SEO is as much science as art is because SEO relies on two components, technical SEO and creative SEO, i.e. content creation. One without the other will lead to a website that isn't ranking and ultimately not driving traffic or leads to your business. The science of SEO lies in using your data to understand how people navigate your website and what they are interested in learning more about. The art comes by providing them with content that answers their questions. This is why Google's Search Console is a great SEO tool, it combines both aspects of your SEO in one package.
Has Your MSP Website Had an SEO Evaluation?
If so, when was the last time your MSP's website was evaluated? If it's been more than a year, you're due.
An SEO evaluation is essential to determine whether your website is attracting visitors that can be converted to purchasing the services your MSP offers. It is designed not only to find areas for improvement but to help you see opportunities you may be missing because you're not aware of how many visitors are searching for that particular service.
If you don't know the status of your SEO then you're not able to take advantage of your website and you are certainly not closing as many leads as you could. Don't operate your website in the dark, call JoomConnect at 888-546-4384 to schedule an SEO evaluation today.