JoomConnect Blog
JoomConnect is the Marketing Agency for MSPs. We strive to help IT companies get more leads and grow. We rock at web design, content marketing, campaigns, SEO, marketing automation, and full marketing fulfillment.
Black Hat vs. White Hat SEO Part 3: White Hat Practices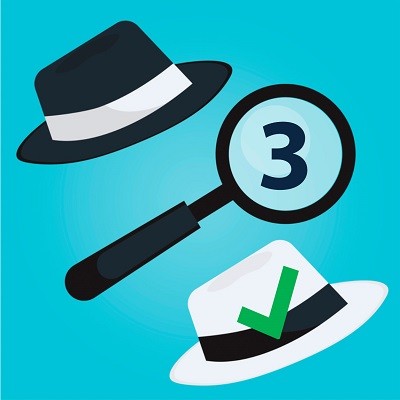 The best way to avoid having your website blacklisted (or marked as untrustworthy) by a search engine is to use SEO tactics that are allowed - and often even encouraged - by search engines themselves. Part 3 of our blog series will cover what exactly those tactics are so that you can set up your company for long-term success.
White Hat SEO
To remind you, White Hat SEO involves using optimization techniques, tactics, and strategies that focus on providing website visitors a positive user experience. All tactics used follow search engine rules, and are actively encouraged by Google and other search engines if you want to improve your website's ranking. While not the primary measurement of marketing success, the higher your rank is, the easier it is to find an audience for your MSP services.
If you're looking to invest long-term into the health of your company's website, then you should be using tactics like the following:
Keywords: When a business in your area is looking for an MSP to provide them with IT support, what do you think they're Googling? You want what they're searching for to be used on your website in multiple locations so that you rank higher for that keyword. See our blog on keywords to better understand how to create your keyword strategy.
Content Writing: Frequently adding new content to your website is encouraged by search engines, and can help in your keyword ranking if you're including the right phrases. Be sure that you are updating your website pages on a regular basis, and consider starting a company blog.
Content Variety: You're likely to get a higher ranking from Google compared to your competition if you contain a wide variety of content on your website. Blogs are great, but so are images, video, and different downloadable deliverables (brochures, case studies, whitepapers, etc.). Your deliverables can help increase your ranking for various keywords too, as Google has had the ability to crawl, rank, and index the PDFs on your website.
Link Building: Link building involves sharing a URL to a page on your website through another website. Link building needs to be done ethically for it to be considered White Hat - you shouldn't be spamming random websites with links to your blog or service pages. But, sharing links through your company's newsletter, social media, which talks about your success as an MSP or through online peer groups is something you should consider doing if you aren't already.
Backlinks: Backlinks, also called inbound or internal links, are links from one page on your website to another page on your website. You will see some links like this within this blog - they link to other pages on our website that are related to the words that are hyperlinked.
Mobile Optimization: All content on your website should be optimized to be easily viewed from any device - desktop, laptop, tablet, and smartphone.
Speed: Your website should load quickly no matter what device it is being viewed on.
On-Page Optimization: Make use of title tags, header tags (H1 tags), second header tags (H2 tags), image ALT tags, and meta descriptions. Meta descriptions won't necessarily impact your search engine rankings, but they can improve your click-through rates when you appear in a user's search results.
We hope this blog series gave you a better understanding of how to improve your search engine ranking using ethical SEO practices. In today's competitive market, particularly as an MSP, it's difficult to break through the noise and be noticed. Marketing has changed and so must your strategies. If you would like some help with this, we have a Simple SEO plan, as well as different Content Marketing packages that can help you improve your ranking and get your MSP noticed. By using modern, ethical White Hat SEO techniques, you will be able to have an effective long term marketing plan. Contact us today to learn more.