JoomConnect Blog
JoomConnect is the Marketing Agency for MSPs. We strive to help IT companies get more leads and grow. We rock at web design, content marketing, campaigns, SEO, marketing automation, and full marketing fulfillment.
6 Steps in Building a Solid Web Presence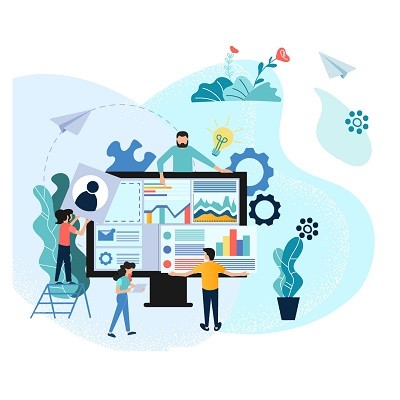 So, you have a brand new website that offers some pretty outstanding products/services, and now you have the expectation that it is going to sell, sell, sell. Great products, after all, are the best marketing you can have. Let me tell you first so you don't have to hear it from someone else…that isnot enough.
You have to domore! You can't just expect to have a website and think that your prospects will just stumble across your website over the MILLIONS that are currently out there. You need to create a strong online presence. This online presence that you cultivate affects your credibility, reputation, professional relevance, and referral power - so, do not succumb to the several problems with the "build it and they will come" approach. Your audience may need time, education, and repetition to convince them to make a purchase.
Your product/service solves a problem, so - intrinsically - it is a solution. The more you instruct, the more you escalate the urgency to solve their predicament, the faster you will sell. However that is not done though your product/service alone - that is through quality website content creation and marketing.
The Six Steps to Web Presence Prosperity
1. Plan And Strategize: What Are Your Goals?
First and foremost, it is paramount that you have established business and marketing goals - both short and long-term - as well as the resources and budget that they will require to make them materialize. It helps to create S.M.A.R.T goals that areSpecific,Measurable,Achievable,Relevant, andTime-bound.
Having a strategic plan like this will ensure that the activities you are doing online are on the path that will help you reach these overall goals. This is a prime opportunity to reevaluate any current marketing activities that are not meeting your standards.
2. Build and Publish: Construct a Solid Platform
Capture their attention with content! Post new content on your website that is useful, relevant and consistent in quality, style, and frequency. It's relatively easy to produce content, whether that content is blogs, videos, or online deliverables. The more ways you can entice your audience to come back to your site, the higher the chances for an increased ROI.
However, it's not enough to just produce the content and put it up on your website. Make sure you direct all traffic back to that content on your site through your marketing efforts. Otherwise, it's likely just going to end up sitting there.
3. Share and be Social: Information vs. Knowledge
Everyone can obtain information; what they need is knowledge. The knowledge that they desire should reside in the content that you produce and share. The trick of the trade to having a lucrative online presence is distributing the right content with the right people... meaning, the right target audience.
This is where social media can come into play; it's a great place to gather your target audience together in one place online. Go beyond just having your social media icons added to your site. You should make use of the actual social media platforms and invite your target audience to Follow and Like your pages. Encourage them to share your posts.You want their engagement. Having an active online presence through stable and consistent social media posts that strategically enhance your goals will keep you top of mind with the public.
4. Connect and Grow: Relationship-Building
If you have great content but no community to share it with, you have little to no opportunities for growth. The foundation of most relationships is common interests, right?
Begin by finding groups or online communities that have similar business values and interests, especially ones that you know that your target audience is a part of. Become an active member in those groups and provide them with the knowledge that they find useful and valuable. Building the community first gives you access and permission to engage with the members from within. It also allows you to gather intelligence about the individuals with whom you are connected.
5. Engage and Optimize: Diversify and Modify
Your online presence can't be set to one function; it can't be on auto-pilot. It will require constant updates and continuous changes. You will always want to reevaluate and revise your online presence to make sure it is staying consistent with your goals that you have set forward.
With improvements to technology and marketing automation, there will perpetually be updates, new features, and new upgrades that you can take advantage of. Your online presence needs to mimic these changes so it can better adapt.
6. Analyze And Track: How is Your Strategy Working?
In today's market, there are tools that are accessible and convenient that you can use to track and analyze your grand design. Programs like Google Analytics are great to take advantage of. Analytic trackers like this gather your data from your online activities, which in turn will make it easier to readjust and determine what strong points you have so that you can better promote them. You can also recognize your weak points and take steps to correct them. If you do not take the steps to track your online marketing efforts, you will not be able to recognize trends within your audience, like why there was a huge spike in traffic one day compared to others.
You don't need to be everywhere online, but you do need to be somewhere. These steps will maneuver you through the digital landscape and ensure your online presence is not missed. If you build it, market it and take proactive steps towards reaching your market, your target audience will have every opportunity to engage with you.
If you need help starting up, reach out to us here at JoomConnect by calling 888-546-4384.