JoomConnect Blog
JoomConnect is the Marketing Agency for MSPs. We strive to help IT companies get more leads and grow. We rock at web design, content marketing, campaigns, SEO, marketing automation, and full marketing fulfillment.
6 Reasons Why Your MSP Should Provide Live Chat Support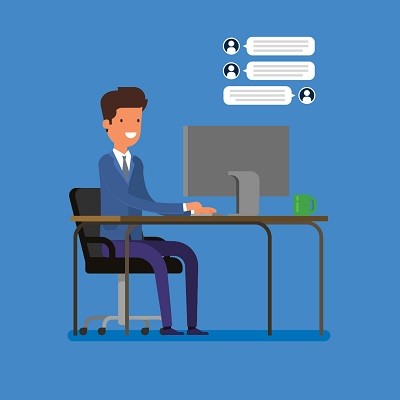 Adding a Live Chat solution to your MSP website is one of the best things you can do. Not only will your clients and prospects love it, but your IT company will receive many benefits from doing so.
Let's talk about it.
Why Customers Love Live Chat
Why is Live Chat appreciated by so many people? Here are some of the reasons found by BoldChat: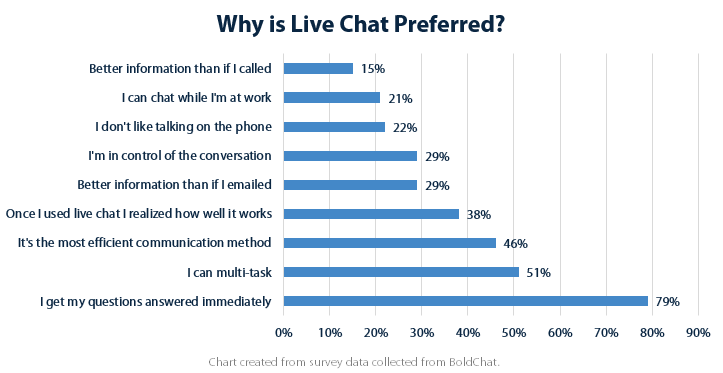 Now that you know why customers like it so much, let's talk about the benefits that can extend to your MSP if you start using it.
Benefits of Having Live Chat On Your MSP Website
Decrease Response Times
We've talked about this before: quick response times matter. Instant gratification is commonplace in the digital world, and your customers want what they want right away.
Unfortunately, with most online support, response time isn't the best, and not everyone is willing to pick up the phone to give you a call. According to research, average response times for social media is 10 hours, and for email it's often over 12 hours! Even if your MSP's own response time is better than this, you still risk losing potential leads or angering your customers if you don't respond soon enough.
Live Chat helps with this. With Live Chat, your website visitors can connect with a member of your team almost instantly. That's probably why, according to research conducted by eDigital's Customer Service Benchmark, satisfaction levels from customer service are higher for Live Chat interactions (73 percent) compared to email (61 percent), social media (48 percent) and phone (44 percent).
Reduce Support Costs
Unfortunately, customer service costs can add up quickly for any company - even more so when this support is over the phone. You can only handle one call at a time, and due to the often complex nature of technical support that an MSP might face, these calls can sometimes take a while due to troubleshooting.
With a Live Chat solution, it becomes easy to handle multiple requests for support at once. Once you've determined questions and concerns that you commonly field via live chat support, you can set up canned responses, which reduces support costs even further and improves response times.
Gain an Advantage Over Your Local Competition
According to a survey by SuperOffice of 1,000 websites, only 9 percent of websites are using live chat software. It's likely that a lot of your competition isn't.
Live Chat is a great differentiator because with it, you can provide near-instantaneous support. Yes - that can be done over the phone… if a client is able to get you when your phone lines aren't busy. If they have one simple question, they might not find it worth doing so.
Having a Live Chat portal on your website gives website visitors a much easier, more convenient way to ask any questions that they have, no matter how simple or numerous they may be. This is extremely important to many customers: according to Live Agent, 44 percent think that this ability to talk to an agent while making a purchase online is one of the best features a website can offer.
Easy Troubleshooting
As an IT company, a good portion of what your technicians do likely involves troubleshooting various technology-related problems that occur to find the solution for your clients. This of course can be done over the phone if it's something that they can do on their own, but that can be rather difficult and time-consuming to deal with.
The benefit of Live Chat comes through its online interface. Photos and screenshots can be shared through the chat; instead of a client trying to describe what they are seeing on their computer, they can show you! You can send them links of how-to articles with step-by-step instructions on how to fix their problem. Or, you can point them to a page on your website that would help them. Clicking a link through a Live Chat portal is much less work than navigating to a webpage based on a URL read over the phone!
Build Trust with Website Visitors
Live Chat enables your clients and prospects to interact with an actual person instantly and easily, making your company more credible in the eyes of those who use it. This is especially important for prospects who have not yet formed a business relationship with you - how do they know that you're an IT company worth partnering with?
With Live Chat software on your website, prospects can get any help they need and ask questions about your company and service offerings to mitigate their own perceived risks.
Increase Sales and Conversions
Having a real person to walk them through the buying process gives confidence to your website visitors to make a purchase decision - it even encourages them to spend more, and come back at a later date! This has been backed by research:
35 percent more people made a purchase online after using Live Chat
B2B companies who used live chat saw a 20 percent increase in conversions on average
63 percent of customers who have used Live Chat on a website tend to come back, buy more often, and are less expensive to maintain relationships with
As you can see, there are many benefits to adding Live Chat Support to your MSP Website. Are you ready to give it a try?
Get Live Chat Support on Your MSP Website
For a small one-time setup fee, with no recurring payments or per user licensing, we can get you your own simple-to-deploy Live Chat software so that you can start engaging your website visitors. It works on every platform, major browser, and even on mobile devices, so you can engage your current and potential customers in real-time no matter how they choose to access your website.
Start engaging your website visitors today! Visit our website to learn more.
Comments
No comments made yet. Be the first to submit a comment