JoomConnect Blog
JoomConnect is the Marketing Agency for MSPs. We strive to help IT companies get more leads and grow. We rock at web design, content marketing, campaigns, SEO, marketing automation, and full marketing fulfillment.
Understanding Metrics Series (1 of 6) - Website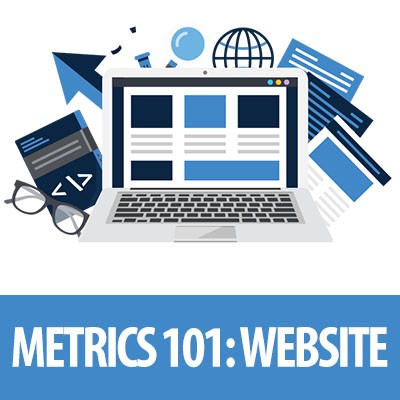 In this six-part blog series, we'll explore the key metrics you should be looking at when trying to determine how to improve the ROI of your marketing. Here, in Part 1, we'll examine the top five metrics you should be looking at in regards to your company's website.
Website Metrics
(1) Unique Visitor Traffic: Your unique visitor traffic measures the number of individual visitors to your website over a specific time period. An increase in unique visitor traffic means that you are successfully attracting more new visitors to your website.
How to improve your unique visitor traffic:
Increase your marketing efforts: The right marketing campaign should draw more visitors to your website. Make sure that you are targeting the right people and are including the proper calls to action that direct recipients to your website
Boost on social media: Paying to increase your reach on social media will allow more people to learn about you. You can create lookalike audiences so that you target people similar to those who follow you. Just make sure you link them to your website from your posts.
(2) Repeat Visitors: This refers to the percentage of visitors to your website who return. If you are getting repeat visitors to your website, it means your inbound marketing is working. A higher percentage would indicate this. It's important to see if your conversion rates are increasing along with this.
How to improve your repeat visitors:
Create an informative website: Make sure the content that you have on your page is designed to reach people at all stages of the decision making process. One of the best ways to do this is to have a blog that covers your target audience's pain points.
Improve your online presence: If a potential lead is interested in doing business with you, they're likely going to be researching you by reading online reviews and reviewing your social media pages. Impress them through these sources, and they'll be more likely to return to your website.
Make it easy to return: Ensure that it is easy for them to find your website again: claim your business through Google My Business and add your website URL if it isn't attached already. Make sure that all of your social media pages link to and from your website.
(3) Bounce Rate: The bounce rate is the percentage of visitors to your website who leave your website almost immediately, without interacting with your website. Your bounce rate should be between 25-45% on average. A too low bounce rate could mean there's something wrong with your analytics setup, and too high of a bounce rate reflects visitor's disinterest in your content.
How to improve your bounce rate:
(4) Direct Traffic: Direct traffic measures those who access your website by either typing in your url, accessing your website through a bookmarked link, or clicking on an untagged link in online content such as email, and digital documents such as newsletters, brochures, and whitepapers.
How to improve your direct traffic:
Online deliverables: Produce online deliverables and put them on your website. Users can download those deliverables and save them for later. If you include links back to your website in your deliverables, readers can easily return to your website by clicking on or pasting the URL into their browser. Note that the deliverable you produce has to be of value and topical. It's ok to give a taste of the 'secret sauce.'
Physical marketing: Sending prospects and clients things in the mail such as letters, brochures, and postcards that include a link to your homepage make it easy for clients to learn more. If you have a long URL or want to link to a different page on your website, it's best to use a shortened URL so that the recipient won't have to type in too many letters and characters. Also, provide synopsis or teasers to other valuable information on your site. This will encourage clients to want to visit the site for more information.
(5) Organic Traffic: Organic traffic measures the number of people who get to your website by clicking on you from search engine results.
How to improve your organic traffic:
Fix your keywords: Are your keywords relevant to your target audience? Are these keywords present in your page titles? H1 tags? URLs? Make sure that they are if you want to improve your search engine rankings. When it comes to keywords, don't assume. Reach out to current clients or your sales team and ask what words clients used to find your business/services. You will be surprised at what they say, and the insights provided will help your site be more authentic and relatable to what people are really searching for. You can also have someone help fix things for you.
Create relevant content: Add content to your website on a frequent basis that is created with your target audience in mind. The easiest way to do this is to start a blog, and post 2-3 articles a week that cover topics of interest to your audience. This also helps improve your search engine ranking.
Promote your blogs on social media: Use social media to promote your blog content; don't post it and leave there hoping people will find it. You can also post to the social media of organizations you feel will be a good fit. This way, you increase the opportunities for traffic which will be a good fit for you as well.
Understanding Metrics
Knowing what metrics you should be looking at in regards to your initiatives is the first step in improving your marketing efforts. Check back for the next installment of this blog series covering video metrics, and reach out to us for more assistance.