JoomConnect Blog
JoomConnect is the Marketing Agency for MSPs. We strive to help IT companies get more leads and grow. We rock at web design, content marketing, campaigns, SEO, marketing automation, and full marketing fulfillment.
CPT: Smoky Tex-Mex Sloppy Josés [Video]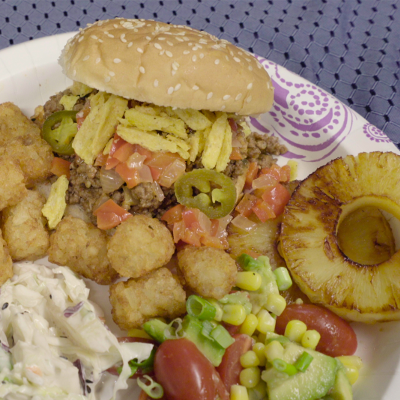 After taking a week off, we're back with a new Crock-Pot Thursday video. For today's Crock-Pot Thursday lunch, we're trying few recipes for the first time. We going to try Smoky Tex-Mex Sloppy Josés with Tomato Corn and Avocado Salad, Creamy Coleslaw, Red Pepper Relish and Grilled Pineapple.
Smoky Tex-Mex Sloppy Josés
INGREDIENTS
Extra Virgin Olive Oil or vegetable oil, for drizzling
4 slices bacon, chopped
1 pound ground sirloin
Salt and black pepper
1 onion, chopped
2 serrano or jalapeño chile peppers, finely chopped
3 to 4 cloves, garlic, chopped
1 tablespoon chili powder (about a palmful)
1 1/2 teaspoon ground cumin (about 1/2 palmful)
1 1/2 teaspoon ground coriander (about 1/2 palmful)
1 cup lager beer, at room temperature
1 cup tomato sauce
1 tablespoon light brown sugar
2 tablespoons Worcestershire sauce
1 tablespoon cider vinegar
1 tablespoon hot sauce, such as Franks RedHot
4 burger rolls, toasted
Toppings: crushed Fritos corn chips, pickled jalapeño rings and sweet red pepper relish
PREPARATION
In a large skillet, heat a drizzle of oil over medium heat. Add the bacon and cook until crisp, about 5 minutes.
Using a slotted spoon, transfer to a paper towel to drain. Add the ground beef to the pan and cook until browned, stirring with a spoon to crumble it; season with a little salt and black pepper.
Return the cooked bacon to the pan and add the onion, chiles, garlic, chili powder, cumin and coriander. Cook, stirring, until the onion is softened, about 5 minutes.
In a medium bowl, stir together the beer, tomato sauce, brown sugar, Worcestershire, vinegar and hot sauce. Pour the mixture over the meat, lower the heat and simmer for 5 minutes or until ready to serve.
Using a large ice cream scoop, spoon the Sloppy Jos mixture onto the roll bottoms. Layer with the crushed corn chips, pickled jalapeños, red pepper relish and roll tops.
Tomato, Corn, and Avocado Salad
INGREDIENTS
1 ear corn (husk and silk removed; tip cut off)
2 pints cherry, grape, or pear tomatoes, halved (or quartered if large)
1 avocado, halved, pitted, peeled, and diced 2 scallions, thinly sliced
2 tablespoons fresh lime juice
1 tablespoon vegetable oil, such as safflower
Coarse salt and ground pepper
PREPARATION
Stand ear in a large wide bowl; with a sharp knife, carefully slice downward to release the kernels. Discard cob. Add tomatoes, avocado, scallions, lime juice, and oil to bowl. Season with salt and pepper, and toss gently to combine.
Creamy Coleslaw
INGREDIENTS
1/2 cup light mayonnaise
2 tablespoons cider vinegar
2 teaspoons sugar
Coarse salt and ground pepper
1/2 head green cabbage (1 1/2 pounds), cut lengthwise into thirds and thinly sliced crosswise
2 medium carrots, sliced with a julienne peeler or a vegetable peeler
2 medium scallions, minced
PREPARATION
In a medium bowl, combine mayonnaise, vinegar, and sugar; season with salt and pepper. Add cabbage, carrots, and scallions; mix to combine. Let stand at least 15 minutes at room temperature to soften cabbage, or cover and refrigerate up to 1 day.
Red Pepper Relish
INGREDIENTS
2 teaspoons extra-virgin olive oil
4 medium red bell peppers, diced small
1 medium red onion, diced small
Coarse salt and ground pepper
1/2 cup red-wine vinegar
1/4 cup sugar
1 1/2 teaspoons vinegar
PREPARATION
In a medium saucepan, heat olive oil over medium-high. Add bell peppers and onion; season with salt and pepper. Cook, stirring occasionally, until vegetables begin to soften, about 6 minutes. Add red-wine vinegar and sugar and simmer until liquid is evaporated and vegetables are tender, about 15 minutes. Remove from heat and stir in vinegar. Let cool completely, about 1 hour.
Comments
No comments made yet. Be the first to submit a comment