JoomConnect Blog
JoomConnect is the Marketing Agency for MSPs. We strive to help IT companies get more leads and grow. We rock at web design, content marketing, campaigns, SEO, marketing automation, and full marketing fulfillment.
JoomConnect Announces MailChimp ConnectWise Integration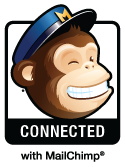 Oneonta, NY - November 10, 2011- Directive, the IT/MSP Marketing Company behind JoomConnect, the integration platform linking ConnectWise with MSP Websites, has announced MailChimp Integration for ConnectWise.
MailChimp offers easy-to-use email newsletter tools for creating campaigns, monthly newsletters, and email blasts with modern tracking capabilities and other cutting-edge features. ConnectWise, which is used primarily by IT Service Providers for scheduling, accounting, ticket management and marketing, allows companies to manage their contacts into marketing groups for campaigns and other tracking purposes. JoomConnect's MailChimp Integration with ConnectWise synchronizes ConnectWise Marketing Groups with MailChimp Lists, allowing subscribers to be added from either product, and synchronizes ConnectWise Campaigns to MailChimp Campaigns. Users will be able to create and send emails through MailChimp instead of the ConnectWise Marketing Manager, and opens and clicks are automatically integrated with the Marketing API and the Campaign Monitor in ConnectWise without requiring any additional programming. Sending of the Emails and Bounce handling is done through MailChimp and synchronized to ConnectWise as well. Directive CEO Chris Chase says, "As an MSP ourselves, measuring our ROI for email based marketing campaigns was trying, but with JoomConnect's automation and MailChimp's ease-of-use, it's a fluid process to kick out announcements, promotions, and other content and have it all tracked within ConnectWise." Quick Campain Pro for MailChimp is a part of Directive's MSP Marketing offering, which includes services such as Websites, SEO, Printed Newsletters, eNewsletters, Blog content, and Social Media Marketing Solutions. "We will be providing the MailChimp integration for free for clients subscribed to our monthly eNewsletter service so they can manage their mailing lists with marketing groups, and track all of their clicks and opens right in their ConnectWise, but anyone can use the MailChimp integration for email blasts and other marketing initiatives even if they don't use our eNewsletter service," says Chris Chase. The ConnectWise MailChimp integration is being launched today at the 2011 ConnectWise IT Nation Partner Summit, held in Orlando, Florida November 9th, 10th, and 11th.

About Directive & JoomConnect
Directive is a Managed Service Provider & Web Development Company based in Oneonta, NY. Services include Proactively Managed IT Support, Cloud Computing, VOIP, Hosting, Graphic Design, Web Development, Marketing Integration & Social Media. Directive is also the author of JoomConnect. JoomConnect extends ConnectWise to your website by synchronizing users, automating website marketing efforts and Integrating MSP client portals, providing a single login for your clients on your website. You can find Directive on the web at http://www.directive.com |http://www.joomconnect.com or by calling 607-433-2200.