JoomConnect Blog
JoomConnect is the Marketing Agency for MSPs. We strive to help IT companies get more leads and grow. We rock at web design, content marketing, campaigns, SEO, marketing automation, and full marketing fulfillment.
How to Choose the Right Marketing Agency for Your MSP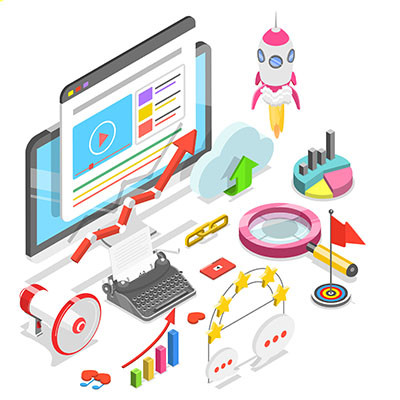 Are you ready to invest resources into marketing your MSP, but don't know where to find a partner to help you reach your marketing goals? With many marketing agencies vying for your attention, it's hard to know which one is right for you. Take a moment to learn how to choose the best marketing resource for your MSP.
Why You Should Consider Using a Marketing Agency
The catchphrase most MSPs use when describing their services is: "Let us worry about your IT; you worry about your business." This emphasizes that a business owners' attention is better spent on running their business than trying to troubleshoot their servers. Off-loading these tasks to a professional saves them time and ultimately money, due to increased productivity and reduced downtime.
Choosing a marketing agency to promote your services as a managed service provider relies upon the same sentiment. Instead of struggling to market your MSP yourself, something your team may not be familiar with, partnering with a marketing agency can bring much-needed attention to your business. This can generate leads, allowing your sales team to focus on closing the deal, and keeping good relations with your existing clients.
If you've been struggling to promote your MSP, gain traction over your competitors and generate leads, a marketing agency may be able to help you gain a foothold. One thing to consider is how marketing agencies approach this goal can vastly differ. If you are new to marketing, here are some benefits and negatives to consider when deciding which type of agency to use for marketing your MSP.
How to Choose the Right Marketing Agency for Your MSP
While there are certainly areas of overlap, there are some ways in which each type of MSP marketing agencies are unique in the methods they employ to help you generate leads. Here's some information to help you choose the right one for your organization.
All-Purpose Marketing Agency
An all-purpose marketing agency is an agency that works with a variety of industries and doesn't really have a focus on one in particular. An underlying premise of all-purpose marketing agencies is the belief that marketing is marketing. For many generic marketing agencies, whether it's pizza, sneakers, or cybersecurity, how you market will be the same, because you're just selling stuff.
These all-purpose agencies often rank high on the search engines due to their ability to leverage their diverse client base, giving Google's algorithm the appearance of being a good fit for a wide variety of industries. While this does provide the benefit of gaining attention, after all, being on page one of Google has advantages, generic marketing agencies can struggle with marketing niche businesses, like MSPs, due to their lack of familiarity.
If you've been trying to market your MSP for some time, you're aware that most companies don't know what an MSP is or how a business can benefit from working with an MSP. Unfortunately, this lack of awareness isn't limited to businesses you could engage with; it can also affect any marketing agency you partner with. This lack of understanding can restrict their ability to develop an effective marketing plan for your business, resulting in possibly poor outcomes. Simply put, how can they market services they don't understand?
Benefits of working with an All-purpose Marketing Agency include:
A fundamental understanding of marketing strategies
Experience working with a wide range of organizations
Access to a variety of marketing tools
Some negatives include:
A lack of experience working with MSPs
No MSP-centric content
No dedicated MSP website
Basically, you need to teach them your industry
MSP Marketing Consultants
These are agencies that focus primarily on marketing for MSPs. There are quite a few of them out there who have cropped up over the years.
A unique feature of MSP-focused marketing consultants is that they usually offer a "toolkit" of templated marketing materials, workshops, and wisdom-sharing with other MSPs. A trait of most MSP marketing consultants is that they offer a one-size fits all approach to their marketing materials. They often provide all their clients with the same materials, advising them to personalize them by adding their names and other contact information. These marketing consultants are a good fit for MSPs unfamiliar with marketing and who want all their marketing materials in one convenient package, and have the time to actually do the work to fulfill them.
One issue most MSPs don't consider when working with an MSP marketing consultant is that they require their members to manage their own marketing. This means that while they provide you with the materials to run a marketing campaign, you're responsible for the actual implementation. If you wish to see real benefits, you must be committed to providing time and resources to the marketing process. Let's face it, if you're interested in partnering with an MSP marketing agency, you don't have the time or inclination to do all of your own marketing.
Benefits of working with an MSP marketing consultant:
Access to other MSPs who are members of the program for wisdom-sharing
Offered workshops and retreats to help you better understand the program
A large number of pre-formatted templates
Some negatives include:
Expensive membership fees
Marketing materials can seem dated, and not taking advantage of modern marketing practices.
Significant time commitment of your team is required to see results
If you are a small MSP with a limited budget and just need a website and some other a la carte marketing services and materials to get yourself to the next level, we're a great fit. We're not trying to brag, but we take pride in the content we build, and our pre-built website solution is by far the best, most flexible solution. Even large MSPs with a lot of marketing dollars use our base services and customize everything to suit their needs.
Dedicated MSP Marketing Agency
A dedicated MSP marketing agency is a marketing agency wholly focused on working with MSPs as their primary business, not a side hustle. More importantly, these agencies were MSPs themselves and, as such, have an intimate understanding of what struggles MSPs have to overcome to break through the noise, educate businesses, and generate leads.
The advantage of working with a full-service marketing agency dedicated to MSPs is that they need considerably less time to ramp up the marketing and generate leads due to their familiarity with managed services. You don't have to waste valuable time translating your needs to market your MSP because they already speak your language. While any marketing agency can claim to understand your needs as an MSP, there are some signals you should be aware of when determining if they can genuinely help you market your MSP.
Can they provide you with an MSP-centric website? That is, a website created from the ground up solely focused on your service offering in a way that justifies what you do?
Do they have the ability to provide your website with authentic content explaining and promoting your services as an MSP?
Are they offering website and content templates designed to get your MSP marketing up and running as quickly as possible?
Can you access additional resources such as SEO, PPC, social media, and more to help your marketing endeavors be more effective?
Are they able to create a completely custom marketing plan for your MSP?
What Benefit Does Working With an MSP-Focused Marketing Agency Bring to Your MSP?
One way to think about a dedicated MSP marketing agency is by combining the best traits of a generic agency and a marketing consultant. A full-service MSP marketing agency will offer your organization flexibility and a wide array of services. You can also pick and choose which services are right for you, including a complete turnkey solution to get your marketing up and running quickly.
For example, we offer a fully functional, ready-to-go MSP website with MSP-focused content. We also offer a variety of marketing solutions designed to help you generate leads and get your message out. Interested in a fully customized marketing solution? We can help you select a custom website, provide custom MSP content, leverage your social media presence, and help you generate leads.
If you're not sure which type of agency is the right fit, contact us today to schedule a consultation. We can help you decide which marketing solution is right for your MSP.