JoomConnect Blog
JoomConnect is the Marketing Agency for MSPs. We strive to help IT companies get more leads and grow. We rock at web design, content marketing, campaigns, SEO, marketing automation, and full marketing fulfillment.
First Impressions Matter, Especially When Onboarding a Client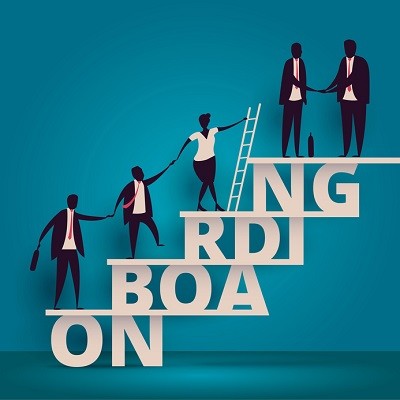 This phrase may sound familiar to you: "You don't get a second chance to make a first impression." There have been countless psychological studies that have shown how important it is to put your best foot forward when you first meet someone if you want to leave a positive, lasting impression.
The same is true for your business: if you want to successfully onboard clients, you need to make a good first impression. Even if you do manage to onboard these clients after a bad first impression, they might not stay clients for long.
Pre-Onboarding
It's not just your onboarding process itself that you have to worry about, it's everything that happens before too. In a way, the onboarding process starts before you even get in contact with a decision maker interested in your company's IT services because a client has to find you, and then make initial contact with your sales team.
What is the initial first impression that a client is going to develop before they even contact you?
In the vast majority of cases, it's your company website. If it's not the first instance of them learning about your company and service offerings (and it may not be if you are properly marketing your company), they're likely going to end up on your website before they first reach out to you.
What does your website say about your company's ability to provide Managed Services and other related IT services to your local area? Does it do a good job in showcasing your expertise? We're not just talking about the words you type, but also the impression it leaves the user through its performance, appearance, and the other types of content on it.
A good website will take you to the next stage. A bad one will lead to a lot of potential customers bouncing before they get the chance to see what you can do for them.
Initial Communications
Another first impression you're going to be leaving is through the first actual touchpoint had with your company. It's one of the reasons that we suggest automating some of your marketing. For example, if a client fills out a form on your website or messages your Business Page on Facebook letting you know they're interested in Network Security, you should set up an automated response letting them know that you've received their message, and a representative will be getting back with them shortly. This is recommended, especially because you might be getting some of these inquiries outside of normal business hours. You don't want them waiting for days to receive anything from you if they contact you right before a holiday or late Friday night.
Once you receive something like this, you need to have your sales team follow-up with that person as soon as possible. Waiting too long may cause them to start looking toward other Managed Service Providers in your area (if they aren't already), and you don't want to lose them to your competition due to slow response times!
When a member of your sales team gets in contact with them for the first time, be sure they:
Are on time
Speak, and (if meeting in person) dress professionally
Ask questions to really learn the in's and out's of their business
Focus on the prospective client's needs and interests
The Actual Onboarding Process
If you've gotten to this point with the majority of the clients you've communicated with that are actually interested in the services that you provide, you're probably in good shape. However, this doesn't mean that you've sealed the deal yet. If your onboarding process is too complicated and leaves a bad taste in your new clients' mouth, they may not be your client for very long.
The process of onboarding is the first step of starting a business relationship with you. So, while it's not the 'first impression' they have of you per se, it matters a great deal.
Imagine yourself back in high school, and there is this guy or girl that you have a crush on. Maybe you've seen them around before and had a class or two with them. Maybe you've even talked to them a few times. By some miracle, they ask you out on a date. AWESOME! You already like them, and think pretty well of them at the moment. The problem is, on the date itself, you start noticing quite a few things about them that you're not too fond of that you didn't notice before. Maybe you decide to stick it out for a while. But, for a lot of people, a bad first date that occurs due to personality conflicts indicates that it's a relationship not worth pursuing long-term.
It's essentially the same for onboarding. Even if this client decides to stick around, the initial 'rocky start' to your business relationship might have them looking elsewhere to other companies to find one that they feel would make things less complicated. If they find one of your competitors who promises to makes things easier, then you're likely going to be dumped.
After Onboarding
Just like a real relationship, with business relationships, your work is not done after the start. You need to work to maintain a good relationship with your clients through regular communication efforts. Fortunately, your marketing can help with this.
If you need help with any of these marketing touches, we have a variety of MSP Marketing services that should be able to help. Feel free to contact us to see if they would be a good fit for your company's own marketing efforts.
Comments
No comments made yet. Be the first to submit a comment