JoomConnect Blog
JoomConnect is the Marketing Agency for MSPs. We strive to help IT companies get more leads and grow. We rock at web design, content marketing, campaigns, SEO, marketing automation, and full marketing fulfillment.
CPT: Satisfy Your Sweet Tooth with This Summer Treat!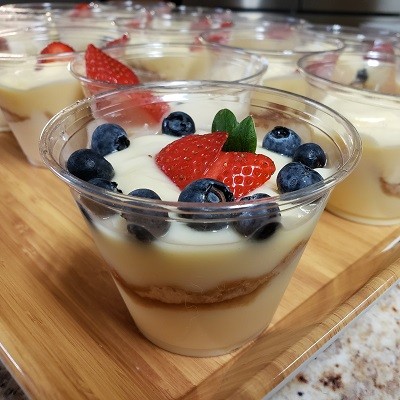 Do you ever get a craving for something sweet?
Many of us at JoomConnect have a bit of a sweet tooth, and are always looking for new recipes and desserts to try. On this Crock-Pot Thursday, we decided to try a recipe for Strawberry Shortcake Pudding Cups. Fortunately, we picked a good one: it was a hit!
We call this a Summer treat, but in reality it would be good year-round. Give it a try yourself to see what we mean!
Strawberry Shortcake Pudding Cups
Ingredients
2 (3.5-oz.) boxes cheesecake flavored instant pudding
1 1/4 c. whole milk
1 c. whipped topping, plus more for garnish
3/4 c. Nilla wafers, finely crushed
12 small strawberries, thinly sliced
Directions
In a large bowl, combine pudding with milk. Whisk until fully incorporated. Fold in whipped topping.
Fill 1/3 of each cup with pudding, top with a small spoonful of Nilla wafers, then fill with remaining pudding.
Refrigerate until set and chilled, 1 hour.
Garnish each pudding shot with a small dollop of whipped topping and strawberries.
Recipe courtesy of theFFeed