JoomConnect Blog
JoomConnect is the Marketing Agency for MSPs. We strive to help IT companies get more leads and grow. We rock at web design, content marketing, campaigns, SEO, marketing automation, and full marketing fulfillment.
CPT: Fast Food in Slider Form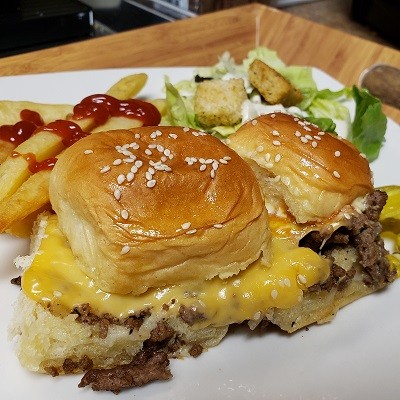 Sliders are a wonderful thing. They are great appetizers at any party or get-together, and can make a great addition to any meal. It's a shame that too few restaurants have caught onto just how great they are.
We have to give credit to fast food joints like White Castle and Arby's that have caught onto Slider Mania. Some have only dabbled with them a bit. McDonalds in particular tested out sliders - McTasters - back in 2016. Unfortunately, they were only offered for a limited time at select Canadian locations and were never added as a permanent menu item.
What if we told you that you could make your own McDonalds sliders that are (in our opinion) just as good - if not BETTER - than the real thing? This recipe for CopyCat Big Mac Sliders will give you a taste of the Golden Arches from the comfort of your own home. Made with King's Hawaiian Rolls, we bet you can't have just one!
Copycat Big Mac Sliders
Ingredients
12 Slider buns
1 pound Ground Beef
1 Onion, medium
¼ teaspoon Salt
7 slices American Cheese
24 slices Pickle
Ketchup & Mustard
Secret Sauce
2 teaspoon Sesame seeds
1 tablespoon Butter, melted
Sauce Recipe:
1/2 cup Mayonnaise
4 tablespoon Dill pickle relish
2 tablespoon Yellow mustard
1 teaspoon White wine vinegar
1 teaspoon Paprika
1 teaspoon Onion powder
1 teaspoon Garlic powder
Directions
In a large skillet over medium high heat add diced onions and cook for 3 minutes.
Add ground beef and salt and continue to cook until meat is cooked through and onions are translucent.
Drain grease from beef.
Preheat oven to 350 degrees F.
Cut slider buns in half setting the tops of the buns to the side.
Place bottom buns on a baking sheet.
Spread beef and onion mixture over the cheese.
Using 7 slices of cheese create a layer of American cheese over the beef.
Place the pickle slices over the cheese.
Drizzle with ketchup, mustard, and secret sauce.
Place top buns on top of everything.
Cover the sliders with aluminum foil and bake for 15 minutes.
Remove foil and brush buns with melted butter and sprinkle with sesame seeds.
Bake for another 5 minutes or until cheese is completely melted.
Recipe courtesy of Home. Made. Interest.