JoomConnect Blog
JoomConnect is the Marketing Agency for MSPs. We strive to help IT companies get more leads and grow. We rock at web design, content marketing, campaigns, SEO, marketing automation, and full marketing fulfillment.
Ahead of the CURVE: Why IT Marketers Love Email Marketing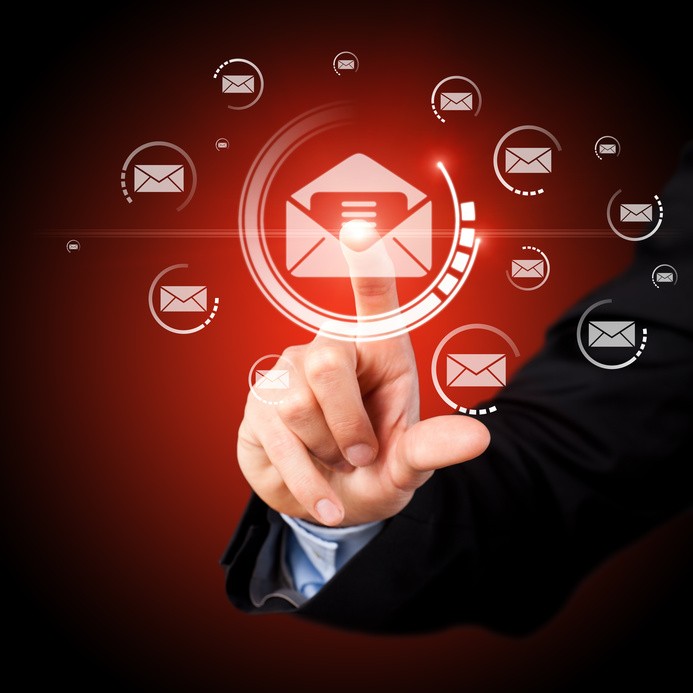 Practically every marketer has an opinion about HOW to write a marketing email. A Google search of 'B2B email marketing' will reveal hundreds of thousands of websites, articles, blogs, videos, and infographics that offer best practices, templates, examples, etc. Often, these articles contradict each other and are created based on the author's personal experience with very little corroborative data.
When it comes to putting together an email marketing strategy for an MSP, there will be a bit of trial and error before finding a formula that works. The best place to start is to consider which features and aspects of email marketing works for IT marketers. Here's the facts.
About 17% of IT channel marketers feel that email marketing offers an excellent return on investment and 39% say that it offers a good return on investment. Out of several common marketing initiatives used by the IT channel, email marketing had the highest ROI. The graph below looks at several popular methods employed by IT markers and how effective they are.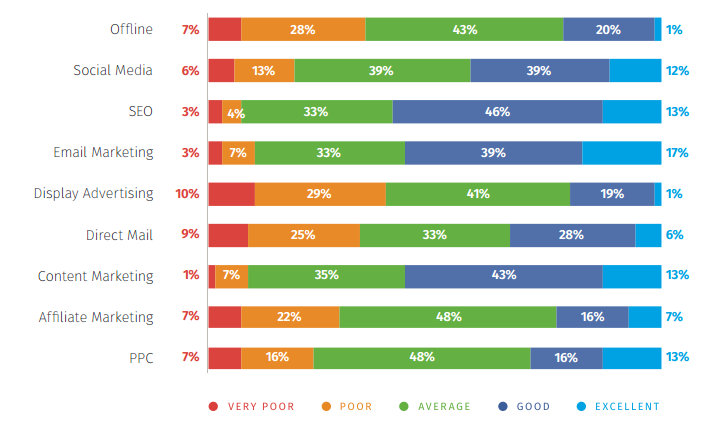 The same marketers were asked to identify the top benefit of email marketing for their technology business. Nearly a quarter of respondents stated that it was an increase in lead generation. The second largest benefit was improved conversion rates, followed by reduced marketing costs.
A few more eye-opening email marketing realities for IT channel marketers reveal just how far IT marketing strategies need to go before they're able to maximize results.
12% of IT marketers that just don't bother tracking metrics of emails at all.
25% do not have a managed mailing list to market toward and no one cares for the list.
29% of marketers in the IT industry only use one marketing message sent to everyone on their list.
IT Marketers send an average of 4.3 emails a month.
There are several types of email communications to IT marketers employ to reach their targets. Not surprisingly, eNewsletters were the favorite. This graph indicates the most popular methods email marketing amount IT marketers.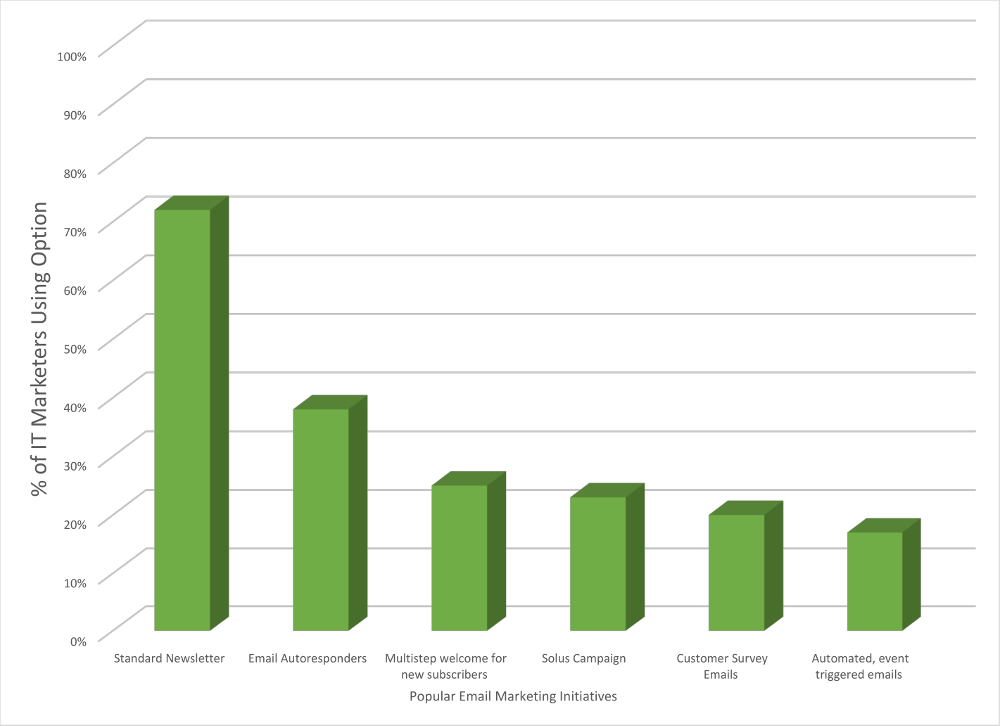 As the popularity of marketing automation continues to soar, IT marketers have been quick to embrace the benefits of automated marketing emails. In fact, nearly ¾ of IT marketers use automated emails for things like first purchase, subscriber welcome, form submission success, purchase confirmations and more. Of those who use marketing automation, more than half include personalization beyond just 'customer name'. The more personalization an automated email contains, the less automated it feels.
Of course, there can't be a discussion about marketing and what works without talking about money. About half of marketers will increase their email marketing budget of the next year, and less than 1% plans to decrease the budget.
Now, put this information to use for your MSP's email marketing initiatives:
Email the Right List - As many marketers can attest to, having a quality list to market to will play a huge role in the success of your campaign. Understanding your audience and their needs is the best way to craft successful emails. An up-to-date contact list will help you go after and onboard the right clients, instead of throwing your marketing budget down the drain.
Establish Metrics - Especially for MSP owners, the only metric that really matters return on investment. "Did this marketing initiative make me money? Yes or No?" Unfortunately, there is a bit more to measuring success of email marketing. For example, eNewsletters are the most popular type of email marketing - yet they rarely lead directly to a sale. Instead of ROI, useful email metrics opens, clicks, likes, shares, comments, and form submissions. All of these metrics contribute to lead nurturing and customer loyalty.
Refine Marketing Emails - Just as we recommend with any campaign, emails should be created, run, reviewed, refined, and run again. There's almost always room for improvement.
CURVE Your Subject - A great benchmark for crafting a subject line that gets your audience a response. Use words that convey: Curiosity, Urgency, Relevance, Value, and Emotion. When deciding on a title, ask yourself 'Would I open this email?' If you don't find the title engaging, your target audience might need to as well.
Email marketing is the IT channel's favorite for a reason. It's the primary way to communicate and the ways to use it to market are endless. What do you think about the statistics and information from this article? We'd love to hear your insights on email marketing!