JoomConnect Blog
JoomConnect is the Marketing Agency for MSPs. We strive to help IT companies get more leads and grow. We rock at web design, content marketing, campaigns, SEO, marketing automation, and full marketing fulfillment.
A Code of Ethics Can Bring Value to Your MSP's Marketing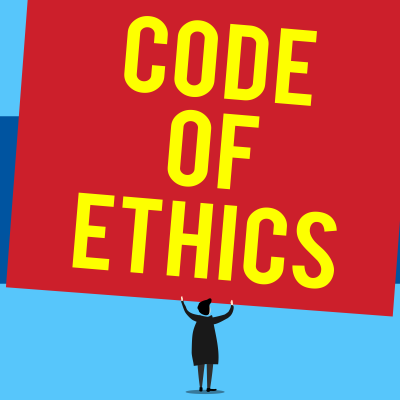 While most might be familiar with the concept of a business' code of conduct—the rules that their employees have to follow and comply with—fewer are likely aware of the concept of a code of ethics. Let's go over what this kind of code covers, and how a friendly neighborhood IT team might develop one of their own.
What is a Code of Ethics?
The code of ethics is an extension of a business' mission statement. While the mission statement sets the tone for the company as a whole, the code of ethics outlines the business' established and expected approach to situations based on the values that you want to have associated with your business.
Some industries, such as those that operate in the medical or legal fields, are upheld to particularly stringent standards in terms of their ethics. Otherwise, these ethics tend to be pretty universal: do the right thing, respect one another, act professionally, and focus on inclusivity.
How an IT Provider Can Use Its Ethics to Its Advantage
With the idea that an ethical code is meant to fill in the gaps that other regulations don't cover, it only makes sense that your code of ethics addresses the concerns that your audience may have. This is particularly the case in terms of:
The promises you make as a managed service provider
The practices you follow as you dispense your services
The standards you hold your employees to as they fulfill their duties
The quality of service you vow to deliver
By codifying these responses and incorporating them into your marketing materials (as we'll discuss later), you give your prospects the reassurance they need to overcome their concerns… at least to the point where they'll reach out to learn more.
The MSPAlliance Provides a Code of Ethics We Can Examine
Conveniently, the International Association of Cloud and Managed Service Providers provides their own Code of Ethics & Conduct that we can use as an example. We still recommend, however, that you take the time to develop your own version to share with your internal resources and to reference in your marketing materials.
Breaking Down the MSPAlliance Managed Service Provider's Code of Ethics
These standards are actually seen as a condition of membership in the MSPAlliance, which makes sense—particularly from a branding perspective. After all, the MSPAlliance wants to be seen as a trusted business associate. As such, it simply wouldn't do to have its members start providing their services in wildly different ways with various motivations behind them.
By standardizing its code of ethics, the MSPAlliance both protects its own brand, while also building that brand up. This is why its code of ethics outlines behaviors that could lead to a member organization being expelled.
Back to our point, however, the MSPAlliance also makes it a point to set expectations in terms of how its members should conduct their business as a whole. Items 1, 10, and 16, for instance, read as follows:
"1. You will endeavor to perform your work with care and professionalism according to the appropriate authority's requirements, and the interests of end-users. If your professional judgment is not followed, you should provide an explanation as to the likely risks and consequences."
"10. You will not misrepresent or withhold information on the performance of products, systems or services, or take advantage of the lack of knowledge or inexperience of others."
"16. You will not hold yourself out as an expert in an area where you are not. You will only offer to do work or provide a service that is within your professional competence.
- You can determine your own professional competence for undertaking a particular job or role by asking, for example:

i. Am I familiar with the technology involved, or have I worked with similar technology before?
ii. Have I successfully completed similar projects in the past?
iii. Can I demonstrate adequate knowledge of the specific business and/or technical requirements successfully to perform the work?"
Based on this, it becomes clear how an IT provider can and should create an ethical code for its own employees to follow.
Using Your Ethics as a Marketing Advantage
Keep in mind, we aren't talking about ethical marketing here… that's a philosophy that ensures that your marketing upholds a certain standard of honesty and fairness. What we're discussing is the concept of using your business' ethics as a focal point to your marketing to help draw in prospects.
It is also important to keep in mind that your brand's ethics go beyond how you conduct your business internally. They may also involve a particular mission that your organization holds in particularly high standing, or a cause that your business officially supports. Once you've established these ethics, you can start sprinkling them into your marketing materials to entice those that either feel the same way or are drawn to your ideals to reach out to you.
Let's jump back to Item 10 from the MSPAlliance's code for a moment, which (with some paraphrasing) says that the MSP is to be honest about the products and services they offer, forbidding them from trying to mislead their target market. If your MSP adopted a similar policy in its own code of ethics, you could apply that to your marketing. Statements like, "We'll be honest with you about your IT and your best route going forward," mean a heck of a lot more if your company can supply documentation that establishes so much to be true.
Once you've created your own code of ethics, take another look at it to see if there are any differentiators there that might help you stand out from your competitors.
We Can Help You Shape the Right Marketing Message for You
Marketing—and marketing honestly—is a critical part of a successful MSP's processes, and is one that we can help with significantly. Give us a call today to find out more about our various marketing services and how they are designed to help managed service providers set themselves apart from their competition. Reach out to us at 888-546-4384 today.
Comments
No comments made yet. Be the first to submit a comment