JoomConnect Blog
JoomConnect is the Marketing Agency for MSPs. We strive to help IT companies get more leads and grow. We rock at web design, content marketing, campaigns, SEO, marketing automation, and full marketing fulfillment.
Why Good Blog Content is Important For MSP Marketing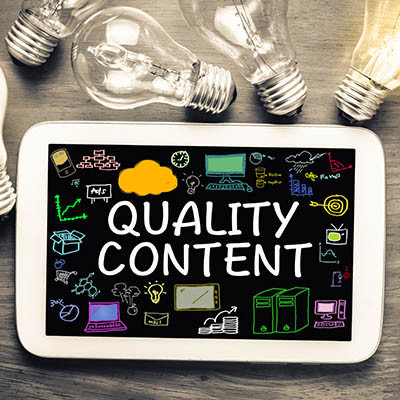 I'm marketing my MSP, not trying to entertain people. I just want to sell my products and services, so why should I spend my time writing a blog?
This is an opinion that we've seen far too often, and something that we wanted to set straight. So, let's answer that question: why is a blog important for a managed service provider to use in its marketing?
There are actually a few different reasons that warrant exploring.
When Done Right, a Blog Attracts Attention
Look, we get it: in an ideal world, every visitor to your website would result in a sale, each and every time. Unfortunately, this world isn't an ideal one, and so it isn't nearly this easy.
In actuality, it's far more likely that your prospects will be looking for the answer to their own problems, plugging their questions into a search engine and seeking out the right path. Naturally, you want your website to be the path they take in their pursuit of answers, as this would make it more likely that they'd start on the buyer's journey and convert to a client.
Therefore, you need to be sure that your website gives them the answer to their questions… something that a few service pages just won't be able to do. With a blog, on the other hand, you can cover an ever-expanding range of IT-related content so your website is more likely to get both your audiences' attention, as well as Google's attention. After a while, your blog could prove to be the thing that draws these searchers to your site, where the content on your service pages can convince them to reach out to you.
Again, it is important to remember that your blog isn't necessarily what will seal the deal, but it is a great way to draw your audience in.
Your Blog is Meant to Educate
Your blog is an ideal means of sharing key IT lessons with your visitors. Sure, you may not be in the business of blogging, per se, but your business should be providing your audience with key insights and other educational information to enable them to make the right decision for their business' success.
By covering all the key considerations that a business needs to keep in mind concerning its technology and overall IT strategy, you can prove to your visitors that you know your stuff and can show them the optimal way to function. You know the old "teach a man to fish" adage? While the person you teach may be better able to take care of themselves, they'll be more willing to reach out to you for assistance when it's needed.
Your Blog Gives You the Opportunity to Present Your Business Positively
While it may be gauche to talk up your own capabilities, a blog gives your organization the opportunity to "humblebrag," in a way. Let's face it, once you've taught your visitors about the needs that a modern business has, they're likely going to want a convenient way to fulfill them.
Use your blog to talk about your wins and successes
Share relationships that you have with your clients and show off the work that you do
Show off employee accomplishments, or fun pictures from your holiday Christmas party
or, showcase staff pets
It doesn't need to be all business!
Most reasonable people don't care for being marketed to, but they do like content that is meaningful.
You Can (and Should) Use Your Blog to Answer Questions
Your blog is also an excellent opportunity to answer those questions that you frequently hear from your clientele—and that they're searching for on Google. By broaching topics like business continuity, security best practices, and common technology solutions for the office, your blogs can provide the answers that your prospects might be looking for while reinforcing your company's reliability and knowledgeability in the process.
Like we said above: your blog is meant to educate. It really isn't a sales tool, nor should it be treated like one. Rather, it's the argument (or platform, whichever you prefer, really) that leads up to your sales pitch.
While your blog can help inspire one of your prospects to reach out, its goal is really more to build the perception that you are a trustworthy provider of IT solutions so when you do try for a conversion, your targeted audience will be as receptive as possible.
Your Blog Can Help Forge a Connection Between You and Your Audience
On a related note, your blog is an opportunity to write an open letter to all of your business' targets and show that you…
Understand the challenges each of their businesses face
Understand the frustration that these challenges generate for them
Understand how to best address these challenges on their behalf
That's really the point of a blog, beyond the SEO benefits and all that. When all is said and done, your blog should primarily be another avenue you can use to connect to your prospects in a way that means something. It should make it easier for them to feel they can turn to you for help.
We can help you kickstart your blogging efforts with our Ultimate MSP Blog service. We'll provide you with fresh content each week that you can post as-is or tweak to better fit your business' offering. Give us a call at 888-546-4384 to learn more about how we can help guide your content strategy to make your website as effective as possible.
Comments
No comments made yet. Be the first to submit a comment