JoomConnect Blog
JoomConnect is the Marketing Agency for MSPs. We strive to help IT companies get more leads and grow. We rock at web design, content marketing, campaigns, SEO, marketing automation, and full marketing fulfillment.
CPT: Which is Better... Tacos or Pizza? Or Is There a 3rd Option? [Video]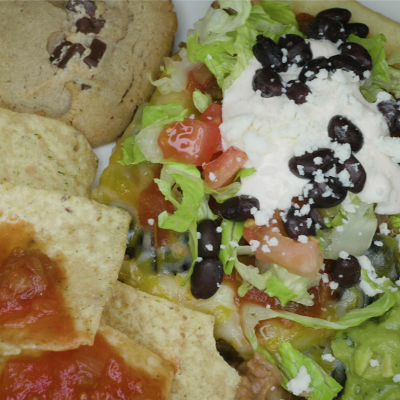 The Yankees or The Red Socks? The East Side or the West Side? Let's face it, the world is full of tough choices. And instead of the festive mood that normally surrounds Crock-Pot Thursday, our team found themselves faced with a marked dilemma: What is better: Pizza or Tacos? After much debate, our brilliant leader, Charlotte Chase proposed a solution that silenced the debate, once and for all... Find out what it was below! .
Taco Pizza
INGREDIENTS
1 can (11 oz) Pillsbury™ refrigerated thin pizza crust
1 lb lean (at least 80%) ground beef
1 package (1 oz) Old El Paso™ taco seasoning mix
1/4 cup water
1 can (4 oz) Old El Paso™ chopped green chiles, drained
1/4 cup sliced ripe olives, drained
2 cups shredded Mexican cheese blend (8 oz)
1 1/2 cups shredded lettuce
1 cup seeded chopped tomato (1 large)
Crushed corn chips, if desired
Old El Paso™ salsa, if desired
DIRECTIONS
Heat oven to 400°F. Spray or grease 15x10-inch or larger dark or nonstick cookie sheet.
Unroll dough on cookie sheet; starting at center, press dough into 15x10-inch rectangle.
In 10-inch skillet, cook beef, taco seasoning mix and water as directed on package.
Spoon evenly on dough.
Top with chiles, olives and cheese.
Bake 13 to 16 minutes or until crust is golden brown and cheese is melted.
Top with remaining ingredients.
Recipe Courtesy of Pillsbury: https://www.pillsbury.com/recipes/taco-pizza/524388cb-cd2b-4ef1-a329-3953c875bcad
Comments
No comments made yet. Be the first to submit a comment
By accepting you will be accessing a service provided by a third-party external to https://www.joomconnect.com/