JoomConnect Blog
JoomConnect is the Marketing Agency for MSPs. We strive to help IT companies get more leads and grow. We rock at web design, content marketing, campaigns, SEO, marketing automation, and full marketing fulfillment.
What Would an MSP's Marketing Funnel Look Like?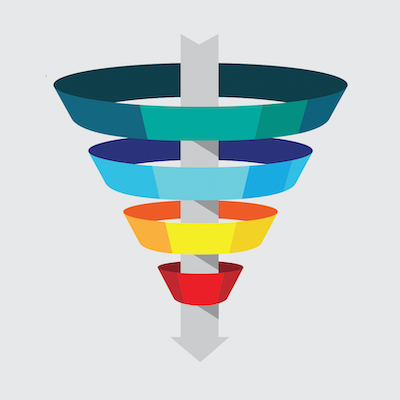 When it comes to marketing any business—managed service providers included—it helps to implement a concept known as a marketing funnel. This strategy can better ensure that your budgeted dollars are being spent effectively while also coaxing your targeted audience through the transition to satisfied clients.
Let's examine the marketing funnel a little more closely before we dive into a hypothetical application of one.
What is a Marketing Funnel?
It's been quite a while since we last discussed the concept of a marketing funnel in-depth, so let's begin there: what is a marketing funnel, anyways?
To put it simply, a marketing funnel is simply the process that leads your most promising prospects to you.
Think about it this way: there's your business, and then there's everyone who you could realistically serve within your service area. However, not all of these businesses will be the right fit for what you deliver, and there's also your local competition to omit as well. Using traditional marketing methods to attain a conversion just isn't economically viable. Rather than requiring you to reach out to all of these businesses in order to share your message, a marketing funnel utilizes an approach known as inbound marketing.
Instead of publicizing your services in the hopes that you attract someone who proves to be a good client, inbound marketing lays the groundwork so that those seeking the services you offer can find you more easily. That's when the marketing funnel goes to work, filtering out those with just a passing interest so you can focus your efforts on only those that show the most promise.
The average funnel can be split into four different stages: establish, educate, entreat, and engage.
Let's go into what each stage of the marketing funnel is shaped by, and the marketing activities that are best suited to each stage when an MSP is trying to attract new clientele.
How Do I Build an Effective Marketing Funnel for My MSP?
Establish
So, your first step is to make sure that what your company does is clear to anyone looking for the services of a managed service provider—and that Google can tell as well. This is where brand awareness needs to be your primary focus. Your target audience needs to be able to seek out a solution to the problems they are experiencing and wind up at your digital doorstep. So you'll need to focus on grabbing your audience's awareness and show yourself to be a trustworthy authority on IT… one that can provide them with the answers they're looking for.
There are a few marketing tactics that can serve this goal particularly well:
Search Engine Optimization and PPC - You need people to find your website, which is greatly helped when the search engines direct them to it. Investing in Search Engine Optimization efforts and Pay-Per-Click advertising can help you to draw interested and promising prospects to your website.
Social Media Marketing - People spend a lot of time today on social media, making it a worthwhile investment to make into your marketing.
Traffic - Referral traffic (or traffic that comes from a link on some other site) both gets eyes on your website and inspires confidence amongst your audience.
Resources and Offers - The promise of some kind of value add is a great way of drawing in interested prospects, and can inspire them to spend more time on your website.
Educate
Once you have their attention, it's time to show your new prospects what you can do for them… and, more importantly, how they'll benefit from these services. Chances are, most of the people you are communicating with are relative novices when it comes to technology. You effectively not only have to tell them about your services but why they matter. Show them the outcomes when things are done wrong and how much better things turn out with your help.
This is where a few other marketing tools are useful, including:
Blog Content - In addition to attracting positive attention from the search engines (thereby benefiting your aforementioned SEO efforts) blogs and other content on your site can be used as evidence of your expertise.
Videos - Similarly to blog content, videos can prove your expertise while taking advantage of naturally high engagement levels.
Infographics - Infographics allow you to share information with your visitors in an engaging and easy-to-follow manner.
Direct Mail - Direct mail initiatives provide your audience with a physical reminder of your services, opening them up to a greater number of impressions.
Entreat
After your audience has been familiarized with your solutions, the time comes to push for a conversion, drawing them further through the funnel. This means that you have to provide your prospects with convincing evidence that your solutions specifically are the ones that will best fulfill their needs. To accomplish this, certain marketing initiatives will be particularly effective:
Case Studies - A case study serves as your opportunity to brag about your services while also providing proof that they are reliable and effective. By giving a real-world example of your results, your audience will have an easier time visualizing themselves in that position.
Testimonials - Rather than taking the word of the person trying to sell them a solution, it's a lot more likely that your prospective clients will take the world from your established clients.
Webinars - A webinar is a great way to teach your prospective clientele about the benefits that your services can provide, explaining each aspect in detail and answering questions as they arise.
Demos - Demonstrating the solutions you offer in action is a great way to impress prospective clients.
Engage
Finally, once your prospect has signed on and become a full-on client, you need to work to keep them. Retaining your new and existing clientele will require ongoing marketing efforts. In order to keep these clients engaged with your services (and potentially adding those who have not yet fully converted), we recommend that businesses engage in the following marketing efforts:
Retargeting Ads - Some of your prospects won't quite make it all the way through the funnel, so targeting these prospects with additional marketing materials can help draw them back into the funnel.
Satisfaction Surveys - Once you've served a particular client's needs, asking them to fill out a satisfaction survey can both deliver insights for how you can improve your services while also generating testimonials you can strengthen your marketing efforts with.
Online Reviews - Similarly to your SEO efforts, encouraging online reviews from your clientele serves as a great way to draw attention to your website and (by extension) your services.
Upselling - After you've delivered a service or product to your customer, they are more prepared to purchase more from you. Therefore, offering an additional service once you've captured a client is the ideal time to upsell them.
Need Help Building Your Marketing Funnel or the Materials You Need For It?
We're here to help. We can help you manage and fulfill your marketing at every stage of your funnel, enabling you to see the highest returns possible without spending too much of the time that should be spent on your business operations. Give us a call at 888-546-4384 today to get started.