JoomConnect Blog
JoomConnect is the Marketing Agency for MSPs. We strive to help IT companies get more leads and grow. We rock at web design, content marketing, campaigns, SEO, marketing automation, and full marketing fulfillment.
Understanding Metrics Series (4 of 6) - eNewsletter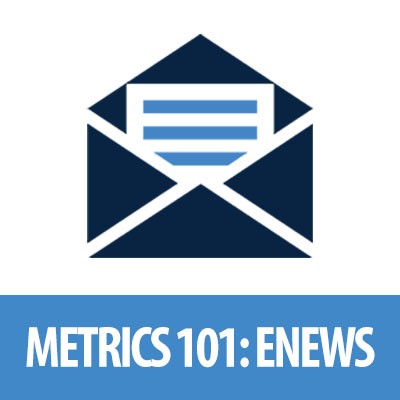 If you want to improve the success of your marketing efforts, you should be tracking the metrics associated with each of your marketing types. In part four of our 6-part blog series, we'll look at the top five metrics you should be examining in regards to your electronic newsletter (eNewsletter), and suggest some ways you can improve your results.
eNewsletter Metrics
(1) Bounce Rate: The bounce rate indicates the total percentage of emails that weren't delivered successfully. These are typically classified into two categories: hard bounces (when an email isn't delivered because the address is closed or invalid) and soft bounces (issues such as server interruptions or full inboxes). You should aim to have your total bounce rate to be less than 5% if you want your eNewsletter to be successful.
How to improve your bounce rate:
(2) Click-throughs: Naturally, your eNewsletter should contain various links, likely to either continue reading about a particular topic or to visit a service page. Click-throughs track what links are getting clicked in your eNewsletter, and how many times they are getting clicked.
How to improve your click-throughs:
(3) List Growth Rate: Your list growth rate indicates how much your list is increasing over time, meaning, how many more individuals are receiving your eNewsletter. To determine your actual list growth rate, you need to be maintaining your lists and removing any invalid or inactive emails.
How to improve your list growth rate:
(4) Open Rate: Your open rate indicates the number of email contacts that open your eNewsletter. However, this number might not always be entirely accurate: open rates are typically only counted if the recipient receives the message's images, and some email platforms automatically block images.
How to improve your open rate:
(5) Unsubscribe Rate: Your unsubscribe rate is the percentage of people who opt out of receiving future eNewsletters from you. You should try to keep this number under 1%.
How to improve your unsubscribe rate:
Understanding Metrics
We hope this blog gave you a better understanding of the important metrics for your eNewsletter. Check back for the next installment of this blog series, covering direct mail metrics, and reach out to us for more assistance.
Comments
No comments made yet. Be the first to submit a comment