JoomConnect Blog
JoomConnect is the Marketing Agency for MSPs. We strive to help IT companies get more leads and grow. We rock at web design, content marketing, campaigns, SEO, marketing automation, and full marketing fulfillment.
The Role of Humor in MSP Marketing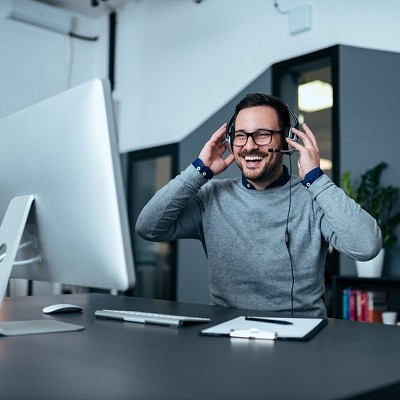 Think about it: how many advertisements that you see actually capture your attention? How many leave a lasting impression that enables you to recall them days, weeks, or even months later?
If you're like most people, it's probably the ones that make you laugh. Take commercials, for example. Maybe your favorite is the Geico "Hump Day" commercial. Or, it's the Old Spice "The Man Your Man Could Smell Like" commercial. Or both! The reason this holds true is because humor in marketing and advertising works: it grabs your attention and elicits positive emotion with the ad itself, which then gets carried over to the brand - leaving a lasting impression.
It doesn't matter what they're selling. With Geico, it's insurance. With Old Spice, it's various personal hygiene products. Those are definitely useful products, but not necessarily the most interesting! Neither is managed services and related technology services. That's why humor can be a good tool to tap into.
Humor in MSP Marketing
Fortunately, as a company in the technology industry, you have an advantage over many businesses of the same size. EVERYONE deals with technology in some sort of way in their lives. In the modern world, this includes their own personal lives and their professional lives in the workplace. That means that there are a lot of problems, situations, and pain points that you can tap into. We do this with our Tech Toons Comics, which you may recognize from our own Newsletter or our Newsletter service.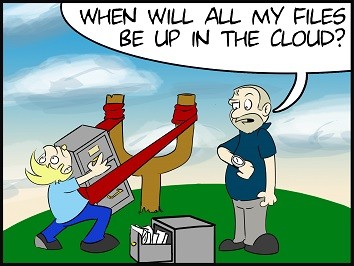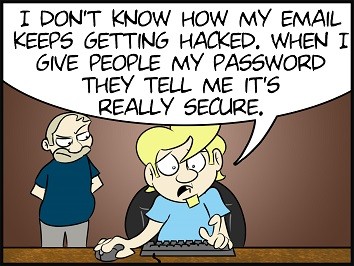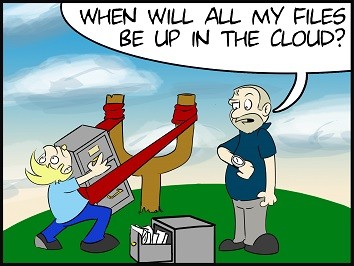 We'll also incorporate it occasionally into some of our other marketing efforts as well, and have found it an effective tool to both capture the attention of our target audience and empathize with their technology-related woes.
Visuals Are Your Friend
It's much easier to relate to your audience if you have a related visual to accompany your humorous message. Or, the visual is where the humor actually comes into play.
Visuals are often what draws attention to your marketing in the first place. Take a look at the image to the left. It's a bit absurd, but it's also humorous, eye-catching, and definitely relatable to anyone who has used a computer before!
Throw this image on the front of a postcard or use it in a Facebook ad with some copy related to technology frustration, and you're good to go!
Humor Shines on Social Media
One of the best places to incorporate humor into your marketing is on social media.
The main purpose of your social media marketing is to connect and build relationships with your target audience. Using humor can help you initially capture their attention. When that humor is directly tied to their technology pain points, it becomes relatable, relationship building content.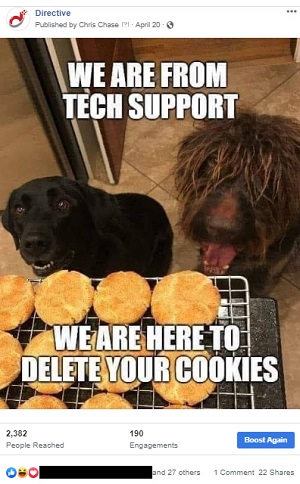 B2B Meme Marketing?
It may sound contrary to what we've talked about in the past, but the occasional meme shared through one of your business pages on social media can be effective, even in B2B marketing.
Just take a look at this meme we shared to our MSP Directive's Facebook page. Like all of our social media posts, we boosted this to further its reach. It was boosted the same way for the same amount as we do for a typical post, but performed much better than our average boosted post. Just look at its total performance:
2,382 People Reached
190 Engagements
29 Reactions (specifically 22 likes, 6 laugh reactions and 1 heart)
1 Comment
22 Shares
Note that for this to work for your MSP, it shouldn't be a frequent occurrence. It may be tempting to make all of your social media posts something like this: they're low effort, and do tend to perform well as you can see from our example. The problem is if you're only posting content like this, it's going to degrade your brand's reputation. The occasional meme post is fine as long as it's in the minority and amongst educational and relationship-building posts that your audience would find to be valuable.
Tips on Using Humor in Your Marketing
If you're interested in incorporating a bit of humor into your MSP marketing strategy, here are a few tips to make sure that your efforts don't fall too flat:
Make it Relatable - We already mentioned this a bit, but if you want your humorous message to come across as humorous to the people you share it with, they need to be able to relate to it. We recommend avoiding any jargon that the average person would not recognize, including a visual for reference, and picking topic(s) that the majority of your audience would relate to.
Avoid Edgy, Offensive Humor - You might find content like this funny, but it's likely not everyone in your target audience does. Humor like this can cause a lot of negative attention and hurt your company's reputation. Try to avoid swearing, and steer away from topics that tend to be more on the controversial side.
Don't Get Political - At any given moment, there's probably something going on in your local, state, or national governing bodies that can be joked about in either a light-hearted, self-deprecating, or satirical way. Even if you don't think the thing you want to joke about would be considered controversial, remember that a lot of people take politics very seriously. It's best to not tie your company and brand to any political party or opinion unless you're a large corporation who can withstand the negative consequences that can come with doing so.
Not Every Joke Will Land - Everyone's sense of humor is different; something you find funny other people might not feel the same way about. We recommend running your marketing piece by a few other people first before launching it. Also, don't get too hung up if your joke flops! It's bound to happen. If you're worried, you can A/B test your marketing to see how effective a humorous piece is compared to a non-humorous piece.
Incorporate Humor into Your MSP Marketing Strategy the Right Way
We have various Tech Toons merchandise that you can use to relate to your target audience and put a smile on their faces. We can also help you incorporate humor into other aspects of your marketing, whether it's your social media, direct mail campaigns, or pay-per-click ads. Contact us today to see how we can help.
Comments
No comments made yet. Be the first to submit a comment