JoomConnect Blog
JoomConnect is the Marketing Agency for MSPs. We strive to help IT companies get more leads and grow. We rock at web design, content marketing, campaigns, SEO, marketing automation, and full marketing fulfillment.
The Best MSP Marketing Starter Guide [2022]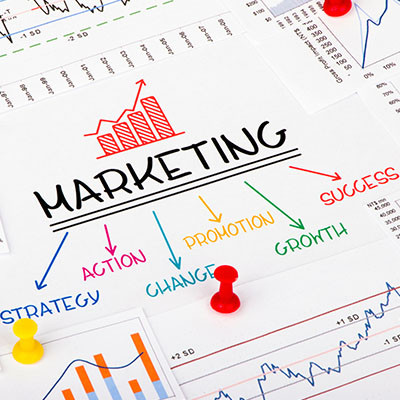 Whether you are just a one or two-person IT shop or you have dozens of technicians and specialists, marketing your MSP isn't necessarily going to come naturally. When we get introduced to new MSPs, we always ask what they've been doing for their marketing up until now, and the answer is almost always the same—word of mouth.
That's always a great sign for us, because that tells us that your clients love what you do. That tells us you were able to grow to where you are today simply by being smart, effective, and having great customer service. But word of mouth isn't always enough. If you want to get your MSP to the next level, you need to do some marketing.
How Should My MSP Market Itself in 2022?
Just having a website isn't going to cut it anymore. MSPs are in a very competitive industry and most geographic locations have multiple IT companies vying for the same audience. On top of that, nationwide MSPs are swooping in and pouring tons of dollars into their marketing to stay on top. If you want to compete, you need to stand out. You need to impress at first blush, and that means before the prospect even needs you.
Before we get too deep into the weeds, let's break it down based on your MSP's capabilities. Depending on how much time and money you have for marketing, you might have to start small before you can grow into the easier, more impressive stuff. Let's see which group you fall into:
I've Got a Shoestring Marketing Budget!
There's no shame here. You need to start somewhere. Chances are, if you are at this point, you are probably personally ready to put the screwdriver down and start growing your business. Word-of-mouth has gotten you this far, but now you need to do more, but you don't have a huge budget or a full-time position to dedicate to sales and marketing just yet. This group is about the hustle, and it's going to take some leg work and hand shaking to do right.
I've Got Some Limited MDFs!
Okay, great! Lots of vendors provide marketing development funds for their value-added resellers. On top of that, plenty of vendors provide marketing materials, website copy, video, and other sales and marketing tools. Check them all and evaluate what you have to work with. Sometimes, the marketing materials they put together aren't always the greatest, but that doesn't mean they can't be improved upon or adjusted a little to help you grow.
I've Scrimped and Saved, and Now I Want to Dip My Toe into the Water!
We know it's not easy to put together your first marketing budget. Here's the thing—it's going to go fast. When used poorly, a small budget will evaporate in no time, and with very little return, especially when you don't use it wisely. It's best to use this budget to build things that are repeatable, as opposed to spending it on a temporary ad spot or one-and-done campaign.
My MSP Has a Marketing Budget!
It's time to open the flood gates! You want new business and you are ready to grow, and you have the time and resources to make it happen. That said, the budget is still limited—you want the best return on your investment. That said, you definitely aren't limited to just one plan of action, and can work on a few tactics at once to pull in new prospects.
Let's break down some marketing tactics based on the average costs associated with them. Keep in mind that some of the earlier tactics are going to rely on some sneaker marketing. Sneaker marketing is where you, the business owner or partner, are doing the heavy lifting. It's low-cost, but if you have a little charisma and are willing to put in the time, it can be a huge growth opportunity for your MSP.
Where Should I Start With My MSP Marketing?
Your Local Chamber is Your Secret Weapon
If the coffers are empty, but you need to gain a client or two, the best way to do it is by networking. COVID has made that hard over the last two years, but most Chamber of Commerces are starting to pick back up, and those that aren't doing physical events are certainly offering virtual ones.
Regardless of what your options are, you should be taking advantage of your local Chamber. If your Chamber isn't running regular networking events, reach out to see what the options are.
As an MSP, you've got an incredible opportunity for a local chamber of commerce, because you specialize in several things that every single business needs and is concerned about. The big ticket item for 2022? Cybersecurity.
Finally, businesses are starting to care about their cybersecurity. They've either already experienced an attack, or their insurance company is asking them questions about how they are protecting their data. Either way, for the first time in our collective existence as IT consultants, non-technical business owners are starting to bring cybersecurity to the forefront.
If your local chamber is worth its salt, it would be thrilled to have someone offer free webinars that offer real cybersecurity training for business owners and employees alike. How to spot a phishing attack, what compliance actually looks like, how to prevent data breaches and lawsuits—you could be the face of cybersecurity in your area.
You'll need to network, and you'll need to hustle, but other than building the presentation, putting together a good resource to share (like a branded printable flier on how to spot a phishing attack), and helping your chamber with the email blasts to invite members, the costs for doing this are very low. It's a win-win for your chamber, for your MSP, and for local businesses.
If you are out of ideas, we can definitely help. We have prebuilt campaigns that you can utilize as a starting point, or we build you something specific and fulfill it too.
Your Vendors Want You to Sell More
We mentioned this earlier, but many vendors offer Marketing Development Funds (MDF). MSPs can take advantage of these to help sell more of a particular product or service, but it doesn't have to stop there. If Acronis (for example) is helping you sell more hosted cybersecurity seats, that means you can step in and quote out mitigation projects, take on the help desk role, sell your VoIP system, and totally take over the management of a clients' IT. Your vendor is basically paying to get your foot in the door.
Lots of vendors just dump a ton of materials at you and wish you the best of luck. If you like their product enough, call them up and ask them for more. Find out if they have options for you in the form of presentations or marketing dollars. You'd be surprised what a vendor is willing to do for you, and it might not be clearly posted on their website.
In fact, if you've already started working with your chamber, ask your vendor to co-host the next event with you.
If your vendor only offers some materials, we can definitely look them over and come up with a game plan to properly utilize them if you need some help.
Don't Blow It On Ads
I bet you have a little stack of those Google Ads coupons somewhere in your office. I bet they add up to hundreds, or even thousands of dollars. Do you know why Google hands those out like party favors? Because they know you'll need to spend much more to get any real results.
Running ads (not just Google ads) is a crapshoot. Granted, all marketing is, but ads are like going to Dave and Busters and dropping $20 to play arcade games for an afternoon, when you can spend $50 to bring a game home to play it anytime you want.
This doesn't mean Google Ads and other advertising streams don't offer results—they certainly can, but it's going to be proportionate to how much you are willing to spend. This is where you can blow your marketing budget in a short amount of time and get nowhere; especially if you didn't do everything perfectly from start to finish. Advertising is extremely useful in specific situations. If you want to boost the effectiveness of an active campaign, or get your business to show up in pockets it doesn't organically reach, advertising can have a positive impact.
Focus on Campaigns You Can Tweak and Repeat
Educational events, presentations, and similar campaigns can typically be sent out to new audiences as time goes on. If you run a webinar for your local chamber, take any feedback you get and run it against a new list of prospects. Tweak the messaging to fit a specific vertical (like healthcare, law offices, manufacturers, or car dealerships) and send it back out to new lists.
If a campaign doesn't bring in results, it's worth evaluating it and trying it again. If a campaign is successful, keep running it until it stops performing.
Your MSP Doesn't Have to Go It Alone
Regardless of where you are with your marketing budget, we are here to help. We've been working with MSPs of all sizes to help them grow and do more business. We're essentially a marketing agency for MSPs, but we're also a managed services provider ourselves, so we eat our own dog food.
We can help your MSP get started with a great website and any level of marketing, from low-cost referral campaigns to fully-fulfilled marketing plans.
Let's get started today. Give us a call at 888-546-4384.