JoomConnect Blog
JoomConnect is the Marketing Agency for MSPs. We strive to help IT companies get more leads and grow. We rock at web design, content marketing, campaigns, SEO, marketing automation, and full marketing fulfillment.
Social Media Day: B2B Marketing on Social Media [Part 2 of 2]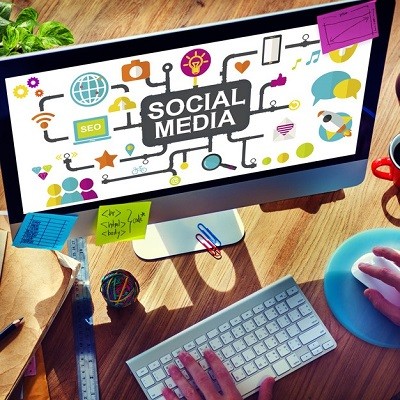 Have you ever wondered how some companies do so well on social media? Are you trying to decipher their recipe for success? We've done the research and we've found some of the best tips and tricks for B2Bs on social media.
These first of these tips and tricks will be generalized -- as they will apply to all networks, and the second part of these tips and tricks will be network specific.
So, let's start with a few tips and tricks that work for all social networks. These are more of best practices than anything, but if you're looking to be successful on social media start with these and then move on to the more specific ideas. We've also made this a downloadable checklist!
Use Consistent and Quality Branding - Consistency is a sign of professionalism and attention to detail. As a business those are qualities that you should strive to possess, and your social media accounts should reflect that as well. To keep your branding uniform - it's a good idea to develop a branding guide. A branding guide will contain variations of your logo, your color pallet, fonts, imagery, messaging and more. (Of course on most social media you won't have the option to manipulate the text used -- except for in your graphics and logo of course). To ensure your branding on social media is aligned and consistent with the rest of your marketing materials you'll want to check the following items:
Profile Photo
Cover or Header Photo
About Us / Description
Page/Account is linked to your website - and website is listed on the social media account
Regularly Post - Link to Social Media Management Tool - With your busy schedule, remembering to post on social media is likely low on your list of priorities. Luckily there are a variety of platforms that can help you to schedule out your social media posts in bulk. You will still need to take time to research, write, and develop posts, but once you create a calendar of posts you can schedule them out in advance and not worry about writing posts for a whole month or so, and many of these platforms offer metric tracking -- giving you one central location to track all of your social media success. Each platform offers similar features, but you can compare pricing to see what will work best for you.
Another option is Social Media as a Service. This is a service that not only writes your social media posts, but also schedules, posts, monitors, and tracks the metrics of them.
Even with a social media management tool or Social Media as a Service you will still need to be actively checking your social media accounts - checking your metrics, and engagement.
Be Active and Engaged - Once you establish a presence on social media -- it's important that you keep up with it.
Engage with engaged followers - When a follower comments on a post, respond! Respond quickly, and politely. Setting your notification preferences to receive emails when someone comments on a post could make a world of difference. Your timeliness on social media directly correlates to your timeliness when you are doing business. Also remember to keep your responses in-line with your social media strategy and branding guide.
Following up on feedback both negative and positive - Even negative feedback can be turned into a positive outcome. Quickly respond to feedback either negative or positive - just make sure you respond positively and keep customer satisfaction a priority. Remember that what you do online can never be deleted. So, it's important to respond clearly.
Following, and Liking other accounts or Pages - Follow your vendors, follow your current clients, follow your leads and prospects. Social Media is essentially an eye for an eye concept, except for good purposes (usually). Ok, maybe "what comes around goes around" is a better phrase for this scenario… regardless, follow others -- they'll often return the favor. The larger your following is on social media the further your message can spread -- and the more likely you will be to reach your business goals.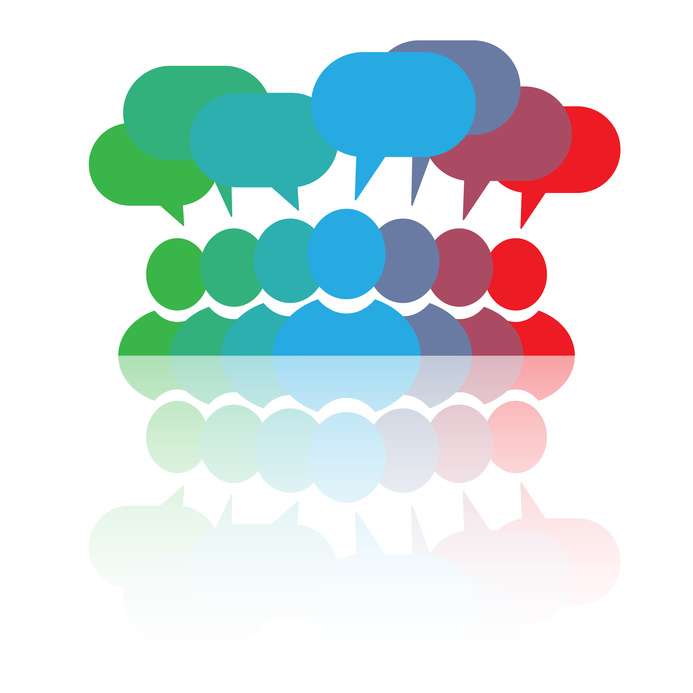 Check, Measure, and Note Metrics - The biggest mistake that businesses make when it comes to social media is forgetting to track their metrics. Without metrics you'll have no idea what your ROI is, if what you're posting is actually working, or if it is working and why.
You can track the metrics of your social media easily on each social network that you use. We would recommend checking them and recording them in a spreadsheet. With a spreadsheet you can easily see your progress over time. If you've chosen to use a social media management tool it might offer metric reports too, depending on what plan/platform you've chosen. If you're looking for more detailed metrics consider the following tools:
Research and Plan Your Social Media Strategy - Like any other marketing tactic -- your social media should be strategized. You'll want to make your strategy accountable. You can do this easily by setting SMART goals for your social media strategy. A SMART goal is:
S - specific.
M - measurable.
A - attainable.
R - realistic & relevant.
T - time-bound.
Whenever you set a goal, try to make sure that it meets each of these qualifications for a SMART goal, it will help to encourage its completion and success.
Having a strategy will often save your time and money and produce results. In order to increase the longevity of your marketing practices on social media be sure to strategize them.
In addition to all of the tips and tricks that apply to all of the social networks, the following are tips specific to each respective network.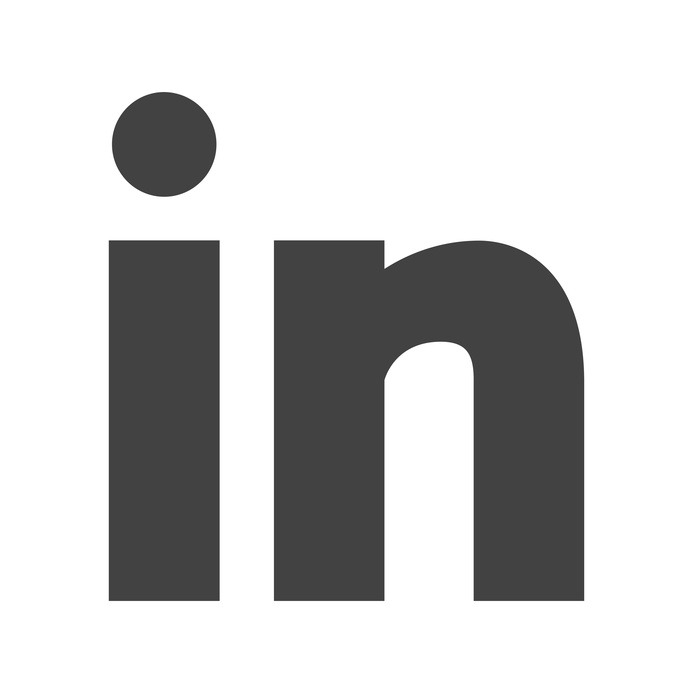 Groups - Groups are a very popular feature on LinkedIn. Making use of them can be very beneficial. LinkedIn Page Managers can even promote groups of which they are members on their Company Pages too. Groups are great environments to establish yourself as a thought leader or expert -- you'll want to be sure that you're also listening to- and sharing the information of other group members too -- or else you'll likely be ignored, and/or seen as a nuisance.
Jobs - LinkedIn is a reputable resource for job searchers. If you're looking for quality talent a good place to include your job listings is on LinkedIn. You can learn more about it here.
Show Case Pages - Show Case Pages are designed to be extensions of your Company Page in which you can highlight pieces of your brand, business units, or specific initiatives.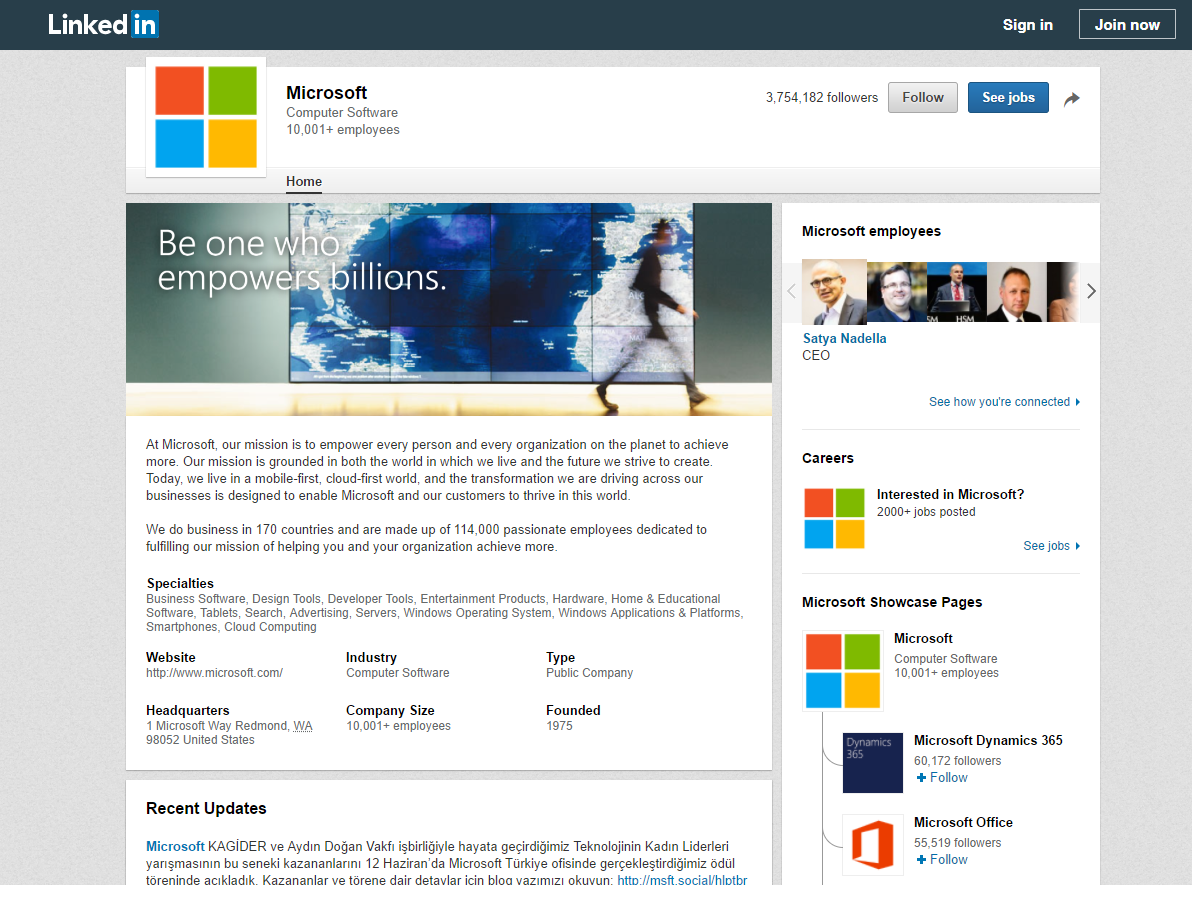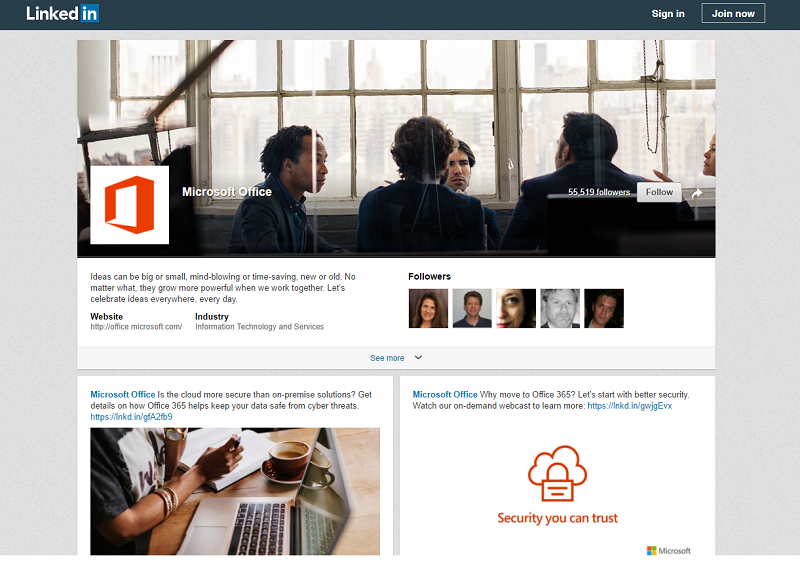 Employee Involvement - You should definitely have your employees "claim" your business page on their personal page as their place of work. The reasoning behind this is: your brand awareness increases -- as their connections will see that they work at your location -- by doing this, your employees become silent brand ambassadors. This gives you increased visibility and establishes legitimacy too. So, encourage them to share your company posts -- it's always a good thing to have your employees promote your work place.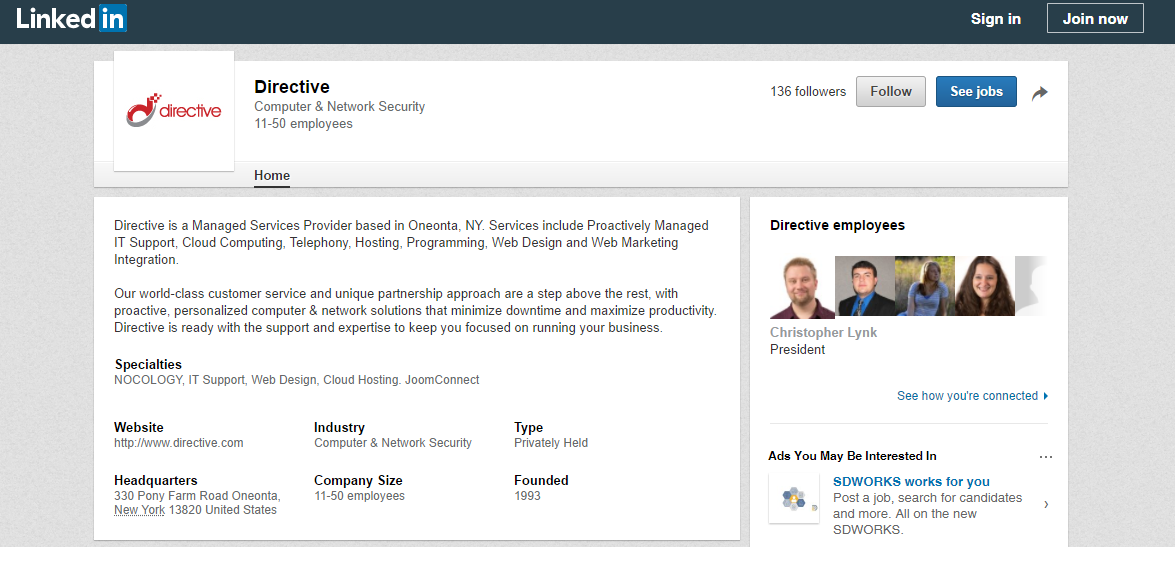 Slide Share - Slide Share is an extension of LinkedIn specifically for sharing presentations. If you have a webinar, lunch and learn, or a training presentation -- post it on Slide Share. Getting your information posted will help your SEO, build your authority, increase your brand awareness, and more. Learn more here.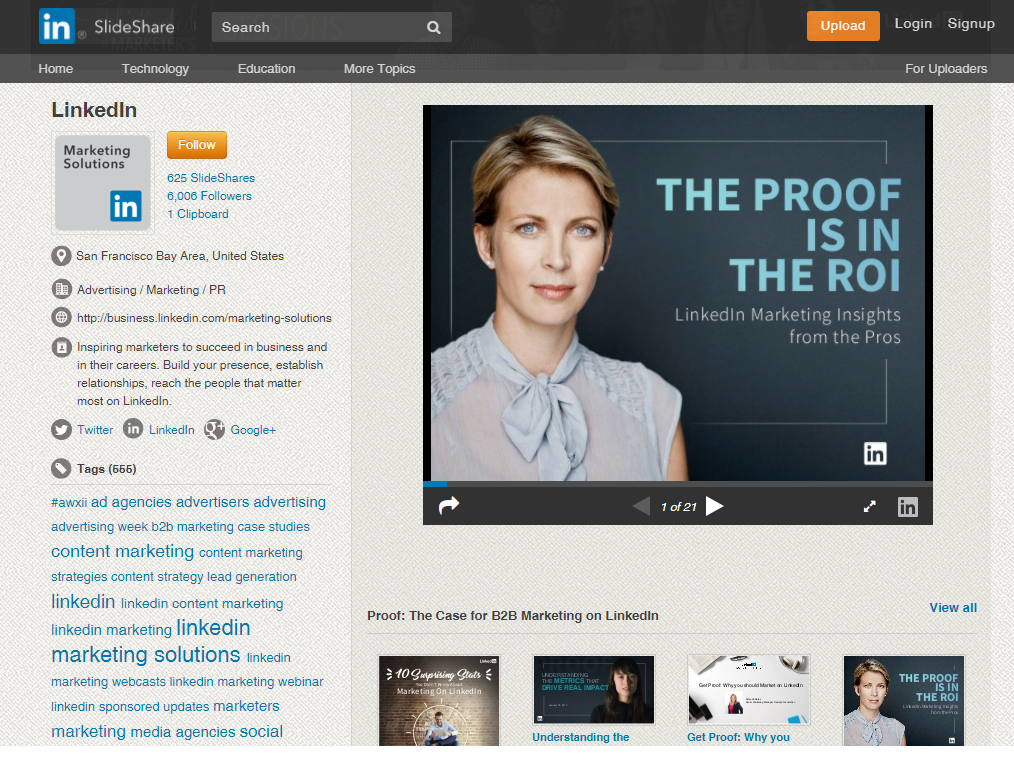 Advertising - LinkedIn has awesome advertising opportunities for businesses. LinkedIn is an excellent place for businesses to advertise -- specifically for B2B businesses to advertise, because the market is qualified to be subject of your advertisements. Additionally there are highly specific targeting parameters, and its affordable. You can run your ads DIY or work with a team to manage your campaigns for you.
Pin Post - When you have a post with a lot of engagement wouldn't it be great if you could feature that prominently on your page -- so that it doesn't get lost buried under your more recent updates? You can! Follow these steps to pin a post to the top of your page.
Premium Account Benefits - Many of LinkedIn's most popular features are available on the free account, although premium accounts do have their perks. One of the best features available to users with premium accounts is the more advanced search capabilities. (This can be especially helpful for B2B businesses with lead generation.) Another great feature is the ability to see who has viewed your profile whether or not they are one of your connections. (On a free account you will only be able to see the names of your connections who have viewed your profile, all others will be listed as "and # other(s)". With a free account you are somewhat limited as far as who you can contact. With a premium account you can contact any LinkedIn user with InMail.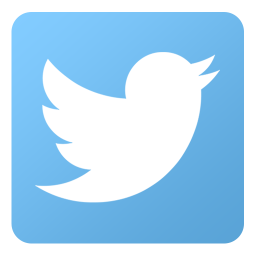 Polls - Twitter is the only social network with a built-in polling feature for direct posting. (The polling feature is only available in the app or on the desktop version of the platform -- the feature will not be available on a social media manager.) Polls are a great (and easy) way to get feedback from your customers and potential customers. Poll responses are anonymous but they provide a great outlet to get good feedback about your products and services -- or open your company up - and make your customers feel like they played a part in making decisions. For example -- Your poll says: "Where should we have our company picnic this year?" 1. The Park 2. The Zoo 3. The Lake 4. Your Recommendation. Or? -- Poll: How do you take your coffee? 1. Black 2. Cream and Sugar 3. Other 4. I prefer… What will you ask?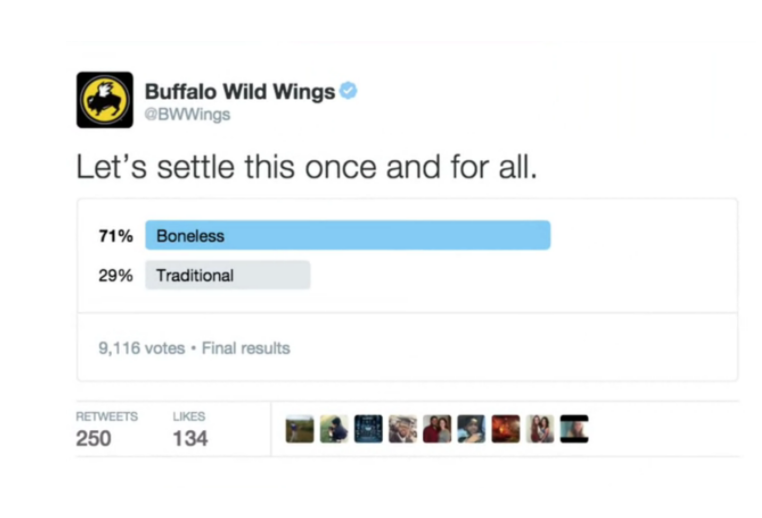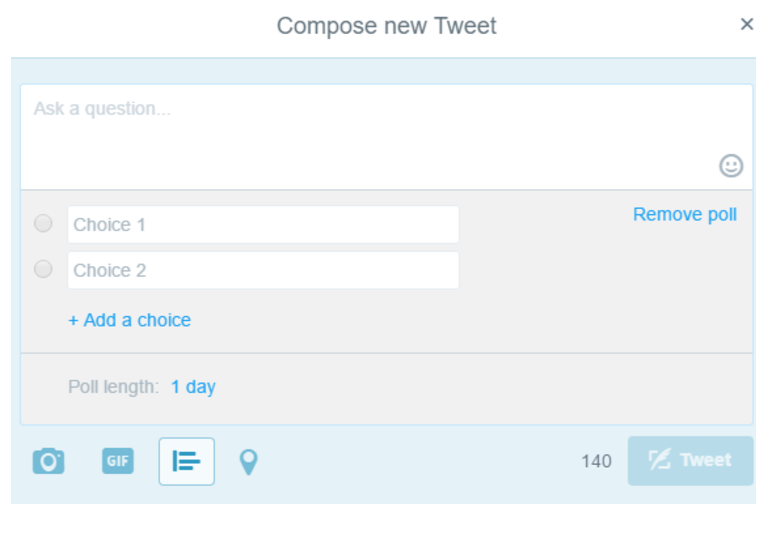 Metrics - Twitter has built-in analytics. Their analytics are highly detailed and even provide insights to help you tweak your future tweets.
Lists - Twitter lists are great for segmenting your timeline. Rather than reading a bunch of jumbled tweets in real time -- you can see tweets by categories (lists) that you create. Lists are great for monitoring your competitors, connecting with industry thought leaders, staying on top of industry news and trends, connecting with employees, leads, and current clients, they are also great for events, and more! Follow these steps to create a list on Twitter.
Pin Tweets - Pinned posts are helpful for getting additional engagement on a post that you don't want to get lost as you post additional content after it (because timelines are time dependent). Your pinned tweet will stay pinned until you remove it. It is best to change up your pinned tweet every month or so - as viewers will often look right over a dated tweet. Follow these steps to pin a tweet to the top of your profile.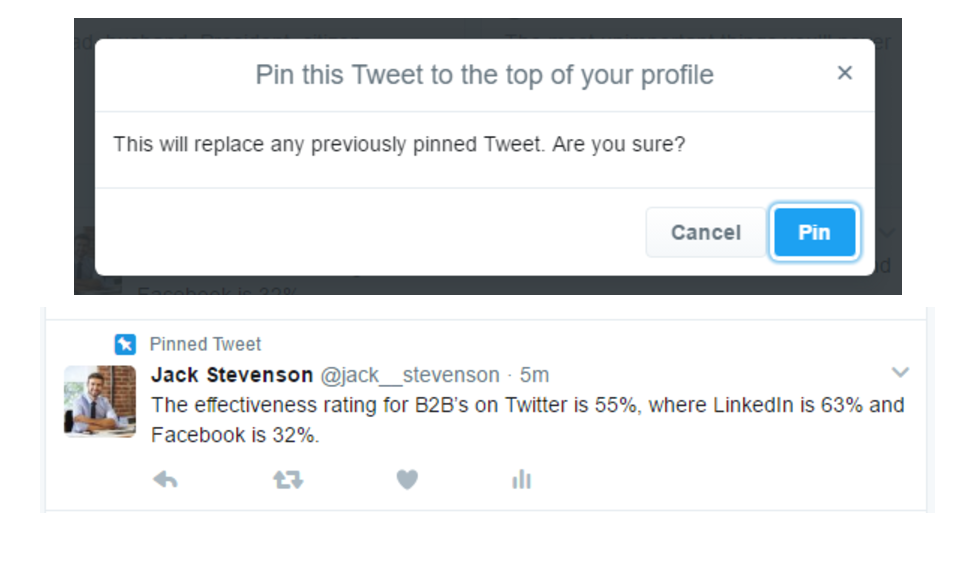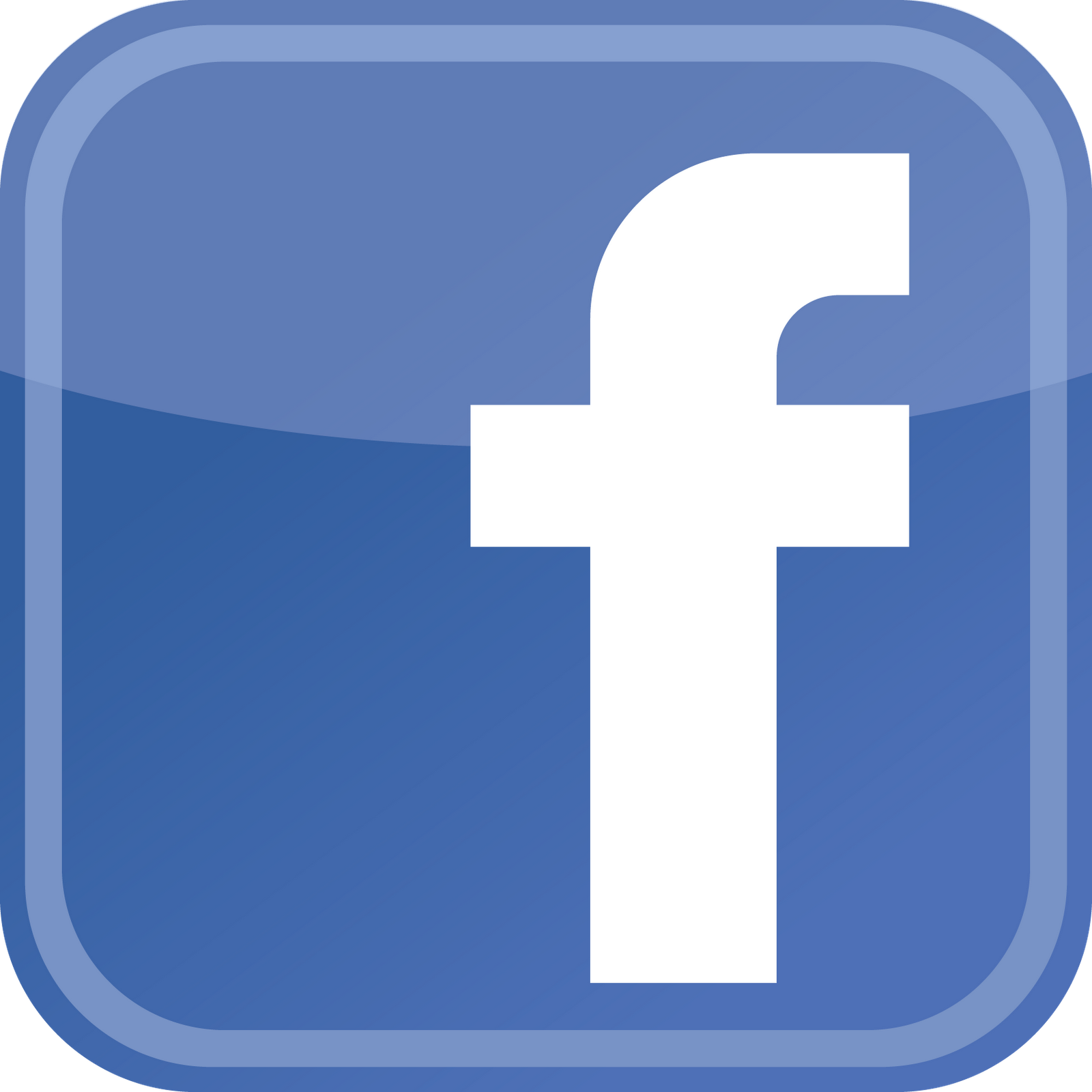 Advertising - Facebook Advertising is one of the best features of for Marketers on Facebook. Facebook offers a huge audience, which consists of nearly 2B monthly active users. In addition to the huge audience, there are highly detailed targeting parameters, split testing features, and more Facebook has created a highly effective platform for advertising for both B2B and B2C marketers.
Facebook Live - Facebook Live is another great feature. Facebook Live has allowed businesses to directly communicate with an audience by live streaming videos in which viewers can comment and react in real time. This feature is available both on desktop and mobile versions of the platform. Read more about Facebook Live here.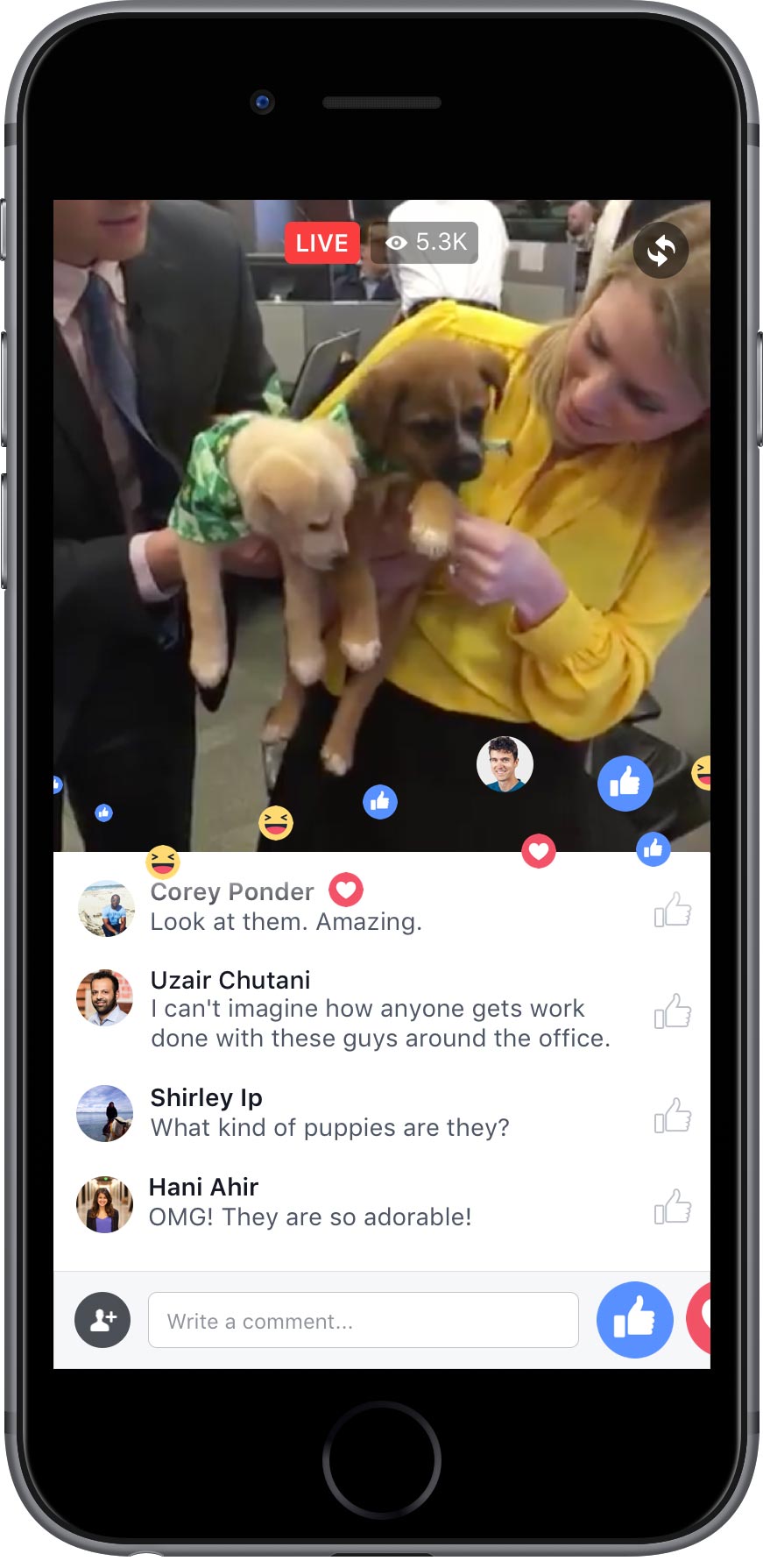 Facebook Jobs - Facebook Jobs makes hiring for your MSP simple. You can easily broadcast your job listing to your followers, and beyond. Learn more.
Facebook Events - Events on Facebook are a great way to spread the word about events you're both attending and hosting. Even if you're hosting a virtual event like a webinar or live podcast Facebook Events can be very helpful in promoting and increasing attendance. Learn more about Facebook Events here.
Facebook Groups - Facebook groups can be very helpful in collaborating with others. In these groups you can easily share ideas, content, create polls, and more. Read more about Facebook Groups here.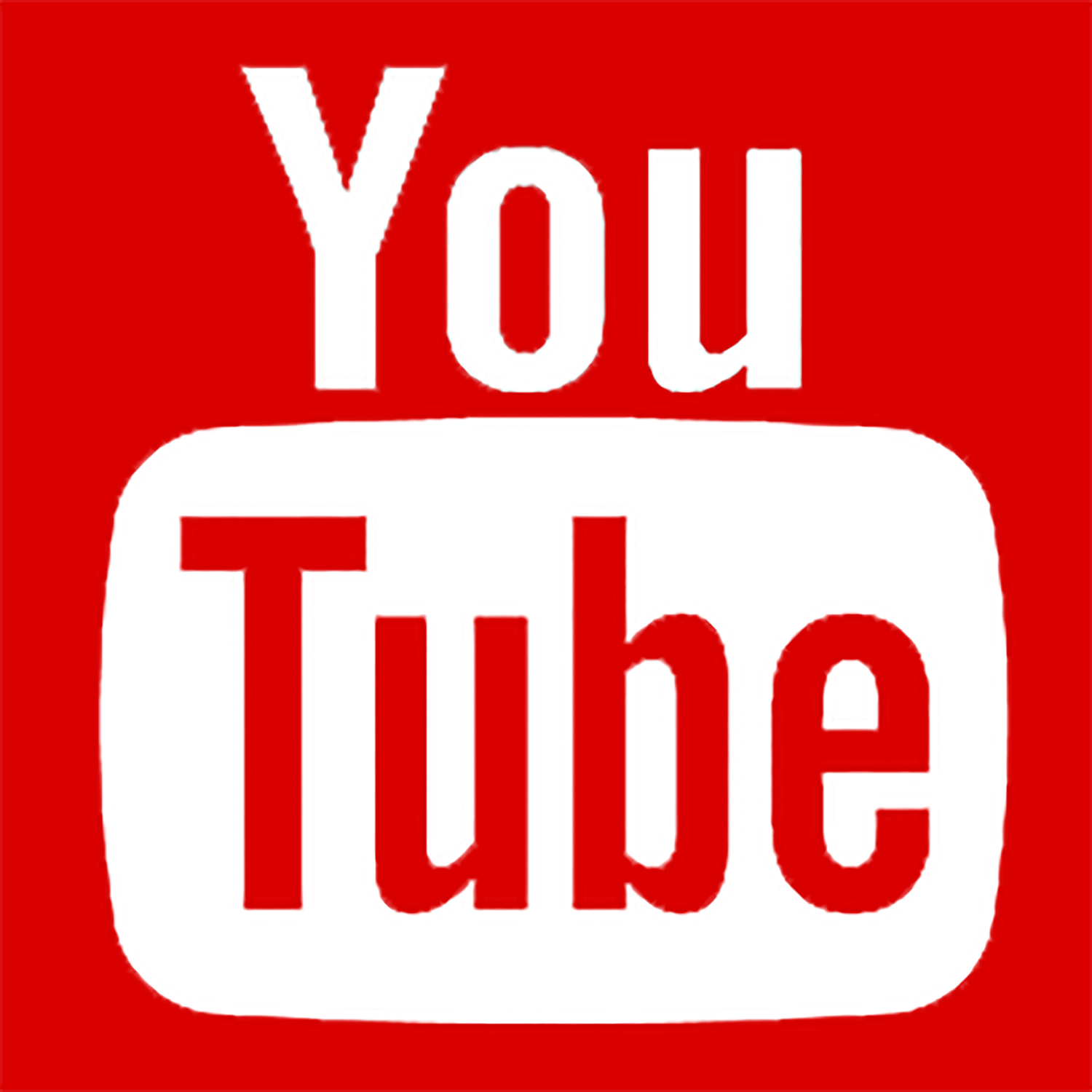 YouTube Audio Library - Need some catchy background music to fit your video? Sure you can purchase some, or use an instrumental mp3 -- or you can use some from YouTube's Audio Library. Find it here.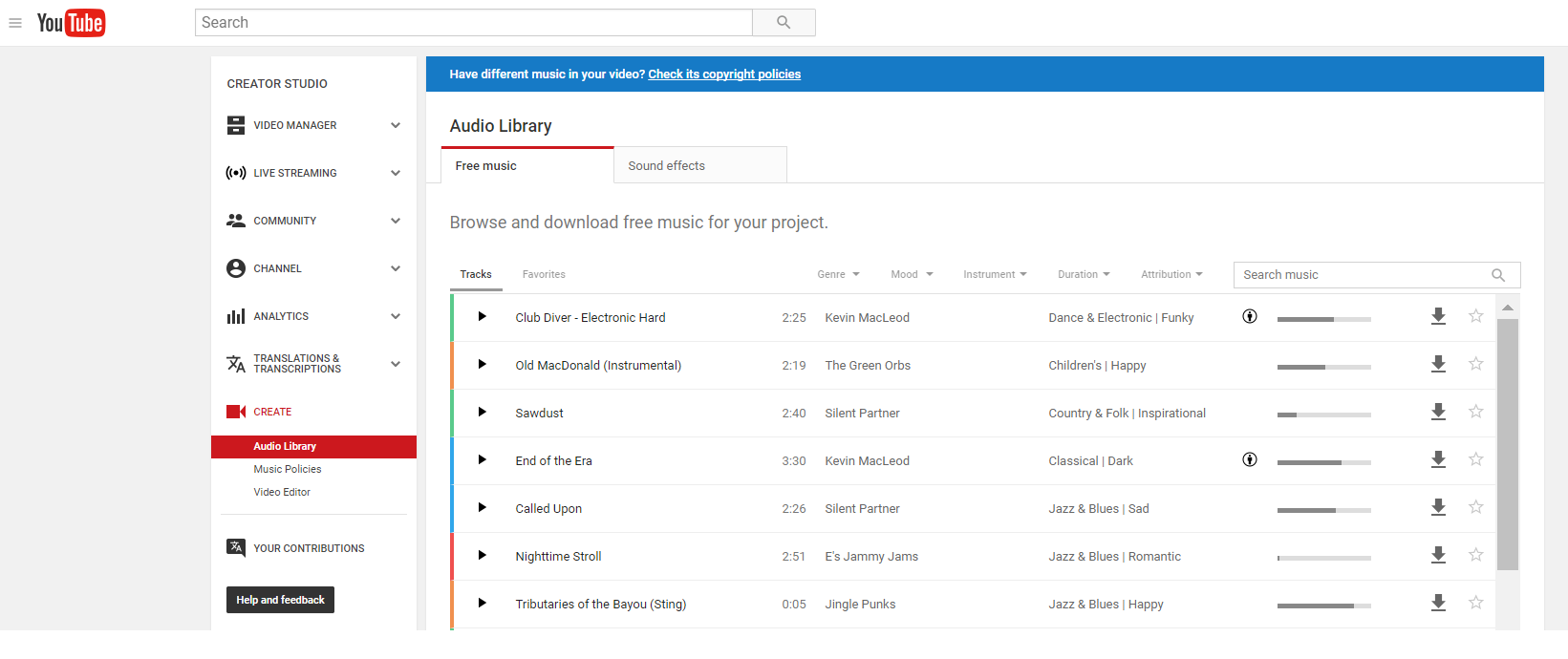 YouTube Fan Finder - YouTube's Fan Finder is essentially a free advertising service built-in to YouTube for its users. You set up an ad and YouTube takes care of the rest. You can read more and set yours up here.
(InVideo Programming) Branding - InVideo programming allows you to create branded pop-ups throughout your videos with comments. You can also include various buttons as well. This feature can be configured in your video settings.
Activity Sharing - You can also configure your account settings to automatically update your other social accounts when you make updates on your YouTube account -- like posting a new video, for example.
Featured Video - Your featured video on your channel is essentially the equivalent of pinning a post to your profile. You can have either a single featured video, or a video playlist. Follow these steps to set up yours.
As you can see, social media is a very beneficial tool for small businesses - especially B2B businesses. Have you made use of any of these features? Which do you find the most beneficial? Let us know in the comments, and for help with your social media, reach out to us!