JoomConnect Blog
JoomConnect is the Marketing Agency for MSPs. We strive to help IT companies get more leads and grow. We rock at web design, content marketing, campaigns, SEO, marketing automation, and full marketing fulfillment.
CPT: Rigatoni with Ricotta (Modified) [Video]
For this week's Crock-Pot Thursday, we added a "twist" to a Rachael Ray recipe for vegetarian rigatoni with ricotta by including sausage. Along with this dish, we had a tossed salad and Texas toast.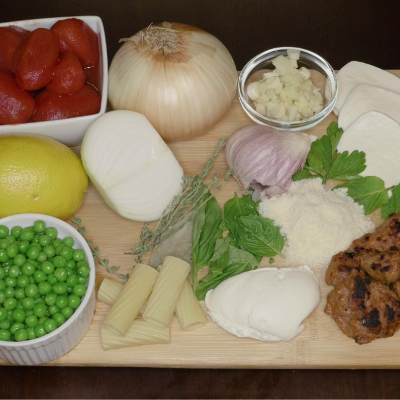 Rigatoni with Ricotta (Modified)
INGREDIENTS
2 tablespoons EVOO Extra Virgin Olive Oil
2 cloves garlic, finely chopped
1 28- to 32-ounce can San Marzano tomatoes
1 small onion, peeled and halved
A few leaves of basil, torn
1 fresh bay leaf
Salt and pepper
2 tablespoons butter
1 1/2 cups fresh sheep or cows milk ricotta cheese
3 tablespoons fresh thyme, finely chopped
1/4 cup flat-leaf parsley, finely chopped
1/4 cup mint, finely chopped
2 teaspoons lemon zest
1 ball fresh mozzarella cheese, shredded or cut into fine dice, divided
1 1/2 cups freshly grated Parmigiano-Reggiano cheese, divided
1/2 cup shelled spring peas, par-boiled 3-4 minutes, optional
1 pound box rigatoni
PREPARATION
Preheat oven to 425°F.
In a small saucepot, heat EVOO over medium to medium-high heat. Add butter and melt. When it starts to foam, add garlic, stir a minute and add tomatoes, mashing them up. Add onion, basil and bay. Season with salt and pepper; simmer 30 minutes over low heat. Remove onion. Add butter to sauce to finish.
Bring a pot of water to a boil for the pasta.
Combine ricotta with salt, pepper, thyme, parsley, mint, lemon zest, half the mozzarella, and half of the Parm.
Salt pasta water. Boil rigatoni about 7-8 minutes, under-cooking it a minute or so from al dente. Reserve about 1 cup of starchy cooking liquid. Drain pasta and return to hot pot, stir in ricotta mixture, peas and adding starchy cooking water to combine as needed. Transfer to a baking dish.
Pour red sauce evenly over top of pasta in baking dish, top with remaining mozzarella and Parm cheese. Bake until bubbly and the cheese is browned, 15-18 minutes--be careful not to dry the pasta out.
Recipe Courtesy of Rachael Ray.
Comments
No comments made yet. Be the first to submit a comment