JoomConnect Blog
JoomConnect is the Marketing Agency for MSPs. We strive to help IT companies get more leads and grow. We rock at web design, content marketing, campaigns, SEO, marketing automation, and full marketing fulfillment.
Reduce Your Bounce Rate and Increase Conversions with Videos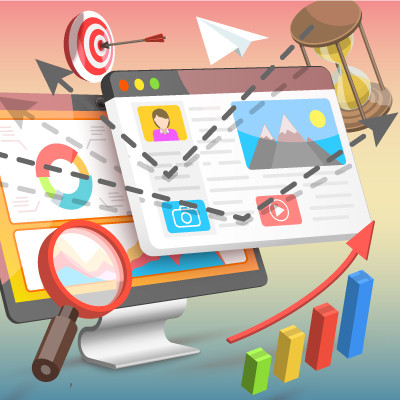 Is your MSP website having a problem keeping visitors on your site long enough to convert? Video is a great way to increase engagement, however only if it's done correctly. Here are some best practices to incorporate video on your website and retain the attention of potential leads.
Does Your MSP Website Have a High Bounce Rate?
As we recently discussed, a high bounce rate can indicate that your content or even the website itself isn't resonating with potential leads. Most unhappy customers "vote with their feet" in the case of a website; they may leave in enough numbers to generate an elevated bounce rate. The question then becomes what to do to keep visitors engaged long enough to convert. Some initial steps should be:
Ensure your website is responsive and well designed
Create high-quality content which answers search queries
Immediately show the user the value of your services and your intent
Add internal links to other relevant content on your website
These few steps should help reduce your bounce rate by attracting and retaining increased visitors to your services as an MSP. However, there may be times when you wish to drive your bounce rate even lower and keep as many visitors to your website as possible. One additional step you can take to achieve this is to include videos on your website.
Video and Bounce Rate
Video isn't anything new. Using video and animation was an effective tactic to gain and retain visitors' attention in the early days of text-heavy web development. However, they were often used as a gimmick, not really as part of an integrated SEO or content marketing strategy. As such, it's not surprising that most people began to dread the animated GIFs, flash animations, and auto-playing music many websites employed.
The standard practice was (and still is) to stick a video clip on the homepage or a landing page, hoping that a visitor would find it "interesting" enough to watch the video. The theory is if they stay and watch the video, the greater the chance they will be willing to visit and explore the rest of the site. However, as users became more sophisticated, so did their resistance to being "wowed" by random video content placed on a webpage.
Despite this, many SEO and online marketing professionals can directly see how video impacts conversion rates and bounce rates. A good video explaining the particular service or strengthening a landing page can make a big difference. It's not just about using some video, however. The video needs to resonate and actually do a good job explaining your service and convincing your viewer. Some of the videos we've seen vendors distribute to MSPs are really good at that, and others… not so much.
One Super-Easy Video Strategy to Start With
Video content doesn't need to be time-consuming or expensive to produce, and you don't need to make it all that elaborate. In fact, being a little grassroots just adds to how authentic it can be. You also don't need to work all that hard to write the perfect script, especially when most of that is already on your website in the form of blog posts.
If you have our blog service, or you have been producing your own blogs on your website, pick a couple to produce videos for.
Clean up your background and park yourself in front of a webcam, and explain in your own words what the blog is about. Speak from the heart, and show that you are passionate about keeping businesses operating smoothly, preventing malicious threats, and whatever topic you're trying to promote. Keep it around five minutes or less, upload it to YouTube, and drop it on that blog page.
Then promote the heck out of it by sharing it on social media, in your email blasts, wherever you can.
It might take a couple of takes for you to feel good about the video, but perfection isn't the goal. You can always do better next time, just get the content moving.
Which Type of Marketing Video Should I Use?
Videos, like all the content on your website, don't have to focus on your core business solely. It can and should be used to provide your audience with insight into your team, which can help the further development of your brand. For example, we have a variety of videos on our site, ranging from our talking head videos to our Crock-Pot Thursday videos. Various video types can ensure that visitors can find something of interest.
That being said, most visitors to your website will be in search of solutions to a technology problem their business is having. Most of your videos should be informative, providing solutions and reinforcing the idea that your MSP are experts and can solve their problems. In other words, don't hide the secret sauce.
Having videos on your website increases engagement. Providing a partial answer to tease your audience to stay on the website longer may instead cause them to give up and leave, seeking answers from your competitors.
Are You Ready to Consider Video Marketing?
If your MSP website is struggling to maintain an audience, adding video can make a difference, but only if implemented correctly. Managed IT is a unique industry, and generic technology content such as blogs and even videos won't be effective in getting your message out. You need to work with a marketing agency that understands your business. That's where we come in; as an MSP ourselves, we are uniquely positioned to provide you with the services you need to generate leads.
Ready to add videos to your MSP website? Check out our MSP Marketing Videos service to learn more about creating the type of videos that can move the pointer. Call 888-546-4384 today to schedule an appointment.