JoomConnect Blog
JoomConnect is the Marketing Agency for MSPs. We strive to help IT companies get more leads and grow. We rock at web design, content marketing, campaigns, SEO, marketing automation, and full marketing fulfillment.
Are You Missing Your Target?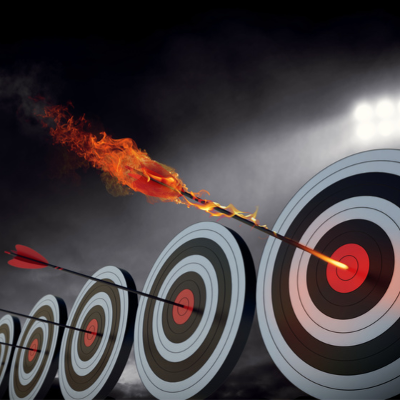 Marketing is incredibly important for your business' success, but only if your marketing is reaching your target audience. How do you do this? You need to relate to your clients and potential clients. It's like when you're looking for a new sitter for your child, you don't pick the first person you talk to and your clients aren't going to just pick you because they see you first. You're going to interview and talk to the potential sitters and see which seems like the best fit for your child - who likes to go outside and play, who knows CPR and actually gets along with your child. The same thing goes for your clients and potential clients - they want to make sure you value the same things they do and that you care about them.
The first step to reaching your target audience is knowing who your target audience is. Knowing just the simple fact of whether your marketing is intended for your suspects, prospects or leads is important, but if you can dig deeper into what you're trying to accomplish your marketing can be so much more successful. Now, how do you really define your target? You need to fully understand everything your company does, from all sides of the organization. You should be able to answer the following questions about your company:
What do we do? What problems do we solve?
Who are our customers? What do we know about them?
Who will gain from what we have to offer?
What are our best offerings?
What else is there around us?
What do we do? What problems do we solve?
Do you and your marketing people fully understand what it is that your company does? This is extremely important in defining your target, because you need to understand what you do in order to find out who needs your help. Having a deep understanding of your products, service offerings and your company's capabilities will make you a better salesperson. Now, you might be thinking "I'm not a salesperson," but your marketing should, in a way, be a salesperson. If you're implementing marketing strategies where you don't understand your business, you could be targeting businesses who you can't even help, wasting both your time and money.
Who are our customers? What do we know about them?
You want to be able to paint a picture of your clients and potential clients. Think about who they are and what their interests are so that you can connect with them. What age group do they typically fall into? Understanding the age range of your current and potential customers will help you to strategize which demographic has the greatest interest in your industry and the financial backing to be a repeat purchaser. Where are these people geographically located? You can narrow down the range to the most suitable location and by doing so, increase your conversions and save money on your marketing. Which type of content works best for reaching your audience? This is where you need to do some digging and see what avenues and types of marketing are getting the most reach and response. Knowing who your customers are is vital to your marketing efforts.
Who will gain from what we have to offer?
Not only must you understand your company and your customers, but you must also have a deep knowledge and understanding of your customer's business. To create any kind of value in what you're offering to your audience, you need to understand what it is they're trying to do and how they compete in their market. You also need to have a grasp on the challenges and opportunities they address as a business. Knowing this about what your audience does will allow you to better understand how your products and services will work for your targets, and make it so you can market to them better.
What are our best offerings?
Part of understanding what your company does, is understanding your best offerings. Does your company have any particular areas of expertise? Do you prefer to work with lawyers, in the healthcare field or with veterinarians? Use this specific information in your marketing to narrow in on who to target. It's okay to say, "We have a glowing track record of working with lawyers to help them succeed in their line of work," and include some testimonials in your marketing.
What else is there around us?
Last but not least, you need to understand who your competition is. Why is your company the best and most unique to solve your client's' problems? You need to be able to differentiate yourself from your competitors and to make yourself stand out in your marketing. Your competition's audience is the same audience you're trying to get to. Knowing about your competitors and their marketing habits will give you the upper hand.
Once you've defined your target audience you need to know how to reach them. There are lots of avenues to help you reach your target: social media, blogs, newsletters, referrals, testimonials, word of mouth, etc. These methods are great ways to not only reach out to your audience, but to reach them in an engaging and personal way and they each allow you to connect on a different level. As with any marketing campaign, you should constantly be tracking the metrics and revising to make sure they are working best for you.
Social Media is one of the best ways to maintain a continual contact with your target audience. There are more people using social media platforms than there are people not using these platforms, and whether you're using Facebook or LinkedIn or Twitter or Instagram or whichever, these platforms are free or very inexpensive. You can utilize some of their specific features for boosting, etc for a small cost, or just maintain it yourself. To go along with the boosting that some social media platforms offer, they also offer ways to track your metrics. This is great because it allows you to see what works and what doesn't and then you have the ability to modify what you're doing in order to make sure you're getting the most out of your social media. They're also pretty easy to use, but time consuming. You have to post, follow others, comment and like, etc to maintain a presence on your social media account.
Utilizing services, like Hootsuite, for auto-posting your blogs to your social media platforms will provide a consistent method to help you keep your posting constant, but don't rely strictly on that. You want your website to be the hub of all your marketing so you want your social media to be able to redirect your audience to your site, but you don't want it to all be automated. By posting both blogs and more personal items about your company, like Puppy Tuesdays or Crockpot Thursdays, you're able to not only reach your targets but you're able to connect with them on a more personal level. Another benefit to social media platforms is that other people can share your posts and write online reviews .
Newsletters are another great way to reach out to your audience. Whether you use printed newsletters or email for electronic newsletters these are both great methods of reaching your target audience. Sending a newsletter regularly allows you to establish loyalty, reliability and trust with your target, as they know that they will be receiving a newsletter once a month and it gives them information that is helpful to them. There is a cost to newsletters and you need to remain compliant with regulations about who you can mail/email and who you cannot, which we break down a little in our "Should Your Marketing Include a Newsletter, Blog or Both?" article.
You can also track your success from your newsletters quite easily. Using QR codes and Short URLs allow you to not only track your newsletter success, but they also link your audience back to your marketing hub, your website. You're not only getting your audience's' attention with newsletters, but you're getting website traffic and you're getting into their offices.
Referrals and Testimonials are a different way to reach out to your target audience. Utilizing the good relationships you already have with current clients and allowing them to be a reference for you, either in the form of referrals or testimonials, is a creative method for reaching your target. This allows the target to hear from your clients how wonderful of a relationship they've had with you and how you've helped them succeed.
You can track the success of these based on views of your testimonials or just whether or not the lead you were given panned out. Whether you choose to run with having written testimonials or video testimonials or run referral campaigns and get your clients to give you names of people they think may be interested in your services or using both, you should allow your clients to help you grow just as you've helped their business to.
As you can see, marketing is an essential part of your company's ability to succeed, but only if you're doing it correctly and reaching your target audience. You have to relate to your audience, put yourself in their position and make your marketing something that would interest you. If it doesn't entice you to want to buy something, why would anyone else want to?
Need help reaching your audience? Reach out to us!