JoomConnect Blog
JoomConnect is the Marketing Agency for MSPs. We strive to help IT companies get more leads and grow. We rock at web design, content marketing, campaigns, SEO, marketing automation, and full marketing fulfillment.
CPT: Crock-Pot Thursday Videos are Back with Strawberry Shortcake Lasagna [Video]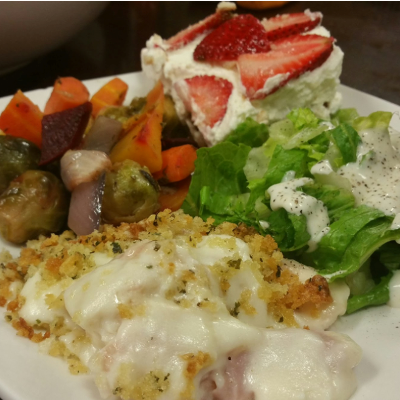 After a few week hiatus, Crock-Pot Thursday Lunch videos are back with a dessert worthy of a place among our all time favorite Crock-Pot Thursday dishes. We recommend that you try Strawberry Shortcake Lasagna as soon as you get the chance! Even though they didn't make it on to the big screen, the two recipes we used for the main entree *Chicken Cordon Bleu Casserole* and veggie *Scrumptious Roasted Veggies* were both absolutely delicious.
Chicken Cordon Bleu Casserole
INGREDIENTS
FOR THE CASSEROLE
2 chicken breasts shredded*
1/2-1 pound of ham slices
2- 6oz packages of Swiss cheese slices
Note: *To shred chicken, place two chicken breasts and 4 tsbp. chicken broth in a slower cooker. Cook on low for 8 hours. Once cooked, using two forks, shred apart the chicken and allow to sit for an additional 15-20 minutes to soak up liquid. Squeeze and drain excess liquid.
FOR THE SAUCE
4 tbsp. butter
6 tbsp. of all purpose flour
3 1/4 c. milk (whole milk)
2 tbsp. lemon juice
1 tbsp. dijon mustard
1/2 tsp. paprika(optional)
Salt and pepper to taste
FOR THE TOPPING
1 stick of butter, melted
2 c. of panko bread crumbs
2 tsp. dried cilantro
salt and pepper to taste
DIRECTIONS
FOR THE CASSEROLE:
Grease a 9x13 casserole dish with either butter or cooking spray.
Cover the bottom of the casserole dish with a layer of ham slices (1/2 of the ham).
Top the layer of ham with 1 package of Swiss cheese slices.
Scatter the shredded chicken breasts over the cheese (depending on how much chicken you prefer, you may not use all the chicken).
Place a second layer of ham slices over chicken (the rest of the ham slices) followed by a second layer (using the second packet) of Swiss cheese slices. Set aside.
FOR THE SAUCE
Melt butter in a large pot over medium heat.
Once melted, whisk in flour, constantly stirring to form a thick paste. Be careful not burn!
Once the paste is thick and flour is dissolved, pour in milk while stirring constantly until smooth. Continue cooking until sauce has thickened. This can take some time, so be patient -- 10-15 minutes --
Add in lemon juice, mustard, paprika, salt and pepper.
Bring sauce to a boil and then turn off heat. Let sit for about 5 minutes to slightly cool.
Pour sauce evenly over the casserole, making sure to cover the edges with sauce.
FOR THE TOPPING:
Combine melted butter, panko crumbs, cilantro, salt and pepper in a medium bowl.
Continue stirring until a grainy, sand-like texture is reached.
Sprinkle crumble evenly over casserole.
Bake, uncovered, for 45 minutes or until top has turned light, golden brown.
Remove from oven and allow to cool before serving.
Recipe Courtesy of For the Love of the Dessert.
Scrumptious Roasted Vegetables
INGREDIENTS
FOR THE VEGGIES
1 medium eggplant, quartered and sliced into ½-inch pieces
1 large carrot, sliced into ½-inch pieces on the diagonal
2 medium red onions, cut into ½-inch strips
1 red bell pepper, cut into ½-inch strips
1 yellow bell pepper, cut into ½-inch strips
2 medium / 1 large beet root(s), peeled, quartered and sliced into ½-inch pieces
1 butternut squash, peeled, quartered and sliced into 1-inch pieces
15 Brussels sprouts, cut in half or whole
1 zucchini, sliced into ½-inch rounds
FOR THE DRESSING
½ cup good quality extra virgin olive oil
2 Tbsp good quality balsamic vinegar (not overly sweet)
1 Tbsp sherry vinegar
2 tsp Dijon mustard
2 tsp finely chopped fresh thyme
1 Tbsp finely chopped fresh Italian basil
5 garlic cloves, pressed
1 tsp freshly ground black pepper
1 tsp kosher salt
To sprinkle on top:
½ tsp freshly ground black pepper (optional)
½ tsp kosher salt (plus more to taste)
DIRECTIONS
Preheat oven to 450F.
Line a large, 15x21-inch baking sheet with parchment paper and set aside. If you are using smaller baking sheets you will need to roast the vegetables in two batches or on two baking sheets.
Prepare the dressing by whisking the olive oil, vinegar, Dijon mustard, basil, thyme, garlic, pepper and salt in a small bowl, until well combined.
Place the vegetables in a large bowl, big enough to accommodate all the veggies and still having some head space left to allow tossing. Pour the dressing all over the vegetables and toss until the veggies are evenly
covered by the dressing.
Transfer the vegetables onto the baking dish and spread evenly. Sprinkle additional salt and pepper on top.
Bake on top rack for 45 minutes. Serve immediately.
Recipe Courtesy of iFood Blogger.
Strawberry Shortcake Lasagna
INGREDIENTS
4 c. heavy cream
1/2 c. powdered sugar, plus more for dusting
2 tsp. pure vanilla extract
1 1/2 boxes Nilla Wafers
1 lb. Strawberries, thinly sliced
DIRECTIONS
In a large bowl using a hand mixer, beat heavy cream, powdered sugar and vanilla until medium peaks form.
Assemble lasagna: In a 9"-x-13" pan, spread a thin layer of whipped cream.
Top with a layer of Nilla Wafers and spread a thick layer of whipped cream on top.
Top with a layer of strawberries.
Repeat two times, ending with strawberries.
Sprinkle with crushed Nilla Wafers.
Refrigerate until Nilla Wafers are totally soft, 3 hours, or up to overnight.
Sprinkle with more powdered sugar, then slice and serve.
Recipe Courtesy of Delish.