JoomConnect Blog
JoomConnect is the Marketing Agency for MSPs. We strive to help IT companies get more leads and grow. We rock at web design, content marketing, campaigns, SEO, marketing automation, and full marketing fulfillment.
Create Outstanding Content By Keeping it Simple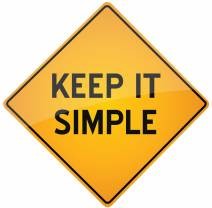 It's important to have original, fresh, and engaging content on your company's website. Do you know how to build out such content? As a business owner, you're inundated with marketing experts telling you about the need to develop good content. It turns out that creating dynamic content isn't that hard. In fact, keeping your content simple works best.
Write like you are talking to your readers. You don't need to cram big fancy words and technical terms into each sentence just because it sounds smart. This also includes using empty superlatives like, "results oriented," and "world-class."
You're talking to business owners and managers. You aren't trying to impress your prospects by writing War and Peace, you're just trying to sell yourself as a competent technology consultant. It's much better to prove that you're the best than it is to say it.
To show you what we mean, here are some examples:
Bad Example: At Intelisecuretech Consulting Group(r) we combine world-class innovation with dynamic best practices and a passionate team of technological results-driven gurus to enable your business to strategically achieve your goals with industry-standard methodologies and guaranteed productivity.
In other words, stay away from sounding like this:
Good Example: Bob's House of IT provides computer repair and technical IT support for small businesses in Townsville City. Don't take our word for it though, check out these video testimonials of a few Townsville-based businesses who depend on our technology consulting!
Alright, I cheated a little bit there, relying on video testimonials to hone in on the point, but that's how MSPs need to play the game. A big block of coherent words on your website isn't a magic marketing button. In fact, marketing has become an arms race. The organization with the most powerful marketing material (content, videos, and other ammo that drives brand recognition) will have an easier time getting leads and conversions.
When you write your content, keep things simple by getting to your point faster and using keywords that people are actually looking for. It's easy for you to write if you keep your content simple, and using simple content makes it easier for the search engines to find your business. Plus, it appeals to those reading your website.
Ultimately, content that comes from your heart and explains your products and services just like you do every day when talking to your clients is the best approach. Content like this will seem more real and have a personal touch. People that come across your website will appreciate your simple approach to content, especially after coming across website after website belonging to the competition that are full of business jargon.
In conclusion, stand out from the competition by keeping things simple and being yourself. Whoever said marketing is difficult is making things more complicated than it needs to be. Just keep it simple stupid!
Comments
No comments made yet. Be the first to submit a comment
By accepting you will be accessing a service provided by a third-party external to https://www.joomconnect.com/