JoomConnect Blog
JoomConnect is the Marketing Agency for MSPs. We strive to help IT companies get more leads and grow. We rock at web design, content marketing, campaigns, SEO, marketing automation, and full marketing fulfillment.
CPT: The Perfect Combo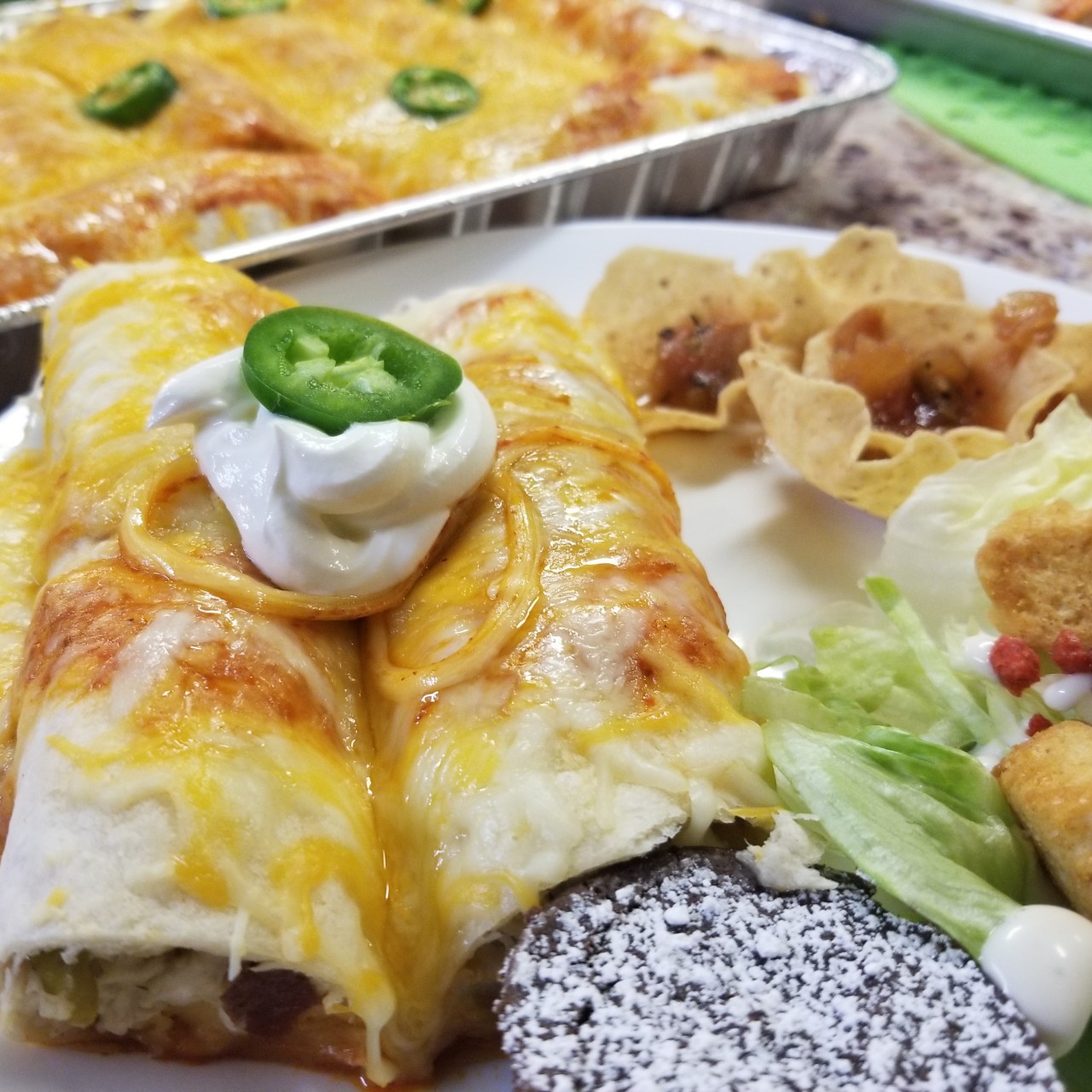 Today for lunch, we decided that we wanted to put a little spin on an office favorite - Crack Chicken. But, how could we make this already amazing recipe even tastier?
Thanks to another recipe that piqued our interest, we figured out what we wanted to do: Crack Chicken Enchiladas! And we're happy to report that it actually turned out pretty good!
You can give this concoction a try by following the recipe below:
Crack Chicken Enchiladas
Ingredients
4 lbs chicken breast
4 - 8 oz blocks of cream cheese, cubed
4 1 oz. packets Dry Ranch Dressing Mix
3 lbs bacon
1 Stick Unsalted Butter
2 Red Onion, thinly sliced
4 4 oz. cans diced green chilies
48 oz. Shredded Mexican Cheese
1 cup half and half
4 8 oz. Frontera Red Chile Enchilada Sauce
40 9" Flour Tortillas
4 to 6 jalapenos, thinly sliced
Directions
Prepare Chicken:
Place chicken in 11x13 pan
Top evenly with cream cheese cubes then sprinkle the dry ranch evenly over the top
Bake at 350 degrees for 1 hour
Chicken is ready when it can easily be shredded with a fork, shred chicken
Prepare Onion:
Melt 1 Stick butter in a large skillet over medium heat
Cook onion and sauté until tender
Prepare Bacon:
Chop bacon into small pieces, fry until crisp, drain
Create Enchiladas:
Combine chicken, chilies and bacon until mixture is thoroughly combined.
Divide mixture evenly among the tortillas (approximately ½ cup per), roll and trim ends as needed. Place on greased sheet pan flap side down.
Mix half and half and enchilada sauce, pour evenly over enchiladas.
Top with shredded cheese
Cover with a tent of foil (so the cheese doesn't stick) and bake at 350 degrees for 35 minutes or until cheese is melted and center is hot.
Serve hot with sliced jalapeno, sour cream, salsa, guacamole, or all your favorite toppings!
Serves: 30 People
Thanks to Lemon Tree Dwelling and Gonna Want Seconds for inspiring this merged recipe yumminess!