JoomConnect Blog
JoomConnect is the Marketing Agency for MSPs. We strive to help IT companies get more leads and grow. We rock at web design, content marketing, campaigns, SEO, marketing automation, and full marketing fulfillment.
CPT: A Cheeseburger You Can Eat With a SPOON?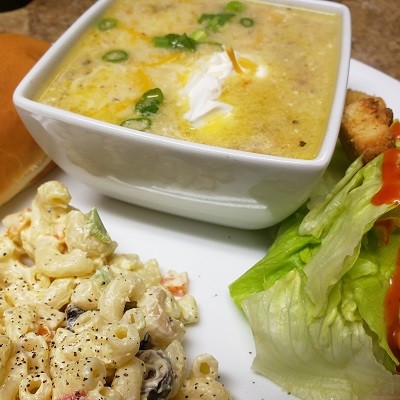 Unless your meat is burnt to a crisp or too undercooked for your liking, it's pretty difficult to put together a 'bad' cheeseburger. But did you know that you can get the same, delicious taste you would get from biting into a delicious cheeseburger from soup?
This Slow Cooker Cheeseburger Soup recipe proves that cheeseburgers are ALWAYS delicious, even when you're not eating them in the traditional sense. You can try it out for yourself using the recipe below.
Slow Cooker Cheeseburger Soup
Ingredients
1 pound ground beef
3/4 cup chopped onion
3/4 cup shredded carrots
3/4 cup diced celery
1 teaspoon dried basil
1 teaspoon dried parsley flakes
4 tablespoons butter, divided
3 cups chicken broth
4 cups peeled and diced potatoes
1/4 cup all purpose flour
2 cups shredded cheddar cheese
1 1/2 cups milk
3/4 teaspoon salt
1/4 to 1/2 teaspoon pepper
1/4 cup sour cream
Optional toppings:
Directions
In your slow cooker, add diced potatoes, chopped onion, diced celery, carrots, parsley and basil. Add chicken broth. Cook on low 6-8 hours or high 4-6 hours or until potatoes and veggies are tender.
About 30 minutes before it is done, cook the ground beef in a medium saucepan about 4-5 minutes until brown. Remove and set aside.
In the same pan, add the butter. Melt the butter and add flour and cook until bubbly. Add the salt, pepper, milk and sour cream.
Add cream mixture, cheese, and ground beef to the crockpot. Stir and and continue to cook until the cheese is melted. Serve with optional toppings.
Recipe courtesy of The Recipe Critic