JoomConnect Blog
JoomConnect is the Marketing Agency for MSPs. We strive to help IT companies get more leads and grow. We rock at web design, content marketing, campaigns, SEO, marketing automation, and full marketing fulfillment.
CPT: Chili Lime Chicken Tacos
For this week's Crock-Pot Thursday lunch, we fired up our grill for the first time this year! We had BBQed Lime Chicken in a soft taco shell with Grilled Pinapple Salsa, Mexican Street Corn Salad and Jalapeño Popper Cheese Muffins!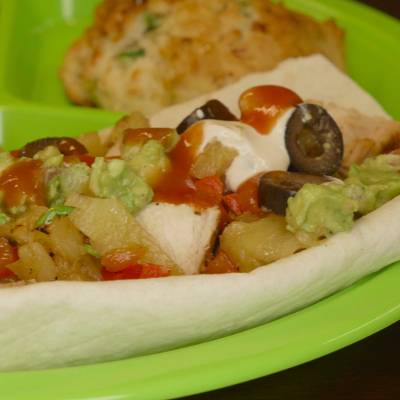 INGREDIENTS
1 pound chicken breasts pounded to 1/2 inch thickness
Chili Lime Rub
2 tablespoons olive oil
1 teaspoon chili powder
1-4-1/2 teaspoon chipotle chili powder (optional for more heat)
1/2 teaspoon ground cumin
1/2 teaspoon smoked paprika
1/2 teaspoon onion powder
1/2 teaspoon garlic powder
3/4 teaspoon salt
1/4 teaspoon pepper
1 teaspoon brown sugar
fresh-squeezed lime juice from 1 lime (about 2 tablespoons)
Lime zest from 1 lime
INSTRUCTIONS
In a small bowl, whisk chicken rub ingredients together and rub evenly all over chicken breasts. Timer permitting, allow chicken to sit for 30 minutes at room temperature or refrigerate up to 8 hours then bring to room temperature for before cooking.*
GRILLING DIRECTIONS
If chicken has been refrigerated, let sit at room temperature for 15-30 minutes (time permitting).
Meanwhile, grease and preheat the grill to medium heat, 375-450°F.
Grill chicken undisturbed for for 5-7 minutes per side, or until chicken is cooked through. (An inserted thermometer should read 165 degrees F.)
Remove chicken from grill and let rest 5 minutes before slicing.
STOVETOP DIRECTIONS
If chicken has been refrigerated, let sit at room temperature for 15-30 minutes (time permitting).
Heat a large non-stick skillet over medium high heat. Once very hot, add chicken and cook, undisturbed for 3-5 minutes, or until nicely browned (or blackened if you prefer) on one side. Turn chicken over, cover, and reduce heat to medium.
Cook for approximately 5-7 more minutes (depending on thickness of chicken), or until chicken is cooked through. Remove to a cutting board and let rest 5 minutes before slicing.
Garnish with extra fresh lime juice if desired.
GRILLED PINEAPPLE SALSA
INGREDIENTS
1/2 ripe pineapple, trimmed and sliced
1 large red bell pepper, seeded and quartered
1/2 small red onion, peeled and cut in half (so you have 2 quarters of whole onion)
1 jalapeno, whole
1/2 cup loosely packed cilantro, finely chopped
1 tablespoon lime juice
1/4 teaspoon ground ginger
1/4 teaspoon ground cumin
salt and pepper to taste
olive oil
INSTRUCTIONS
Grease grill and heat to medium high heat.
Drizzle red onions with olive oil and thread onto a skewer (if using a wooden skewer, soak skewer in water for at least 30 minutes beforehand). Drizzle red bell pepper quarters and jalapeno with olive oil to lightly coat.
Working in batches as needed depending on grill size, grill pineapple and vegetables at medium high heat until tender and lightly charred all over, about 12 minutes for the onions, turning occasionally, about 8-10 minutes for the pineapple, or until caramelized, flipping once, 6 minutes for the red bell peppers, flipping once, and jalapeno for 3-5 minutes, turning occasionally.
Once cool enough to handle, dab off any excess oil with paper towels from vegetables and chop pineapple (cutting around core), red bell peppers, and onions. Devein and deseed jalapeno and dice, reserving some of the seeds if desired.
Toss pineapple, red bell pepper, red onion, jalapeno, cilantro, lime juice, ginger, cumin and salt and pepper to taste in a large bowl. If you would like it spicier, add some of the jalapeno seeds to taste.
Can be served immediately or even better chilled.
INGREDIENTS
Dressing
½ cup (80 g) plain nonfat yogurt*
1 Tbsp (15 mL) lime juice
1 tsp (5 mL) honey
½ tsp paprika
¼ tsp cumin
Salad
Splash of oil
4 ears of corn (about 3 cups, 285 g of kernels), shucked and kernels removed
1 clove garlic, minced
2 Tbsp (30 mL) lime juice
¼ tsp salt
1 cup (200 g) canned black beans, drained and rinsed
1 red bell pepper, seeded and chopped
½ cup (35 g) chopped red onion
½ cup packed fresh cilantro, chopped
½ cup (88 g) cotija or feta cheese, crumbled
INSTRUCTIONS
Mix all dressing ingredients and set aside.
Heat oil over medium/high heat in a large saute pan then add garlic and corn. Cook about 15 minutes, flipping frequently, until corn begins to char a bit. Gently toss with lime juice and salt.**
In a large bowl, combine corn mix, black beans, pepper, onion, cilantro, and cheese. Drizzle sauce over and serve either warm or cold. Perfect over tacos, as a chip dip, or by itself!
Comments
No comments made yet. Be the first to submit a comment