JoomConnect Blog
JoomConnect is the Marketing Agency for MSPs. We strive to help IT companies get more leads and grow. We rock at web design, content marketing, campaigns, SEO, marketing automation, and full marketing fulfillment.
4 Qualities a Good MSP Website Should Have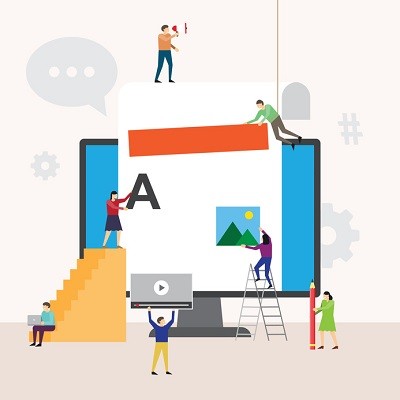 Any website you visit online is designed with a certain purpose in mind (whether or not it's designed well, is a different story). As a managed service provider, your website needs to have just as much forethought and planning as any other - in fact, it should probably have more. Let's discuss a few requirements that a good MSP website needs to represent.
First, let's examine the real purpose of your MSP website… your most important marketing tool. All of the marketing initiatives you run should somehow direct your audience back to your website. Your website should be the place where a visitor finally reaches out to you in the interest of your services.
As a result, you need to give them the opportunity to do so.
Best Practices for Forms on Your Website
We'll keep this brief, as we've covered this topic pretty comprehensively, but website forms are important lead-generation tools, especially as an MSP.
Make sure that you don't ask for more information than you need, as this will make your visitors less likely to fill out your form at all. In order to encourage them further, you should also give them plenty of value in the content you provide on your landing pages. What do you have to offer in exchange for their signing up?
You can also make better use of the Submit button by having it say something other than Submit. Make it a call-to-action instead. Something like "Download my eBook" or "Show me!" will keep your offer at top-of-mind.
You also want to make sure you include a reCAPTCHA to keep bots from spamming your forms with potentially malicious entries.
Again, check out our blog on using forms to make the best use of them.
Designing Your Website to Fit Best Practices
Every website should be subscribing to modern best practices in terms of their design, responsiveness, search engine optimization, navigability, ease of use, and so on and so forth. Consistency is critical here; a responsive website needs to have all of its elements remain responsive.
In your customer's eyes, you are the embodiment of all things technological. You might not build websites, but a non-technical client isn't going to make that distinction, and the quality of your site reflects the quality of your technical expertise. You should be the one to set the example.
This pertains to both your search engine optimization practices and your interaction with the almighty Google, as well as any other practices your industry is beholden to. Basically, you want to show that you know what you are doing, rather than just claiming to.
On the SEO side of things, you also need to keep the content on your website fresh. There are a few ways to accomplish this. One is to keep your pages up-to-date, ensuring that the information on them remains accurate. The second is to simply unpublish pages that are no longer relevant. Visit our blog post on the subject to learn how this can benefit your marketing.
More into SEO, you need to look at it as an ongoing process. You should always be building SEO-friendly content (which requires more than just putting a keyword in the title).
Finally, don't fall into the trap of trying to be too different. Yeah, a super flashy design is going to make a visitor sit up and pay attention… for a moment. Then they'll realize how much more difficult your website is to use, become frustrated, and leave. You can count on that much. While standing out can be valuable, you need to make sure you stand out in a good way - like in the information you provide on your website, and not in how it looks.
Using Social Proof
Certifications, case studies, testimonials, awards, and any other bit of social proof show that you can deliver actual results based on the experience you claim to have.
Let's consider it from the perspective of one of your website visitors. Who would you be more likely to reach out to for a solution:
Someone who says that they can do A, B, and C?
Someone who says they can do A, B, and C, and provides a collection of case studies that demonstrate their capabilities in performing A, a few testimonials that discuss the propensity they have for B, and a list of awards that they've won for their work with C?
Probably the second option, right?
What About Vendors?
Unless you're focused on a very specific industry and have cultivated partnerships with vendors and software providers that also focus on that industry as they develop solutions, listing the vendors you utilize tends not to be as impactful as providing reviews and testimonials from your other satisfied clients. Look at it this way - would you hire a contractor because of the brand of tools they use, or based on the work they've done in the past?
Now, what if this website visitor has had a less-than-optimal experience with a previous provider? Providing evidence of your experience with A, B, and C can give your website visitor more faith in the quality of your services, and give you the advantage in a side-by-side comparison. This proof is especially handy to provide when you consider that many of your visitors will have had minimal (if any) prior experience with you or your services. This way, you can not only take advantage of your service record, you can make it look better as compared to a past experience of theirs.
Using User-Friendly Language
Finally, it is important to recognize the difference between you and your visitor. As an MSP, you have an understanding of the jargon that so often fills conversations about IT. Your audience… not so much. This can play out in a few different ways.
On the one hand, there's the salesy, fluffy kind of jargon:
"We take pride in offering effective solutions that leverage world-class technology to increase functionality and productivity through client-centric solutions while keeping your solutions proactively maintained by our professional experts."
This kind of jargon doesn't always work so well, simply because it really feels inauthentic. The word "solutions" is used three times. Who do you know that actually talks like that?
On the other hand, there's the more technical kind of jargon:
"When small business owners need to register a service principal name for kerberos connections or configure RAID 5 in Windows Server 2019, they rely on the certified MCSE technicians we employ..."
Granted, this is an extreme example, but we wanted to get the point across. Because this particular sentence is so technical, your audience isn't even going to finish reading it, and what good does that do your marketing? No good at all, that's what.
How to Speak Instead
While you don't want to cut out all of your industry-specific knowledge, you do want to tone it down a bit so that your audience can follow along. Aim to write at a high school level, not a college one.
Using basic jargon on your website, followed with what it means can be a valuable approach to take. It can both show your audience that you have the practical knowledge to solve their problems, as well as the capability to communicate these problems with them. Make sure that you clearly identify the problems they are likely facing (proving that you have the insights they need) and how you would go about solving them (demonstrating your value as a provider of IT solutions).
The end result: increased trust in you and your expertise.
Lean on Us for a Professional, Impactful Website!
JoomConnect has plenty of experience creating engaging websites that meet best practices. With both pre-built and custom, SEO-friendly websites available for MSPs, we can help you create a marketing strategy meant to showcase your unique brand. To learn more about the website we could build for you, reach out to us at 888-546-4384.
Comments
No comments made yet. Be the first to submit a comment