JoomConnect Blog
JoomConnect is the Marketing Agency for MSPs. We strive to help IT companies get more leads and grow. We rock at web design, content marketing, campaigns, SEO, marketing automation, and full marketing fulfillment.
CPT: Would Your Taste Buds Say Yes to Today's Crock-Pot Dish? [Video]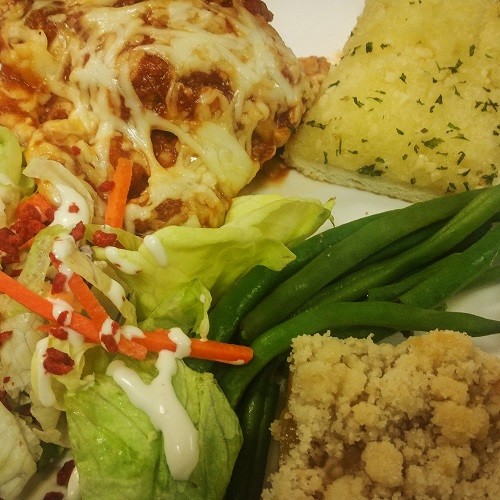 Do you ever see some food and just by looking at it you think you won't like it? Well today we tried a new dish that is a little out-there and had our team try it - BLINDFOLDED. What is it that the team tried? Lasagna Stuffed Meatloaf! This was paired with Veggies, Salad, Garlic Bread, and finished off with amazing Apple Sugar Streusel Bars. Are you ready to see their reactions and try the recipe for yourself? Check it out below!
Lasagna Stuffed Meatloaf
INGREDIENTS
1lb beef mince
2/3 cup breadcrumbs
2 eggs, whisked
1/4 cup finely chopped parsley
3 coves garlic, minced
1 tbsp tomato paste
1 tsp salt
1 tsp pepper
2 cups ricotta
1 tsp salt
1/2 tsp pepper
4 Fresh Lasagna noodles cut to bundt size
1 1/2 cups tomato sauce
Mozzarella slices
DIRECTIONS
Preheat oven to 180ºC (350ºF).
In a large bowl mix together beef, bread crumbs, eggs, parsley, salt, pepper, garlic and tomato paste until combined.
Press 3/4 of mix into a loaf tin along the bottom and press up the edges keeping a well in the middle.
Mix together ricotta with 1 tsp salt and 1/2 tsp pepper.
In the well, layer lasagna followed by ricotta, slices of mozzarella. Repeat with 4 layers with the last layer being lasagna.
Cover with remaining meat to seal.
Bake for 30-40 minutes covered with foil. Take out and flip over onto a tray. Top with tomato sauce and slices of mozzarella. Grill in the oven until golden brown and bubbly.
Recipe courtesy of: Twisted
---
Comments
No comments made yet. Be the first to submit a comment
By accepting you will be accessing a service provided by a third-party external to https://www.joomconnect.com/