JoomConnect Blog
JoomConnect is the Marketing Agency for MSPs. We strive to help IT companies get more leads and grow. We rock at web design, content marketing, campaigns, SEO, marketing automation, and full marketing fulfillment.
CPT: The Most Important Meal of the Day! (Plus, pajamas.) [Video]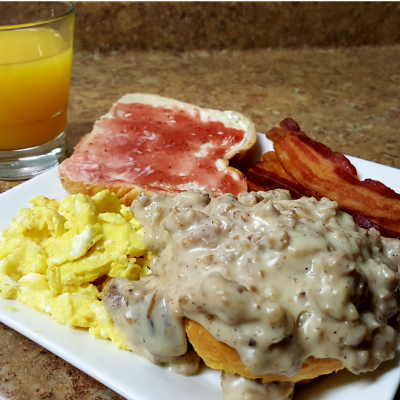 Did your Mom ever tell you that breakfast was the most important meal of the day? Well, our team definitely remembers that lesson! This week's Crock-Pot Thursday Lunch was a breakfast feast including bacon, eggs, toast and sausage gravy and biscuits made by Chris Chase! If "All happiness depends on a leisurely breakfast." then our team's excitement was completely justified. Check out the video to see the joys of breakfast-for-lunch.
Creamy Sausage Gravy with Biscuits
Ingredients
1 pkg. Jimmy Dean® Premium Pork Regular Roll Sausage
Vegetable oil (optional)
6 tablespoons flour
⅛ teaspoon ground black pepper
3 cups milk
4 split warm biscuits for serving
Directions
Cook sausage in large skillet over MEDIUM-HIGH heat 8-10 minutes or until thoroughly cooked, stirring frequently. Drain, reserving drippings; place sausage in bowl. If necessary, add enough oil to reserved drippings to measure 1 tablespoon. Return drippings to skillet.
Add flour and pepper to skillet; stir with wire whisk until well blended. Cook over MEDIUM heat 6-8 minutes or until browned, stirring constantly. Gradually stir in milk; cook and stir 3-5 minutes or until mixture thickens and comes to a boil.
Add sausage; cook 1-2 minutes or until thoroughly heated, stirring frequently. Serve over biscuits.
http://www.jimmydean.com/recipes/breakfast/creamy-sausage-gravy
Comments
No comments made yet. Be the first to submit a comment