JoomConnect Blog
JoomConnect is the Marketing Agency for MSPs. We strive to help IT companies get more leads and grow. We rock at web design, content marketing, campaigns, SEO, marketing automation, and full marketing fulfillment.
CPT: Take the Cannolis...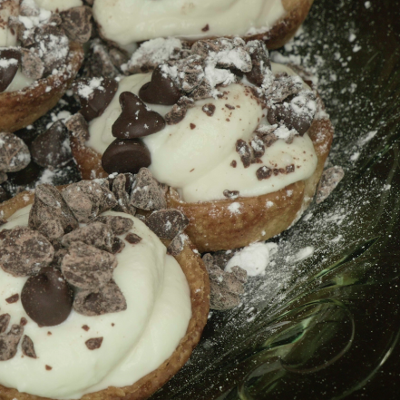 We knew that not every Crock-Pot Thursday recipe we tried would be a hit... Well, today's main entree recipe was a bit lackluster. However, the little cups of delicious that we had for dessert more than made up for it. What was this wonderful dessert?
Ingredients:
For Cups
Flour for dusting surface
1 Pillsbury® refrigerated pie crusts
3 tablespoons coarse natural sugar
1 teaspoon cinnamon
For Filling
1 (15oz) container of whole milk ricotta cheese
1/2 cup confectioners' sugar, plus extra for dusting finished cups
2 tablespoons white sugar
1 teaspoon vanilla extract
1/4 cup mini semi-sweet chocolate chips
Directions:
In a large bowl with an electric mixer combine all ingredients for the filling except the chocolate chips and mix well until creamy. Place the filling in a 1-gallon plastic storage bag and chill while you make the cups.
Filling may seem thin but will firm up slightly when it's refrigerated.
Heat oven to 425°F. Unroll the piecrusts onto a lightly floured surface and sprinkle the top of each crust with the natural sugar and the cinnamon. Lightly roll over it with a rolling pin so that sugar and cinnamon are pressed into the dough.
With a 2 1/2-3 inch round biscuit cutter or cookie cutter, cut out circles and lightly press them inside an ungreased mini muffin or mini cupcake pan to create a pastry cup.
Bake for about 10 minutes or until cups are golden. Remove from oven and allow cups to cool. Once cups are cool they can be removed from tin and filled.
Remove filling from refrigerator, cut one of the bottom corners off the bag and pipe a little less than a tablespoon of filling into the cooled cannoli cups. Tip: Cups should be filled shortly before they are eaten so the don't get soggy. If you wish to make them ahead of time, you can make the cups and the cream and keep them separate. Once you are ready to eat, you can fill, decorate and serve.
Sprinkle with mini chocolate chips, dust with powdered sugar and serve.
Comments
No comments made yet. Be the first to submit a comment