JoomConnect Blog
JoomConnect is the Marketing Agency for MSPs. We strive to help IT companies get more leads and grow. We rock at web design, content marketing, campaigns, SEO, marketing automation, and full marketing fulfillment.
CPT: Chris' Chili and Charlotte's BLTs [Video]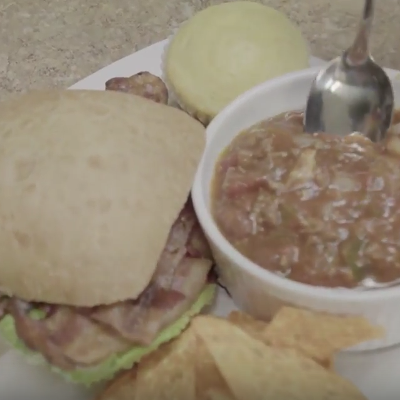 Two of the team's all-time favorites made up this week's Crock-Pot Thursday lunch: Chris' Chili and Charlotte's BLTs.
As some of you may know, Chris Chase's Chili is the reason that Crock-Pot Thursday became a weekly ritual. Chris would make chili for the team sporadically, but it was never enough. The team demanded more. The idea of a formalized crock-pot lunch was established.
To honor Chris' crock pots full of chili (each with varying degrees of spiciness) that are required to feed the much larger team, we call our weekly company lunch, Crock-Pot Thursday.
Did you know? April is National BLT Month! We thought that we'd use Charlotte's adaptation of Martha Stewart's Oven-Dried BLT recipe to send April off in style! Mmm. Bacon, baby.
INGREDIENTS
1 small head garlic
1 teaspoon olive oil
2 sprigs fresh thyme, rosemary, or oregano
12 strips bacon, preferably thickly sliced and smoked or peppered
1/2 cup mayonnaise
1 baguette, about 25 inches long (We actually used ciabatta and faccotia bread. Worked out great!)
1 small head Bibb or Red Leaf lettuce
20 dried tomato slices
Salt and freshly ground pepper
DIRECTIONS
Heat oven to 375 degrees. Rub entire head of garlic with olive oil. Place on aluminum foil, add herbs, and wrap tightly. Cook until cloves are soft, 25 to 35 minutes. Set aside to cool.
Working in batches, fry bacon in a heavy skillet over medium heat until crisp. Transfer bacon to paper towels to drain.
Squeeze roasted garlic out of each clove onto a cutting board. Transfer soft garlic to a medium bowl; mash with a fork until smooth. Stir in mayonnaise, and set aside.
Slice bread in half lengthwise. Spread each half with garlic mayonnaise. Arrange lettuce over bottom half. Top with bacon and tomatoes; season with salt and pepper. Close sandwich; cut into thirds.
Comments
No comments made yet. Be the first to submit a comment