JoomConnect Blog
JoomConnect is the Marketing Agency for MSPs. We strive to help IT companies get more leads and grow. We rock at web design, content marketing, campaigns, SEO, marketing automation, and full marketing fulfillment.
CPT: Crock-Pot Thursday Turns into a 'Peep' Show!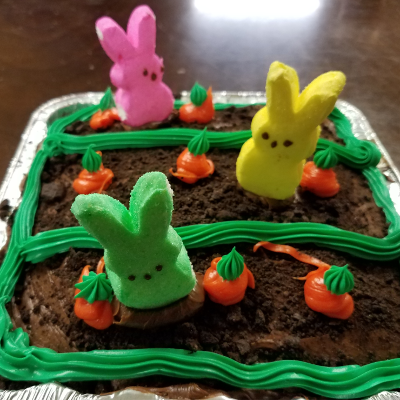 Today's Crock-Pot Thursday lunch was really more of a 'Peep' show - with these adorable Easter Garden Cakes! (Okay, there was a delicious slow cooked ham with a maple brown sugar glaze, with honey glazed carrots and sautéed asparagus and peas, too. They aren't as cute, though.)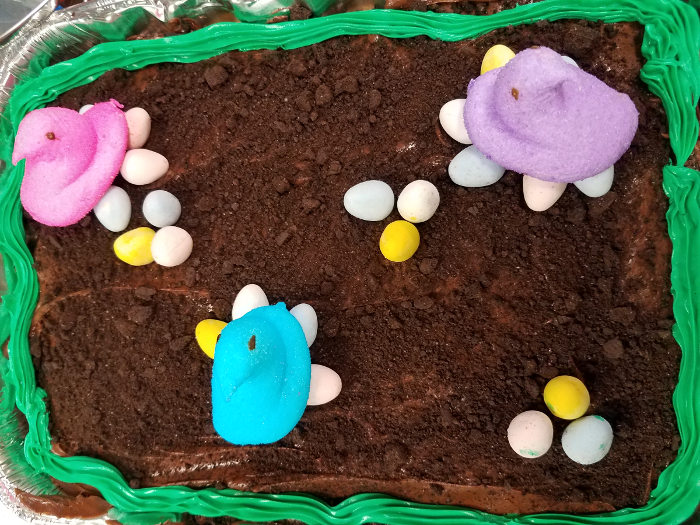 Slow Cooker Ham with Maple Brown Sugar Glaze
INGREDIENTS:
7.5 pound unsliced, bone-in ham
1 cup of water
For the Glaze:
1/2 cup of dark brown sugar
1/2 cup of pure maple syrup
2 tablespoons of brown mustard
2 tablespoons of cornstarch
freshly ground pepper to taste
DIRECTIONS:
Start by trimming excess fat and skin from the ham.
Use a paring knife to slice a grid pattern into the ham.
Add ham and 1 cup of water to slow cooker.
Heat for 5-6 hours on low, until heated through.
Remove ham from slow cooker and let rest for 20 minutes.
Prepare glaze.
Bring pure maple syrup, dark brown sugar, mustard, pepper and cornstarch to a boil.
Let boil 2-3 minutes, whisking constantly until mixture starts to thicken.
Let glaze cool for about 5 minutes.
Pat ham dry and spoon glaze over ham.
Heat ham under broiler 5-7 minutes until glaze has caramelized.
Recipe Courtesy of No. 2 Pencil.
Sautéed Asparagus and Peas
INGREDIENTS:
2 tablespoons unsalted butter
1/4 cup minced shallots
1 bunch thin asparagus spears, ends trimmed, cut into 1-1/2-inch pieces on a diagonal
1 cup thawed frozen peas
Salt
Freshly ground black pepper
1 teaspoon honey
DIRECTIONS:
Melt the butter in a medium saucepan over medium-low heat.
Add the shallots and cook, stirring frequently, until soft and translucent, 4-5 minutes.
Add the asparagus, ¼ teaspoon salt and freshly ground black pepper to taste.
Continue cooking over medium-low heat, stirring frequently so the shallots don't burn, for about 5 minutes or until tender-crisp.
Add the peas and honey and cook about one minute more until the peas are warmed through.
Add more salt and pepper to taste and serve.
Recipe Courtesy of Once Upon a Chef.
Honey Glazed Baby Carrots
INGREDIENTS:
2 tablespoons unsalted butter
1 (16-ounce) bag Grimmway Farms Baby Carrots
2 tablespoons honey
2 tablespoons brown sugar, packed
2 teaspoons fresh dill
2 teaspoons fresh thyme leaves
DIRECTIONS:
Melt butter in a large skillet over medium heat.
Add carrots, honey,brown sugar, dill and thyme and gently toss to combine.
Cook, stirring occasionally, until carrots are tender, about 15 minutes.*
Serve immediately.
Recipe Courtesy of Damn Delicious.
Easter Garden Cake
INGREDIENTS:
1 box Betty Crocker™ SuperMoist™ devil's food cake mix
Water, oil and eggs called for on cake mix box
1 container Betty Crocker™ Rich & Creamy chocolate frosting
1 cup chocolate cookie crumbs
1 can (6.4 oz) Betty Crocker™ green decorating cake icing
8 to 12 PEEPS® marshmallow bunnies
DIRECTIONS:
Heat oven to 350°F. Spray 13x9-inch pan with cooking spray.
Make cake as directed on box for 13x9-inch pan.
Cool in pan on cooling rack until completely cooled, about 30 minutes.
Spread chocolate frosting on top of cake; sprinkle with chocolate cookie crumbs.
Use green icing to make garden rows, using photo as guide.
Insert toothpick halfway into base of each PEEPS® marshmallow bunny.
Insert bunnies, toothpick side down, into cake.
Use orange and green icings to make carrots on cake, using photo as a guide.
Cut into 4 rows by 3 rows to serve.
Recipe Courtesy of Betty Crocker.