JoomConnect Blog
JoomConnect is the Marketing Agency for MSPs. We strive to help IT companies get more leads and grow. We rock at web design, content marketing, campaigns, SEO, marketing automation, and full marketing fulfillment.
CPT: The Recipe You Didn't Know You Needed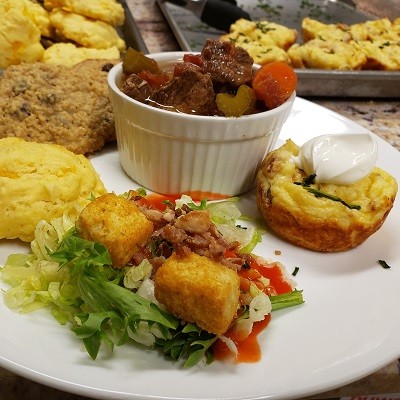 The wonderful thing about food is that there are so many different combinations that can be put together to make millions of delicious snacks, sides, and meals. The number of combinations only increase when you consider the many different ways you can cook things: inside of the oven, the stovetop, a slow cooker, and numerous other cooking methods.
Today, we tried a recipe that contains a bunch of ingredients that you'd typically combine together for a delicious side to your dinner. But, by cooking it a different way and adding one additional ingredient that you wouldn't think to add, it becomes a completely new dish that may even be better than the original recipe!
Get the recipe for that dish - Cheesy Mashed Potato Puffs! - as well as the recipe for Slow-Cooker Burgundy Stew with Herb Dumplings we tried, below:
Cheesy Mashed Potato Puffs
Ingredients
Cooking spray or butter
2 cups cooked mashed potatoes
3 large eggs, beaten
1 cup grated cheese, such as Parmesan or Gruyère, divided
1/4 cup minced fresh chives
1/4 cup diced cooked bacon or ham (optional)
Kosher salt
Freshly ground black pepper
Sour cream, for serve (optional)
Directions
Arrange a rack in the middle of oven and heat to 400°F. Lightly coat the cups of a mini-muffin tin with cooking spray or butter.
Place the mashed potatoes, eggs, 3/4 cup of the cheese, chives, and bacon or ham in a large bowl and stir to combine. Season, if necessary, with salt and pepper. The seasoning will depend on how seasoned your mashed potatoes were to begin with.
Fill each muffin cup with the mashed potatoes. Sprinkle the tops with the remaining 1/4 cup cheese.
Bake until the potato cups are set, browned on top, and heated through, about 20 minutes. Let cool for about 5 minutes in the pan, then use a spoon or knife to gently release them from the pan. Serve immediately with dollops of sour cream, if desired.
Recipe courtesy of Kitchn
Slow-Cooker Burgundy Stew with Herb Dumplings
Ingredients
Stew
2 lb boneless beef bottom or top round, cut into 1-inch pieces
4 medium carrots, cut into 1/4-inch slices (2 cups)
2 medium stalks celery, sliced (1 cup)
2 medium onions, sliced
1 can (14.5 oz) diced tomatoes, undrained
2 jars (4.5 oz each) sliced mushrooms, drained
3/4 cup dry red wine or Progresso™ beef flavored broth (from 32-oz carton)
1 1/2 teaspoons salt
1 teaspoon dried thyme leaves
1 teaspoon ground mustard
1/4 teaspoon pepper
1/4 cup water
3 tablespoons Gold Medal™ all-purpose flour
Dumplings
1 1/2 cups Original Bisquick™ mix
1/2 teaspoon dried thyme leaves
1/4 teaspoon dried sage leaves, crushed
1/2 cup milk
Directions
In 4- to 5-quart slow cooker, mix all stew ingredients except water and flour.
Cover; cook on Low heat setting 8 to 10 hours (or High heat setting 4 to 5 hours).
In small bowl, mix water and flour; gradually stir into beef mixture.
In small bowl, mix Bisquick mix, 1/2 teaspoon thyme and the sage. Stir in milk just until Bisquick mix is moistened. Drop dough by spoonfuls onto hot beef mixture.
Increase heat setting to High. Cover; cook 25 to 35 minutes or until toothpick inserted in center of dumplings comes out clean. Serve immediately.
Recipe courtesy of Betty Crocker