JoomConnect Blog
JoomConnect is the Marketing Agency for MSPs. We strive to help IT companies get more leads and grow. We rock at web design, content marketing, campaigns, SEO, marketing automation, and full marketing fulfillment.
CPT: Satisfy Your Pineapple Craving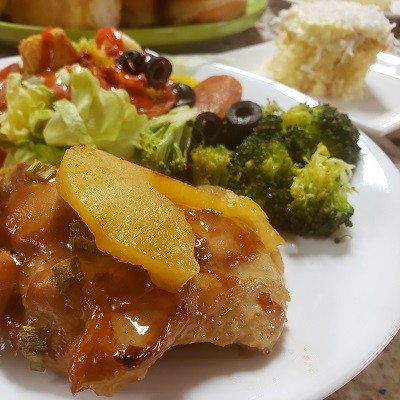 Do you like pineapples as much as we do? Let us drop a bit of knowledge on you about this tropical fruit.
The pineapple (Ananas comosus) is a fruit that best grows in tropical climates like Hawaii, Costa Rica, Brazil, and the Philippines. Can you believe a pineapple plant can only produce a single pineapple at a time, and that it can take over TWO YEARS to reach a point where it's ready to be harvested!
For our favorite fact about pineapples (which, we admit is more of an opinion): they're delicious! The two recipes the JoomConnect team tried today corroborate this.
Give them a try below:
Pineapple Teriyaki Chicken
Ingredients
6 chicken thighs boneless, skinless
6 Pineapple Rings
3 green onions cut into 1/2" pieces
1 cup teriyaki sauce
2 tablespoons cornstarch (optional)
Sesame seeds and green onion for garnish (optional)
Directions
Remove chicken from marinade and discard marinade. Place chicken, pineapple rings and green onions in a 9x13 pan. Top with thickened teriyaki sauce.
Bake at 425˚F oven for 25 minutes or until chicken reaches 165°F. Broil 3-5 minutes or until brown.
Recipe courtesy of Spend With Pennies
Hawaiian Pineapple Coconut Poke Cake
Ingredients
1 16.25 oz French vanilla or Butter cake mix plus ingredients to prepare
2 3.4 oz coconut cream instant pudding mix
1 20 oz can crushed pineapple drained
4 cups half & half
16 oz frozen whipped topping thawed
1 cup sweetened flaked coconut
1/2 cup macadamia nuts toasted and chopped
Directions
Prepare the cake mix according to the directions on the box in a 13 x 9 inch baking pan. [Tip: If using a box mix, use the pineapple juice from the crushed pineapple adding water until the total amount called for on the package is met.] Bake according to directions.
Remove the cake from the oven and use the handle of a wooden spoon or similar to poke holes over the entire cake. The holes need to be fairly large.
Use a hand mixer and whip together both packages of pudding with 4 cups of cold half & half. Whip until the pudding begins to slightly thicken but is still pourable.
Mix 1 cup pudding with the crushed pineapple. Pour this over the cake and spread into the holes while the cake is still hot.
Immediately spread the remaining pudding on top. Place into the refrigerator and cool to the touch then frost with whipped topping.
Sprinkle with macadamia nuts and flaked coconut. Store chilled.
Recipe courtesy of Melissa's Southern Style Kitchen