JoomConnect Blog
JoomConnect is the Marketing Agency for MSPs. We strive to help IT companies get more leads and grow. We rock at web design, content marketing, campaigns, SEO, marketing automation, and full marketing fulfillment.
CPT: Just a Dip? No...Make it a Meal!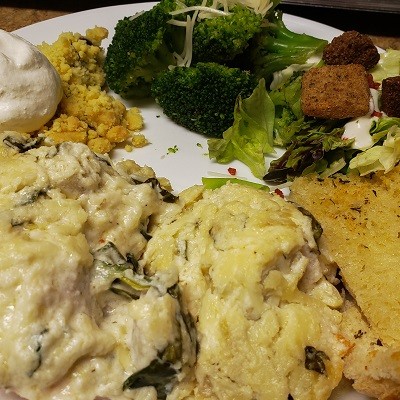 There are some dips that are so good, you could probably eat them by the spoonful without the 'staple' food that you usually use as your dipping utensil. One of those is spinach and artichoke dip.
What if we told you there was a great way to enjoy this delicious dip in meal form? This way, you wouldn't have to feel guilty about eating it with a fork or spoon.
This Spinach and Artichoke Baked Chicken recipe gives you an excuse to do just that. Give it a try! If you're a fan of the dip itself, you won't be disappointed.
Spinach and Artichoke Baked Chicken
Ingredients
1 pound boneless and skinless chicken breasts or thighs
salt and pepper to taste
8oz cream cheese, warmed
1/4 cup mayonnaise (optional)
1 cup artichokes, coarsely chopped
1 cup spinach, coarsely chopped
1 clove garlic, grated (optional)
cayenne to taste (optional)
1/4 cup parmigiano reggiano (parmesan cheese), grated
1 cup mozzarella, shredded
Directions
Place the chicken breasts into a baking dish and top with the mixture of the remaining ingredients and bake in a preheated 350F/180C oven until the chicken is cooked, about 30–35 minutes.
Recipe courtesy of Closet Cooking