JoomConnect Blog
JoomConnect is the Marketing Agency for MSPs. We strive to help IT companies get more leads and grow. We rock at web design, content marketing, campaigns, SEO, marketing automation, and full marketing fulfillment.
CPT: Holding Back Tears...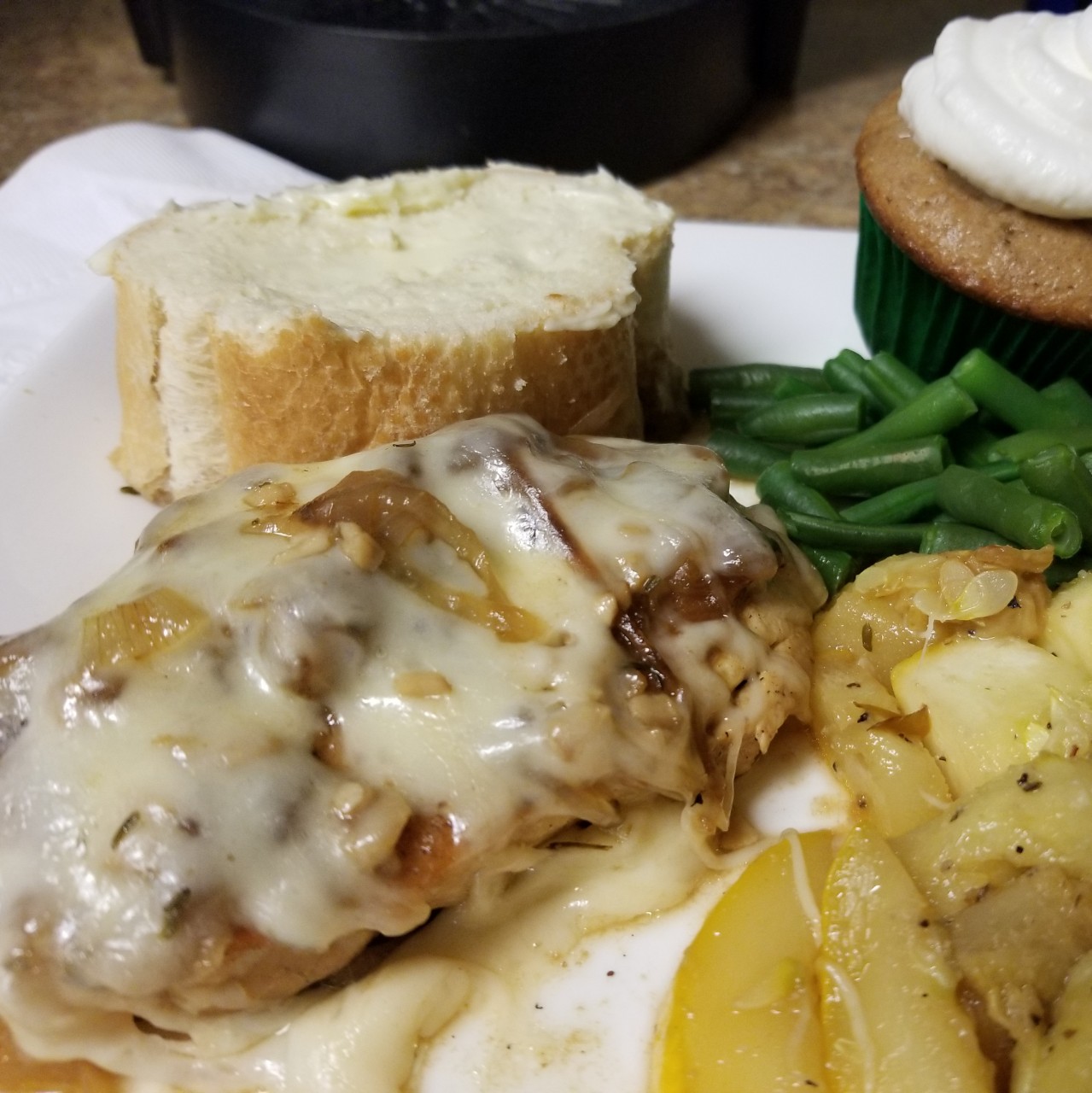 Don't worry - we're not sad! Actually, quite the opposite.
When JoomConnect team members entered the kitchen today while today's Crock-Pot Thursday meal was cooking, it was hard to not let a few tears fall. To make enough of the French Onion Chicken recipe for everyone in the office, we had to slice and cook NINE POUNDS of onions. As you can imagine, entering that room was a bit overwhelming.
It was all worth it though once we got to taste the final product. It was good enough where, if there were tears, they were tears of joy! You can see for yourself just how good it is by trying out the recipe below. Don't worry - you will not need nine pounds like we did! ?
French Onion Chicken
Ingredients
3 tablespoons butter
2 pounds onions, sliced
2 cloves garlic, chopped
1 teaspoon thyme, chopped
2 tablespoons flour
2 cups beef broth or chicken broth
1 tablespoon olive oil
1 pound chicken breasts or thighs (optionally boneless and skinless)
salt and pepper to taste
1 tablespoon balsamic vinegar
2 tablespoons Dijon mustard
1 cup gruyere, grated
Directions
Melt the butter in a pan over medium heat, add the onions and cook until a deep golden brown, about an hour, stirring occasionally, adding a bit of water or broth to deglaze the pan as needed.
Add the garlic, thyme and flour and cook for another minute while stirring.
Add half of the broth, deglaze the pan, bring to a boil, reduce the heat and simmer for 5 minutes.
Meanwhile, heat the oil in another pan over medium-high heat, season the chicken with salt and pepper, add the chicken and brown on both sides, about 2-4 minutes per side before setting aside.
Add the remaining cup of broth to the pan, deglaze it, mix in the balsamic vinegar and mustard, bring to a boil, reduce the heat and simmer to reduce by half, about 5 minutes.
Place the onions in an oven safe pan, top with the chicken and broth from the chicken pan, cover with a lid or foil and bake in a preheated 350F/180C oven for 20 minutes.
Sprinkle on the cheese and broil until it has melted, about 2-4 minutes.
Recipe Courtesy of Closet Cooking
Comments
No comments made yet. Be the first to submit a comment