JoomConnect Blog
JoomConnect is the Marketing Agency for MSPs. We strive to help IT companies get more leads and grow. We rock at web design, content marketing, campaigns, SEO, marketing automation, and full marketing fulfillment.
CPT: Good Things - Not Just Bad - Come in Threes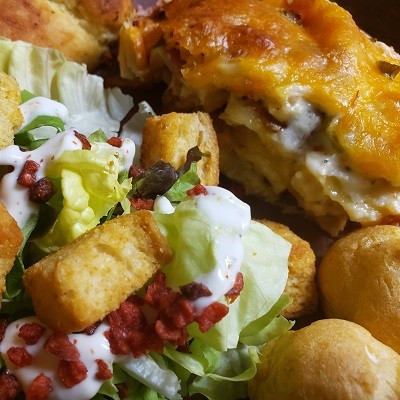 There's a common superstition out there that bad things (e.g., bad luck, misfortune, or even death) come in threes. We're here to tell you that there are plenty of good things that come in threes...at least when it comes to food.
Think about it: there are s'mores (graham crackers, chocolate, and marshmallows), BLT's (bacon, lettuce, and tomato), chili cheese fries (french fries, chili, and cheese) and your classic spaghetti dish (pasta, tomato sauce, and meatballs) - all of which are wonderful.
One other classic three-food-combo that happens to be a JoomConnect favorite? CBR (chicken, bacon, and ranch). That's why today's recipe, Chicken Bacon Ranch Lasagna, was a huge hit. You can taste for yourself by giving the recipe below a try:
Chicken Bacon Ranch Lasagna
Ingredients
1/4 cup butter
1/4 cup all-purpose flour
2 cups Progresso™ reduced sodium chicken broth (from 32-oz carton)
1/2 cup heavy whipping cream
1 package (8 oz) cream cheese, cubed
1 package (1 oz) ranch salad dressing & seasoning mix
9 uncooked oven-ready lasagna noodles
3 cups chopped deli rotisserie chicken (from 2-lb chicken)
8 slices bacon, crisply cooked, crumbled (1/2 cup)
1/2 cup chopped green onions (about 6 green onions)
3 cups shredded Cheddar-Monterey Jack cheese (12 oz)
Bottled ranch dressing, if desired
Directions
Heat oven to 375°F. Spray 13x9-inch (3-quart) glass baking dish with cooking spray.
In 4-quart saucepan, melt butter over medium heat. With whisk, stir in flour until smooth. Cook and stir 1 to 2 minutes or until mixture is smooth and bubbly.
In 4-cup glass measuring cup, mix broth and whipping cream. Gradually stir broth mixture into saucepan. Increase heat to medium-high; heat to boiling, stirring constantly. Boil and stir 1 minute; reduce heat to medium. Stir in cream cheese. Cook until melted, stirring occasionally. Remove from heat. Stir in dressing mix.
Spread 1/2 cup of the sauce in bottom of baking dish; top with a layer of 3 noodles. On top of noodles, spoon half of the chicken, one-third of the bacon, 3 tablespoons of the green onions, 1 cup of the Cheddar-Monterey Jack cheese and 1 cup of the sauce. Repeat, starting with noodles. Top with remaining noodles, sauce, cheese and bacon.
Bake uncovered 30 to 40 minutes or until noodles are tender and edges are bubbly. Let stand uncovered 10 minutes, and top with remaining green onions. Serve with ranch dressing.
Recipe courtesy of Betty Crocker
Tip: For a lower carb version of this recipe replace the noodles with layers of cauliflower rice, so good!