JoomConnect Blog
JoomConnect is the Marketing Agency for MSPs. We strive to help IT companies get more leads and grow. We rock at web design, content marketing, campaigns, SEO, marketing automation, and full marketing fulfillment.
CPT: Ever Heard of 'Bow Tie Etiquette'? [Video]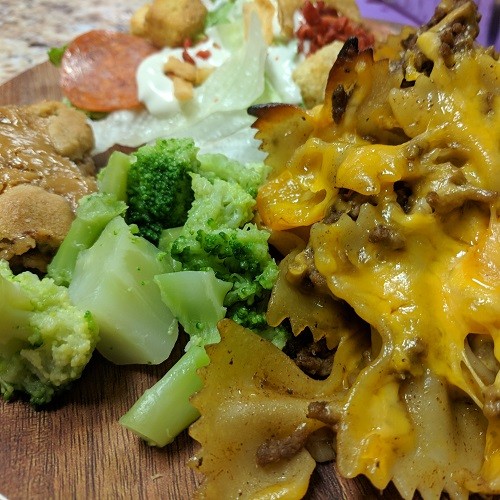 There was a bit of a miscommunication today in regards to our Crock-Pot Thursday meal. While the rest of the JoomConnect team was sitting at their desks dying to try the Barbequed Beef and Bow Tie meal they could smell cooking in the kitchen, Sean was putting on his formal attire in preparation for what he thought was a "Bow Tie Event."
After getting over the initial embarrassment, Sean was able to laugh at the situation. At the end of the day, he is just thankful he managed not to get any of today's lunch on his nice clothes!
You can get the recipe - and, witness this embarrassing moment - below:
BARBECUED BEEF AND BOW-TIE DINNER
Ingredients:
1 lb lean (at least 80%) ground beef
1 medium red bell pepper, chopped (1 cup)
1 1/2 cups uncooked mini bow-tie (mini farfalle) pasta (5 oz)
2 1/2 cups Progresso™ beef-flavored broth (from 32-oz carton)
1/2 cup barbecue sauce
1/2 teaspoon salt
1/4 teaspoon pepper
1 cup frozen corn (from 12-oz bag), thawed
1 1/2 cups shredded Cheddar cheese (6 oz)
Directions:
In 12-inch nonstick skillet, cook beef over medium-high heat 5 to 7 minutes, stirring occasionally, until thoroughly cooked; drain.
Add bell pepper; cook and stir 1 minute. Stir in pasta, broth, barbecue sauce, salt and pepper. Heat to boiling; reduce heat to medium-low. Cover; cook 15 minutes, stirring occasionally, until pasta is tender.
Stir in corn and 1 cup of the cheese. Top with remaining 1/2 cup cheese. Cover; cook 3 to 4 minutes longer, until corn is hot and cheese is melted.
Recipe courtesy of: Betty Crocker

Get the Salted Caramel Chocolate Chip Cookie Bars recipe, courtesy of A Spicy Perspective
Comments
No comments made yet. Be the first to submit a comment
By accepting you will be accessing a service provided by a third-party external to https://www.joomconnect.com/