JoomConnect Blog
JoomConnect is the Marketing Agency for MSPs. We strive to help IT companies get more leads and grow. We rock at web design, content marketing, campaigns, SEO, marketing automation, and full marketing fulfillment.
CPT: Cold Weather Comfort Food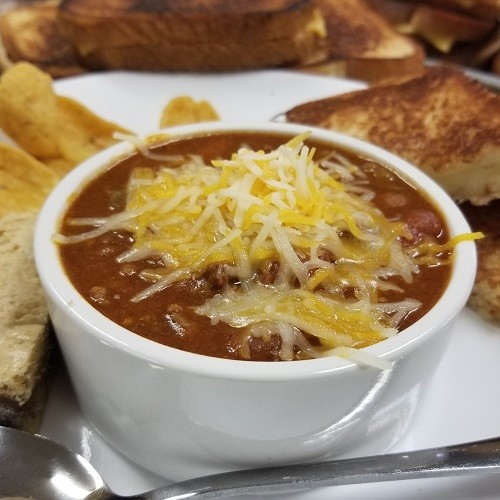 When the Winter season passes a certain threshold, it can seem like the sun will never shine again. It's perpetually cold outside; you have to bundle up in a lot of layers just to feel some sense of warmth. If you work and live in a place that gets a lot of snow like we do, you have to spend time every day brushing off your car and scraping the ice off of your windshield.
Wait! Don't let this get you down. Weather like this is actually PERFECT for a number of different recipes. And, one recipe combination in particular is sure to wash away any Winter Blues you may have: Chili AND Grilled Cheese.
Today, we feasted on a Wendy's Chili copycat recipe and a recipe named (and, rightfully so in our opinion) as the Best-Ever Grilled Cheese. Give these recipes below a try, and revel in all of the great things we get to enjoy during winter: sledding, skiing, ice skating, snowball fights...and curling up by the fire with a bowl of chili and some grilled cheese!
Copycat Wendy's Chili
Ingredients
1 lb. Ground Beef
½ Yellow Onion Medium, diced
1 Celery Stalk diced
¼ Cup Poblano or Hatch Chilies roasted, skin removed and diced
15 oz Tomato Sauce
15 oz Tomatoes Can Diced
15 oz Kidney Beans canned, drained not rinsed
15 oz Pinto Beans canned, drained not rinsed
2 tsp Cumin
2 Tbsp. Chili Powder
1 teas. Black Pepper
1 teas. Salt
Water
Directions
In a large pot or Dutch oven over medium heat brown the Ground Beef, drain and reserve 1 Tbsp. of drippings in the pot.
Add the Onion, Celery and Chilies to the pot and cook over medium heat until the Onions start to turn translucent.
Add the Beef. Tomato sauce, Diced Tomatoes, Kidney and Pinto beans, Cumin, Chili Powder, Black Pepper, Salt and 1 Cup water. Bring to a simmer, cover and let cook 2 ½ - 3 hours. Add water as necessary to maintain desired consistency.
Serve hot.
Serves: 6 people
Recipe courtesy of Mom Foodie
Best-Ever Grilled Cheese
Ingredients
2 slices ½"-thick Pullman or other white bread
2 tablespoons mayonnaise
1 tablespoon unsalted butter
2 ounces thinly sliced American cheese or cheddar (about 4 slices)
Freshly ground black pepper
Directions
Place bread on a cutting board and spread mayonnaise over top side of each; this is key to a golden, delectable crunch.
Heat a small skillet (nonstick, ideally) over medium.
Slide in half of butter. When it melts, place 1 slice of bread, mayonnaise side down, in skillet; top with cheese; season with pepper. Top with second slice of bread, mayonnaise side up.
When underside is golden brown, about 4 minutes, turn sandwich and add remaining butter to skillet. Press down on sandwich to encourage even browning and to help melt cheese—be gentle, don't smash it.
Cook until second side is golden brown and cheese is melted.
Eat immediately
Recipe courtesy of Bon Appétit