JoomConnect Blog
JoomConnect is the Marketing Agency for MSPs. We strive to help IT companies get more leads and grow. We rock at web design, content marketing, campaigns, SEO, marketing automation, and full marketing fulfillment.
CPT: Chicken Taquitos [Video]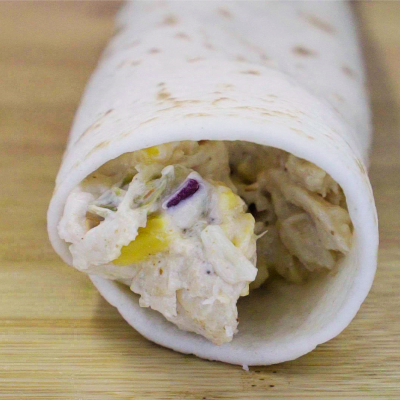 It's no secret that we are big fans of Crock-Pot Thursday dishes that have a Mexican flare to them. Today's lunch went above and beyond! Our main dish was baked chicken taquitos served with Tex-Mex coleslaw and Mexican-style guacamole. For dessert, chocolate chip cookies covered with chocolate and shredded coconut.
Because there are a total of 4 recipes used for today's Crock-Pot Thursday lunch, you can click below to skip down to the recipe you're looking for!
Yield: 16-18 taquitos
INGREDIENTS
For the chicken:
3 large chicken breasts
1 tbsp. olive oil
¼ tsp. chili powder
¼ tsp. garlic powder
¼ tsp. cumin
¼ tsp. salt
For the filling:
8 oz (1 block) cream cheese
3 tbsp. sour cream
⅓ c. salsa
1 tsp. cumin
1 tsp. chili powder
1 tsp. garlic powder
½ tsp. coriander
½ tsp. salt
3 green onions, minced
2 tbsp. cilantro, minced
1 lime, juiced
1 c. shredded cheddar cheese
½ c. shredded pepper jack cheese
16-18 small flour tortillas*
For the creamy cilantro dipping sauce:
½ c. sour cream
1 tbsp. cilantro, minced
½ lime, juiced
¼ tsp. garlic powder
DIRECTIONS
Preheat oven to 375 degrees. Mix together the chili powder, garlic powder, cumin and salt. Drizzle olive oil on chicken breasts, then sprinkle a small amount of spice mix on both sides. Place chicken breasts on a parchment or baking mat lined baking sheet. Bake for 20 to 25 minutes, or until the chicken reaches an internal temperature of 165 degrees. Remove from the oven and use two forks to shred the chicken, set aside to cool.
Turn oven up to 425 degrees. Again, line a baking sheet with parchment paper or a baking mat, set aside. Place the cream cheese into a large microwave-safe bowl. Heat for 20-30 seconds or until soft. Add in the sour cream, salsa, cumin, chili powder, garlic powder, coriander, salt, green onion, cilantro, lime juice, cheeses and shredded chicken. Mix to thoroughly combine.
Add a few tablespoons of the mixture to the lower edge of the tortilla, taking care to leave space on the ends so the mixture doesn't ooze out while baking. Roll it up and place it seam-down on the prepared baking sheet. Repeat with remaining ingredients. NOTE: if you want them to be extra crispy you can brush them with a little melted butter before baking them. Place in the oven and bake for 15-20 minutes or until the tortillas turn golden brown. Remove and allow to cool for 5 minutes before serving.
To make the creamy cilantro dipping sauce, combine all of the ingredients in a small bowl and mix until smooth.
Ingredients
3 c Coleslaw mix
¼ c Corn, fresh
½ c Black Beans, drained and rinsed
¼ c Sweet Red Pepper, chopped
¼ c Yellow Bell Pepper, chopped
1 Jalapeno pepper, seeded and chopped round
¾ c Litehouse Homestyle Ranch salad dressing
½ tsp Cumin
½ tsp Chili powder
1 Tbsp Cilantro, minced
Instructions
In a large bowl, combine the first six ingredients.
Pour Litehouse Homestyle Ranch, chili powder, and cumin over the coleslaw mixture.
Toss to coat.
Sprinkle with fresh cilantro.
Refrigerate until serving.
Ingredients
2 ripe avocados
1/4 onion, finely chopped
1 jalapeno, finely chopped (optional)
Chopped Cilantro
Lime Juice (to taste)
Salt to taste
1/2 tomato, finely chopped
Instructions
Peel the avocado and remove the core.
Mash the avocado in a molcajete until it reaches your desired consistency
Add the onion, jalapeno, cilantro and tomato and mix well.
Add lime juice and salt to taste.
Ingredients
1 package of TOLL HOUSE® refrigerated or frozen cookie dough
1-2 cups of semi-sweet chocolate chips
1 cup of unsweetened, shredded coconut
Instructions
Bake the cookies per package instructions and let cool.
Melt the chocolate chips by cooking on 50% power in the microwave in 30 second increments.
Submerge the cookies in the melted chocolate and remove to a parchment paper lined baking pan.
Sprinkle the unsweetened, shredded coconut on top of the chocolate covered cookies and let cool until the chocolate has firmed up.