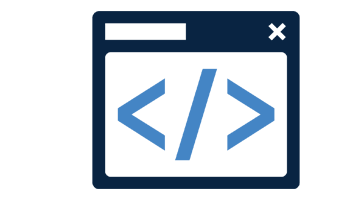 Custom Website Design for MSP and IT Providers
Get a Unique Custom Look, Build your Brand, Leave an Impression!
Whether you want a Custom MSP Marketing Website built for your IT Services Company or a Template, we have a solution for you. Web Design comes naturally to us, we have been doing Web Design and Marketing since 1996 and doubly so for IT and MSP's (Managed Service Providers.)

Directive can provide the best website design and marketing automation around your existing brand or develop a new brand for your company. Working alone or with your marketing company, Directive can ensure you meet your goals.
Our design team can create branded and custom:
Graphics
Hi-Tech Logos & Branding
MSP and IT Brochures
Multimedia content
MSP Content Creation
IT Services and MSP Newsletters
MSP Blog Entries to enhance your IT Services Marketing
We develop web-based applications that enhance your user experience, collect leads, and sell your products and services.
When your custom site is designed by Directive, you benefit from a Write-It-'Til-It's Right policy, where we present the prototype to you, and if you absolutely love it, we kick it to our development team. If you don't absolutely love the design, look, and feel, we take it back to our design team and either start from scratch or rework the aspects you weren't pleased with until you absolutely love it, and your price never increases. It's your site, you should love it.
We lay out projects in front of you with detailed proposals and project plans, so you know exactly what to expect, and we offer training and support for content management systems so you and your staff can easily keep your content up to date without having to pay just to add new text and media to your site.
Contact us today to discuss your MSP/IT Marketing project.
Third-Party Templates
There are thousands of awesome Website Templates for you to choose from!
Want to find another Template? Below are several companies that design quality templates that can be used as a starting point for your website. Templates are a great way to save money, allowing you to focus on your MSP Marketing Campaigns.
Jump start your MSP Marketing. Capture sales for your IT Services website with the world's most complete website package for MSP's; built for Managed Service Providers BY Managed Service Providers.
The MSP Website is designed for a powerful Content Management System, and is 100% JoomConnect-ready for ConnectWise Partners.
The UMSP Website comes with pre-built SEO ready content, images, and all of the bells and whistles you'd expect on a great site, and probably some you wouldn't; e-commerce, testimonial listings, blog, events calendar, job board and much more, all bundled into a flexible design.
This fully loaded MSP template boasts a quick and easy color chooser which allows you to customize your website from top to bottom. Simply click and choose your company's colors and create a stylish and unique theme instantly!
Additionally you can request custom graphics and content for your template.
Call us to find out more at 888.546.434
Third Party Templates Site List

RocketTheme has an extensive collection of premium templates available for purchase and download. Each of our templates are built from the ground up to be easy to use, extremely customizable, and optimized for the latest browser standards.

YOOtheme is a premium provider for themes and extensions.
Joomlaxtc has cutting edge templates. They are available for a single purchase of you can join a club for unlimited access.

Hogash has a selection of hese are my premium templates, built for each needs, cross-browser and SEO optimized. You can find your perfect template for your next project.

At Shape5 you will find the best, fresh, beautiful, and diverse templates and themes for your next website. With their large collection of templates and themes you are sure to find a design for whatever website you need to setup.

Gavickpro has professionally designed and functional templates that are easy to use and suit every need.

JoomShaper one of the leading premium template provider serving more than 40 thousands happy clients worldwide. We understand our customers needs and what type of theme they require to show for their business or brand.

JoomlArt has awesome design templates come packed with free bonus pages and built-in extensions

Envato Market is an ecosystem of sites to help you sell your digital assets. Themeforest is a section of the site that has a series of templates that are ready and easy to use.