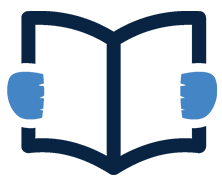 Ultimate MSP Brochure Kit
Equip Your Marketing Initiatives with Branded Printable and Downloadable Service Brochures Based off the Ultimate MSP Website Content!
Business owners are busy people. Sometimes sales calls and meetings are cut short and you don't have time to discuss all of your solutions and their benefits. What about your technicians? They aren't sales people, so while they can suggest a BDR solution to your current clients, they might not have the pitch down. That's where a solid brochure comes in.
Ultimate MSP Brochure Kit
Custom, easy to print, easy to distribute brochures with content based on the Ultimate MSP Website
While you can always point a prospect over to your website, there's still much to be said about having something physical sitting on their desk.
The MSP Brochure Kit contains all of the pre-built service content of your Ultimate MSP Website, and if you need us to make some text tweaks, we'll make sure they are tuned perfectly for your offering. Customized with your logo and colors, yet very conscious on ink consumption, these brochures are designed to print on any printer and look fantastic on standard paper or heavier stock.
---
Downloadable Brochures
The MSP Brochure Kit includes calls to action for your website to download PDF brochures.
Give your website visitors downloadable PDF brochures based on the services they are looking at. When a brochure is downloaded, you'll receive an email notification as well!
---
What You Get!
IT Overview
Desktop and User Care
Backup and Disaster Recovery
Mobile Office
Network Security
Server Care
Spam Protection
VOIP
Web Filtering and Firewall
BDR
Fax Server
24x7 Help Desk
Remote Monitoring & Management
UTM Firewall
Visitor ID
Brochure call to actions on your services pages
Brochures uploaded to be available on your website Document Manager
Branded 8-page BDR Whitepaper
Customized with your logo,
company name, contact info, and colors

---
---
Brochures are fully brandable and available for any standard service article included in the Ultimate MSP website.
For a full listing of available brochures please be sure to contact us.