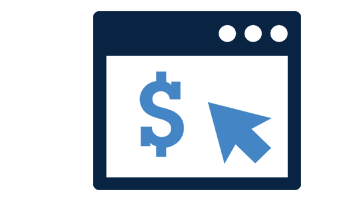 Pay-Per-Click
Take Advantage of Search Engine's Paid Advertising to Help Prospects Find You
Have you ever heard the one-liner 'The best place to hide a body is on the second page of Google.'? 71% of B2B purchase decisions start with a search via search engines and 75% of users never click past the first page. Which means if your MSP ends up on the 2nd page, your ability to be seen is limited. It's clear why most businesses will do just about anything to climb their way to the top slot, but only JoomConnect has the experience and vision to deliver.
What is Pay-Per-Click(PPC)?
PPC is a method of advertising your business on the internet by paying a fee to have your business' ad featured on the first page of a search engine. These ads may also appear on content websites as 'banner ads' and Youtube video pages.
Straight to the Top
Unlike Search Engine Optimization (SEO), PPC is not about increasing the quantity of traffic to your site or increasing your sites ranking, it's strictly about funneling quality traffic to your site, resulting in increased leads and then conversions. Compared to other types of internet-based marketing, PPC can begin showing results much sooner. In addition to increasing leads by driving traffic back to your website, PPC can indicate how successful keywords are. This is information that you can take back to your traditional methods of SEO. PPC can also be useful in terms of testing the market for a new product/service launch.
What Exactly Do You Get?
Our PPC Campaign Management service includes 2 fully managed campaigns with:
1 ad group per campaign
5 ads per ad group
1 landing page per ad group
Monthly flat-rate management fee
You set your monthly ad budget
Complete Pay-Per-Click Solution
Improperly managed Pay-Per-Click ads are a waste of time and money. There is a lot more to maximizing lead generation from PPC than setting keywords and defining a budget. The success of the campaign depends on if the user finds what they're looking for after clicking on your ad. A PPC campaign requires research, proper implementation and constant monitoring and improvements. Managing your PPC campaigns can be tricky, time consuming and skill dependent if you wish to get proper results. This is where JoomConnect comes in.
With our PPC service, our Content Marketing team will take care of everything. From setting up your account to continuous monitoring and improving, you'll get the maximum return on investment (ROI) for your budget and the opportunity to increase your opportunities to promote your MSP services.
Benefits:
Increased lead generation
Maximum ROI
No surprise cost
Complete control over your online marketing budget
Increase in quality web traffic
Gain advantage over local competitors